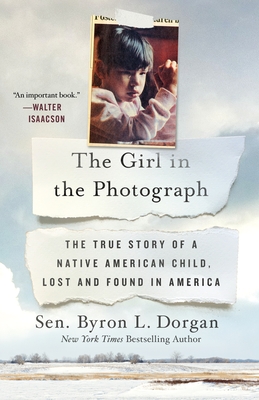 The Girl in the Photograph
The True Story of a Native American Child, Lost and Found in America
Hardcover

* Individual store prices may vary.
Other Editions of This Title:
MP3 CD (11/26/2019)
Compact Disc (11/26/2019)
Description
Through the story of Tamara, an abused Native American child, North Dakota Senator Byron Dorgan describes the plight of many children living on reservations—and offers hope for the future.

On a winter morning in 1990, U.S. Senator Byron Dorgan of North Dakota picked up the Bismarck Tribune. On the front page, a small Native American girl gazed into the distance, shedding a tear. The headline: "Foster home children beaten—and nobody's helping."

Dorgan, who had been working with American Indian tribes to secure resources, was upset. He flew to the Standing Rock Indian Reservation to meet with five-year-old Tamara who had suffered a horrible beating at a foster home. He visited with Tamara and her grandfather and they became friends. Then Tamara disappeared. And he would search for her for decades until they finally found each other again.

This book is her story, from childhood to the present, but it's also the story of a people and a nation. More than one in three American Indian/Alaskan Native children live in poverty. AI/AN children are disproportionately in foster care and awaiting adoption. Suicide among AI/AN youth ages 15 to 24 is 2.5 times the national rate. How has America allowed this to happen?

As distressing a situation as it is, this is also a story of hope and resilience. Dorgan, who founded the Center for Native American Youth (CNAY) at the Aspen Institute, has worked tirelessly to bring Native youth voices to the forefront of policy discussions, engage Native youth in leadership and advocacy, and secure and share resources for Native youth. You will fall in love with this heartbreaking story, but end the book knowing what can be done and what you can do.
Praise For The Girl in the Photograph: The True Story of a Native American Child, Lost and Found in America…
"Dorgan tells Tamara's story against the backdrop of the epic struggles and historic mistreatment of American Indians. It's hard not to see a parallel between the sins committed against Tamara over the past three decades and the litany of sins committed against Native Americans — genocide, theft, discrimination, abandonment — that began centuries ago and continues to this day. It is also a call to action. In each chapter, Dorgan presents a problem faced by Native Americans that seems intractable and then offers examples of individuals or tribes that have succeeded despite the enormous challenges."
--The Washington Post

"As he tells the harrowing, yet inspiring story of one young Native American girl, Senator Dorgan describes the nearly two centuries of shameful treatment of American Indians, much of which continues today."
—Senator Ben Nighthorse Campbell, Council of Chiefs, Northern Cheyenne Indian Tribe

"Please read this book! The Girl in the Photograph is one of the most important civil rights books written in this century. It examines, in full detail, through the life of one young woman, the horrific conditions in which many Native American children live in a country that once belonged to their ancestors. Once you recover from your shock, the author gives you an opportunity to participate in the change that will restore opportunity and justice to the precious children of our first Americans."
—Senator Heidi Heitkamp

"Byron Dorgan has written an important book, with compassion and understanding about the struggle of a courageous Native American girl and her people. It is a poignant story describing the challenging life of a young Native American child who, against all odds, is a survivor."
—Walter Isaacson, New York Times bestselling author

"This book is a poignant, tough and brutally honest story about a Native American girl named Tamara and the conditions that confront too many children on Indian reservations. It is a story of survival, and it also tells the inspiring stories of youth helping bring change to the reservations."
—Anita Fineday, Former Chief Judge, White Earth Tribal Nation

"[A] poignant account...Dorgan's plea for change serves as an informative and moving introduction to a great injustice."
—Publishers Weekly

"A worthwhile read that serves as a reminder of the government's broken promises and treaties with Native Americans. Tamara's story doesn't have a happy ending yet, but there's hope. However, the nation's reservations need more than hope; they need action that's more prompt. In the end, Dorgan's book is a call to action. It's time the Tamaras of the reservations get help."
—The Bismarck Tribune

Thomas Dunne Books, 9781250173645, 208pp.
Publication Date: November 26, 2019
About the Author
BYRON L. DORGAN served as a U.S. congressman and senator for North Dakota for thirty years before retiring in January 2011. He was chairman of Senate Committees and Subcommittees on the issues of Energy, Aviation, Appropriations, Water Policy, and Indian Affairs. Senator Dorgan is the author of the New York Times bestseller Take This Job and Ship It. When he retired from the U.S. Senate, he created the Center for Native American Youth (CNAY) to work on teen suicide prevention, education opportunity and more for children living on Indian reservations.