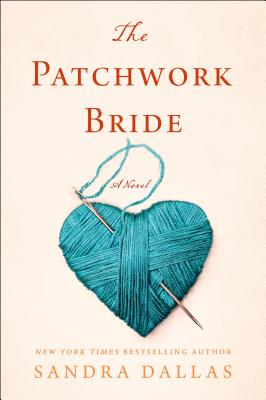 The Patchwork Bride
A Novel
Hardcover

* Individual store prices may vary.
Other Editions of This Title:
Paperback (8/6/2019)
Library Binding, Large Print (8/1/2018)
Description
From Sandra Dallas, the best-selling author of A Quilt for Christmas, comes The Patchwork Bride, the irrepressible story of a runaway bride.
Ellen is putting the finishing touches on a wedding quilt made from scraps of old dresses when the bride-to-be—her granddaughter June—unexpectedly arrives and announces she's calling off the marriage. With the tending of June's uncertain heart in mind, Ellen tells her the story of Nell, a Kansas-born woman who goes to the High Plains of New Mexico Territory in 1898 in search of a husband.
Working as a biscuit-shooter, Nell falls for a cowboy named Buddy. She sees a future together, but she can't help wondering if his feelings for her are true. When Buddy breaks her heart, she runs away.
In her search for a soul mate, Nell will run away from marriage twice more before finding the love of her life. It's a tale filled with excitement, heartbreak, disappointment, and self-discovery—as well as with hard-earned life lessons about love. Another stunning, emotional novel from a master storyteller.
Praise For The Patchwork Bride: A Novel…
Praise for The Patchwork Bride:

2019 WILLA "WOMEN WRITING THE WEST" LITERARY AWARD FINALIST
"Skilled writing and pacing propel the story, which is warm and heartfelt."—Kirkus Reviews
"Dallas has done it again, telling three different stories with her trademark homespun style. Strong female characters and intriguing storytelling draw the reader into this two-hanky read full of love and loss."—Booklist (starred review)
"Both heartwarming and emotional...[reminding us] of the importance of love, family, and the memories that we hold dear as we age."—Historical Novels Review
"Written with skill and exacting language…characters who will resonate with you and hard-won truths about life and love that will continue to matter to you long after you flip the last page."—Bookreporter.com
"As comforting to read as a hot cup of tea."—Denver Post
Praise for Sandra Dallas:
"As heartwarming as a homemade quilt." —USA Today on A Quilt for Christmas
"The author's depiction of 19th-century Denver, especially its seedier side, is vividly authentic, while the nascent bond between Mick and Beret will have readers eagerly anticipating their next encounter." —Publishers Weekly on Fallen Women
"A born storyteller, Dallas excels not only at plot but also at peopling her novels with memorable individuals." —Richmond Times Dispatch on True Sisters
"A tale of family, desire, vengeance and betrayal that more than transcends the ordinary." —RT Book Reviews on The Bride's House
St. Martin's Press, 9781250174031, 304pp.
Publication Date: June 5, 2018
About the Author
Award-winning author Sandra Dallas was dubbed "a quintessential American voice" by Jane Smiley, in Vogue Magazine. She is the author of The Bride's House, Whiter Than Snow, Prayers for Sale and Tallgrass, among others. Her novels have been translated into a dozen languages and optioned for films. She is the recipient of the Women Writing the West Willa Award and the two-time winner of the Western Writers of America Spur Award. For 25 years, Dallas worked as a reporter covering the Rocky Mountain region for Business Week, and started writing fiction in 1990. She lives with her husband in Denver, Colorado.
1. Over the course of the book, we see Nell grow and change with each chapter of her life. How did her experiences shape her outlook? What were the similarities and differences between Nell when we meet her at the Rockin' A and how we see her in the present day (as Ellen)?
2. Sandra Dallas creates an authentic sense of place through her rich historical detail of the American West. How does setting play a role in this story? How did the time period influence Nell's actions throughout the story?
3. Nell runs away from each of the three men she's engaged to for various reasons. What are some of the characteristics that drew Nell to them? How are they similar?
4. More than just finding a husband to settle down with, Nell is looking to find true love—part of her hesitation about marrying Wade, though he's a "good catch," is that "she hadn't felt a tug at her heart." How do you define true love? Do you think Nell found it?
5. Were you surprised by June's decision at the end of the book? What would you have done in her shoes?
6. Nell's romances are a focal point of the book, but she also forms strong female friendships, particularly with Betty and Claire. What value does Nell gain from these relationships that differs from what her romantic relationships provide?
7. Betty, Claire, and Nell all experience or witness violence at the hands of a man. How do these experiences shape each of them and inform their perspectives on men and dating?
8. How did quilting serve as a connection between the generations of women in Ellen's family? Would you ever consider "ruining" a wedding dress to make it into a quilt? Why or why not?
9. One of the qualities that draws Nell to James is his kindness to children—did you view this differently after his "secret" was revealed? How does it serve as foreshadowing?
10. What does Ellen's reluctance to give up the ranch represent? How does it relate to Nell's story?
11. When June comes to Ellen after running away from her fiancé, how does Ellen's reaction compare with that of her own grandparents when she returned to Kansas after breaking off her engagements? How do their reactions reflect changing cultural values?
or
Not Currently Available for Direct Purchase