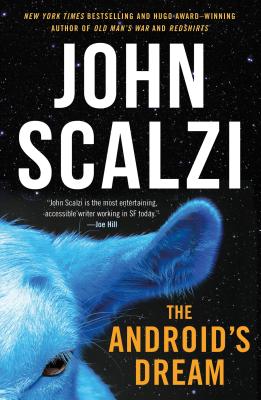 The Android's Dream
Paperback

* Individual store prices may vary.
Other Editions of This Title:
Mass Market (10/30/2007)
Description
From New York Times bestseller and Hugo Award-winner John Scalzi, a trade paperback repackage of his wild-and-woolly caper novel of interstellar diplomacy—now with a new cover!

A human diplomat creates an interstellar incident when he kills an alien diplomat in a most . . . unusual . . . way. To avoid war, Earth's government must find an equally unusual object: a type of sheep ("The Android's Dream"), used in the alien race's coronation ceremony.

To find the sheep, the government turns to Harry Creek, ex-cop, war hero and hacker extraordinare, who, with the help of a childhood friend turned artificial intelligence, scours the earth looking for the rare creature. But there are others with plans for the sheep as well. Mercenaries employed by the military. Adherents of a secret religion based on the writings of a 21st century SF author. And alien races, eager to start a revolution on their home world and a war on Earth.

To keep our planet from being enslaved, Harry will have to pull off a grand diplomatic coup, a gambit that will take him from the halls of power to the lava-strewn battlefields of alien worlds. There's only one chance to get it right, to save the life of the sheep—and to protect the future of humanity.


Other Tor Books by John Scalzi:

Agent to the Stars
Your Hate Mail Will Be Graded
Fuzzy Nation
Redshirts

Lock In
1. Lock In
2. Head On

The Interdepency Sequence
1. The Collapsing Empire
2. The Consuming Fire

Old Man's War Series
1. Old Man's War
2. The Ghost Brigades
3. The Last Colony
4. Zoe's Tale
5. The Human Division
6. The End of All Things
Praise For The Android's Dream…
Praise for The Android's Dream

"With plenty of alien gore to satisfy fans of military SF and inventive jabs at pretend patriotism and self-serving civil service, Scalzi delivers an effervescent but intelligent romp." —Publishers Weekly

"The whip-smart writing exudes his enjoyment in such a way that almost guarantees the reader will take pleasure in the story as well....Humor is hard to do well; it has to be natural, non-intrusive and funny at the same time. Scalzi pulls it off exceptionally well." —SFSignal.com

"This novel reads like prime-period Robert A. Heinlein, cyber-charged for the 21st century. ...just a whole lot of old-fashioned SF fun....Highly, and enthusiastically, recommended." —SF Site

Praise for John Scalzi

"Provocative and unexpected." —The Wall Street Journal on The Collapsing Empire

"Scalzi continues to be almost insufferably good at his brand of fun but think-y sci-fi adventure." —Kirkus Reviews on The Collapsing Empire

"John Scalzi is the most entertaining, accessible writer working in SF today." –Joe Hill

"If anyone stands at the core of the American science fiction tradition at the moment, it is Scalzi." —The Encyclopedia of Science Fiction, Third Edition

"Scalzi is a master at creating appealing commercial fiction." —Kirkus Reviews, starred review, on Lock In
Tor Books, 9781250174758, 400pp.
Publication Date: May 28, 2019
About the Author
JOHN SCALZI is one of the most popular SF authors of his generation. His debut Old Man's War won him the John W. Campbell Award for Best New Writer. His New York Times bestsellers include The Last Colony, Fuzzy Nation,and Redshirts (which won the 2013 Hugo Award for Best Novel), and 2020's The Last Emperox. Material from his blog, Whatever, has also earned him two other Hugo Awards. Scalzi also serves as critic-at-large for the Los Angeles Times. He lives in Ohio with his wife and daughter.