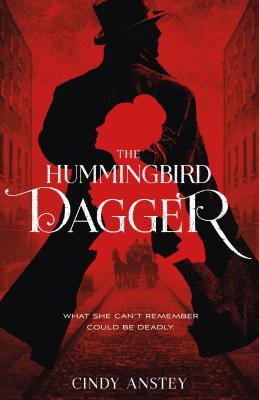 The Hummingbird Dagger (Hardcover)
Swoon Reads, 9781250174895, 352pp.
Publication Date: April 16, 2019
Other Editions of This Title:
Paperback (1/1/2021)
* Individual store prices may vary.
Description
From the author of Suitors and Sabotage comes a suspenseful and enthralling new Regency novel, perfect for readers who like their Jane Austen classics with a side of mystery and murder.
1833. A near-fatal carriage accident has deposited an unconscious young woman on the doorstep of Hardwick Manor and into the care of young Lord James Ellerby. But when she finally awakens, it is with no memory of who she is or where she came from.
Beth, as she calls herself, has no identity; the only clue to her circumstances is a recurring nightmare of a hummingbird, blood dripping from its steel beak.
With the help of James and his sister, Caroline, Beth tries to solve the mystery of her own identity and the appalling events that brought her to their door. But nothing could prepare her for the escalating dangers that threaten her and the Ellerby clan. From the hazardous cliffs of Dorset to the hostile streets of London, Beth will fight to reclaim her past, hunted by a secretive foe with murderous intentions.
Fans of Cindy Anstey's previous novels won't want to miss The Hummingbird Dagger, a dark and twisty new offering that blends romance, danger and mystery.
Praise for The Hummingbird Dagger:

"A blend of Jane Austen, Jack the Ripper, and your favorite cozy mystery. ... The romance was lovely, sweet and a perfect subplot to the darker tones of murder, mystery and mayhem." —Isabel Ibañez, author of Woven in Moonlight
"Quite fun. ... There is a softness when it comes to Cindy Antsey's historical novels ... it calms me somewhat while still letting me enjoy the twists and turns." —Whatever You Can Still Betray
About the Author
Cindy Anstey spends her days painting with words, flowers, threads, and acrylics. After many years living as an expat in Singapore, Memphis, and Belgium, Cindy now resides with her husband and energetic chocolate Labrador, Chester, in Nova Scotia, Canada. She is the author of Love, Lies and Spies; Duels & Deception; Suitors and Sabotage; Carols and Chaos; The Hummingbird Dagger; and Deadly Curious.
Praise For The Hummingbird Dagger…
Praise for The Hummingbird Dagger:

"A blend of Jane Austen, Jack the Ripper, and your favorite cozy mystery. ... The romance was lovely, sweet and a perfect subplot to the darker tones of murder, mystery and mayhem." —Isabel Ibañez, author of Woven in Moonlight

"A slow-burning romance and leisurely paced mystery leave plenty of time for character development, and the smallest clues, bits of actions, and moments of chemistry between James and Beth hold more weight than they would otherwise. This novel will appeal to teens who have read and enjoyed actual classics from the era." —Booklist

"A wonderful period mystery with touches of Gothic moodiness." —Gumshoe Review
"Quite fun. ... There is a softness when it comes to Cindy Antsey's historical novels ... it calms me somewhat while still letting me enjoy the twists and turns." —Whatever You Can Still Betray
Praise for Carols and Chaos:
"Anstey offers up another lively historical tale that's one part intriguing mystery, one part cozy romance. Jane Austen fans will enjoy the propriety and the Regency setting, while that dose of Christmas adds an extra bit of cheer." —Booklist

"This Christmas tale set in the 1817 English countryside is a nod and a wink to the works of Jane Austen and Charles Dickens. ... This book could serve as a stepping stone to classic read-alikes, such as Pride and Prejudice or Jane Eyre. Fans of romantic historical fiction will welcome this quick and fun holiday read." —School Library Journal

"Fans of Regency romance and Downton Abbey alike will be charmed by this tale of a budding relationship between lady's maid Kate Darby and gentleman's gentleman Matt Harlow. ... Full of richly imagined period detail and gasp-inducing setbacks before resolving into a credible and satisfactory arrangement for the lovers, this makes for a cozy, engaging tuck-in on a winter's night." —The Bulletin
"Anstey provides [a] diverting mystery/romance with period details and Christmassy flourishes." —Horn Book

Praise for Suitors and Sabotage:

A Junior Library Guild Selection

"Anstey's tale embraces a self-reliant main character, a loyal friend, innocent romance, witty conversation, and English country settings, each more splendid than the last. This is a delightful salute to Jane Austen and will be a treat for her fans." —VOYA
"Mystery and romance are delightfully intertwined . . . Taking inspiration from Jane Austen novels, Anstey's latest is a lighthearted and romantic read." —Booklist

"All in all, this novel was a delight to read. ... I am continuously impressed by Anstey! ... These books are simply lovely to read, and I can't get enough!" —The Eater of Books
Praise for Duels & Deception:
"[Duels & Deception] is Jane Austen spiced with action, suspense, and humor. The question is never about their love but how they will overcome society's demands in order to realize it. Young girls who enjoyed Anstey's Love, Lies and Spies will snap up this adventure." —VOYA, starred review
"Jane Austen fans in need of a good new book, look no further. Cindy Anstey's new YA novel, Duels & Deception, is your next regency romance treat." —Entertainment Weekly
"A great introduction to historical romance novels for younger YA readers. . . . Anstey's novel is a wonderful coming-of-age journey filled with entertaining characters and wild adventures." —School Library Journal
Praise for Love, Lies and Spies:
"It's Jane Austen meets Jane Foster in Anstey's debut novel, which serves up a delightful combination of Regency romance, scientific curiosity, and spy intrigue for a tale that will have readers rooting for love and science." —Entertainment Weekly

"Love, Lies and Spies is an adorable little romp in Regency-era London, perfectly-paced and delightfully entertaining. It had me grinning from ear to ear, cover to cover. And the best part of all is that it seems to be a stand-alone with none of those ridiculous miscommunications. It really was just a pleasure to read!" —The Starry-Eyed Revue