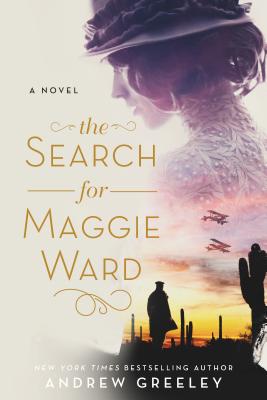 The Search for Maggie Ward
Paperback

* Individual store prices may vary.
Other Editions of This Title:
MP3 CD (12/1/2016)
MP3 CD (5/14/2013)
Compact Disc (5/14/2013)
MP3 CD (8/11/2008)
Description
The Search for Maggie Ward is a poignant tale of love, loss, and faith set in the aftermath of World War I, from acclaimed New York Times bestsellling author and theologian Andrew M. Greeley.
Young Navy flier Jerry Keenan is supposed to be on his way home to Chicago, law school, and a postwar life that is socially acceptable to a well-off Irish Catholic family. Instead he is in Arizona delaying that homecoming while he wrestles with his memories of combat and the men he saw die.
That may be one reason an encounter with a girl at a Tucson lunch counter seems so appealing. Another reason is that she is mysterious, hauntingly beautiful, and very sexy—the perfect antidote for a troubled heart.
But just when Jerry realizes how much he needs Maggie Ward, she dramatically vanishes, or is taken, from him. And Jerry Keenan, in search of his destiny and his soul, must be willing to move heaven and earth to find the woman he loves.
Praise For The Search for Maggie Ward…
Praise for The Search for Maggie Ward and Andrew M. Greeley
"A fascinating novelist...with a rare, possibly unmatched point of view."—Los Angeles Times
"I enjoy reading Andrew Greeley. He spins wondrous romances."—New York Times Book Review
"Unabashedly romantic...impossible to resist...that is the singular magic of The Search for Maggie Ward"—Orlando Sentinel
"He has mastered the art of suspense and of drawing living, breathing men and women with whom you quickly become involved...keeps you turning the pages to find answers at the end of the book—and then leaves you feeling wistful because the last page as been turned."—Arizona Daily Star
"Greeley has that elusive ability to tell a story so that you want to find out what happens next."—Atlanta Journal
"A master storyteller."—Cincinnati Enquirer
"In the tradition of James T. Farrell, Father Greeley writes with passion and narrative force about the parishes where he grew up."—Chicago Sun-Times
"A genius for plumbing people's convictions as well as their opinions. That and his rich literary imagination make him truly exceptional."—Cleveland Press
"An expert on the emotions that make us human."—Minneapolis Star
"Greeley writes with style, delicacy, and sympathy."—Newsday
"The Search for Maggie Ward is a great success—an exciting love story and an inspiring one...loaded with suspense and romance....always-entertaining, always-inspiring novels...Father Greeley continues to deepen and mature as a writer of fiction. Each one is technically better than the one before; each reveals new depths of insight into the human heart and spirit."—St. Anthony Messenger
"A spellbinder...on par with any Andrew Greeley novel, I couldn't put it down. Page by page, the reader will search for Maggie with the protagonist, unable to stop until the novel is finished in a single sitting."—Fort Worth Star-Telegram
Forge Books, 9781250175168, 464pp.
Publication Date: December 31, 2018
About the Author
Priest, sociologist, author and journalist, Father Andrew M. Greeley built an international assemblage of devout fans over a career spanning five decades. His books include the Bishop Blackie Ryan novels, including The Archbishop in Andalusia, the Nuala Anne McGrail novels, including Irish Tweed, and The Cardinal Virtues. He was the author of over 50 best-selling novels and more than 100 works of non-fiction, and his writing has been translated into 12 languages.
Father Greeley was a Professor of Sociology at the University of Arizona and a Research Associate with the National Opinion Research Center (NORC) at the University of Chicago. In addition to scholarly studies and popular fiction, for many years he penned a weekly column appearing in the Chicago Sun-Times and other newspapers. He was also a frequent contributor to The New York Times, the National Catholic Reporter, America and Commonweal, and was interviewed regularly on national radio and television. He authored hundreds of articles on sociological topics, ranging from school desegregation to elder sex to politics and the environment.
Throughout his priesthood, Father Greeley unflinchingly urged his beloved Church to become more responsive to evolving concerns of Catholics everywhere. His clear writing style, consistent themes and celebrity stature made him a leading spokesperson for generations of Catholics. He chronicled his service to the Church in two autobiographies, Confessions of a Parish Priest and Furthermore!
In 1986, Father Greeley established a $1 million Catholic Inner-City School Fund, providing scholarships and financial support to schools in the Chicago Archdiocese with a minority student body of more than 50 percent. In 1984, he contributed a $1 million endowment to establish a chair in Roman Catholic Studies at the University of Chicago. He also funded an annual lecture series, "The Church in Society," at St. Mary of the Lake Seminary, Mundelein, Illinois, from which he received his S.T.L. in 1954.
Father Greeley received many honors and awards, including honorary degrees from the National University of Ireland at Galway, the University of Arizona and Bard College. A Chicago native, he earned his M.A. in 1961 and his Ph.D. in 1962 from the University of Chicago.
Father Greeley was a penetrating student of popular culture, deeply engaged with the world around him, and a lifelong Chicago sports fan, cheering for the Bulls, Bears and the Cubs. Born in 1928, he died in May 2013 at the age of 85.
or
Not Currently Available for Direct Purchase