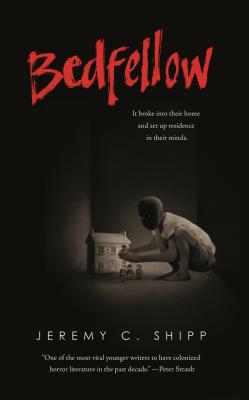 Bedfellow (Paperback)
Tor.com, 9781250175298, 224pp.
Publication Date: November 13, 2018
* Individual store prices may vary.
Description
From Jeremy C. Shipp, the Bram Stoker Award-nominated author of The Atrocities, comes a tense dark fantasy novel of psychological horror in Bedfellow.

It broke into their home and set up residence in their minds.

When the . . . thing first insinuated itself into the Lund family household, they were bemused. Vaguely human-shaped, its constantly-changing cravings seemed disturbing, at first, but time and pressure have a way of normalizing the extreme. Wasn't it always part of their lives?

As the family make more and greater sacrifices in service to the beast, the thrall that binds them begins to break down. Choices must be made. Prices must be paid. And the Lunds must pit their wits against a creature determined to never let them go.

It's psychological warfare. Sanity is optional.
About the Author
JEREMY C. SHIPP is the Bram Stoker Award-nominated author of Cursed, Vacation, and Sheep and Wolves. His shorter tales have appeared in over 60 publications, including Cemetery Dance, ChiZine and Apex Magazine. Jeremy lives in Southern California in a moderately haunted Victorian farmhouse.
Praise For Bedfellow…
"Filled with claustrophobic fear within a terrifying occult frame, this is a great choice for readers who like their horror with a side of intense psychological suspense."—Booklist

"A fascinating novel laden with fine ideas."—Kirkus Reviews

"A dark fantasy that is also an exceptional psychological horror that gets weirder and weirder to a titillating climax. Completely a must read."—Aurealis Magazine

Praise for Jeremy Shipp

"Jeremy C. Shipp's boldness, daring, originality, and sheer smarts make him one of the most vital younger writers who have colonized horror literature in the past decade. Shipp's modernist clarity, plus his willingness to risk damn near everything, put him up at the head of the pack with the very best." —Peter Straub

"Shipp's clear, insistent voice pulls you down into the rabbit hole and doesn't let go." —Jack Ketchum

"A new and very weird dimension to the Gothic which will stick with you long after it's over. This is deep, weird shit." –Paul Cornell, author of Witches of Lychford