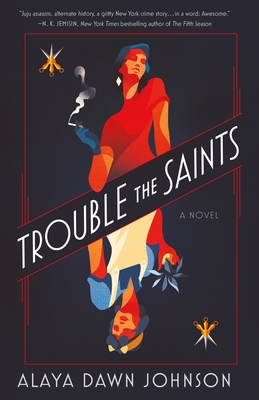 Trouble the Saints
A Novel
Hardcover

* Individual store prices may vary.
Other Editions of This Title:
Digital Audiobook (7/20/2020)
Paperback (8/10/2021)
Description

WINNER OF THE WORLD FANTASY AWARD

"Juju assassins, alternate history, a gritty New York crime story...in a word: awesome." —N.K. Jemisin, New York Times bestselling author of The Fifth Season

The dangerous magic of The Night Circus meets the powerful historical exploration of The Underground Railroad in Alaya Dawn Johnson's timely and unsettling novel, set against the darkly glamorous backdrop of New York City, where an assassin falls in love and tries to change her fate at the dawn of World War II.

Amid the whir of city life, a young woman from Harlem is drawn into the glittering underworld of Manhattan, where she's hired to use her knives to strike fear among its most dangerous denizens.

Ten years later, Phyllis LeBlanc has given up everything—not just her own past, and Dev, the man she loved, but even her own dreams.

Still, the ghosts from her past are always by her side—and history has appeared on her doorstep to threaten the people she keeps in her heart. And so Phyllis will have to make a harrowing choice, before it's too late—is there ever enough blood in the world to wash clean generations of injustice?

Trouble the Saints is a dazzling, daring novel—a magical love story, a compelling exposure of racial fault lines—and an altogether brilliant and deeply American saga.
Praise For Trouble the Saints: A Novel…
"Juju assassins, alternate history, a gritty New York crime story... in a word: awesome" —N.K. Jemisin, New York Times bestselling author of The Fifth Season

"Beware this magnificent beguilement of a novel: once begun, Alaya Dawn Johnson's Trouble the Saints won't let you go." —Kelly Link, New York Times bestselling author of Get In Trouble

"A knotty, painful, gorgeously told historical fantasy in which nobody's hands are clean, nobody escapes the consequences of their own actions and the past will not stay buried" –NPR, Best Books of 2020

"Beautiful prose and an omnipresent sense of regret build an intense, dark mood throughout the whole book. Johnson explores the intersection of race, violence and personal identity in this powerful, passionate story." —Bookpage, "Science Fiction & Fantasy: August 2020"

"Johnson's secret history is a nuanced portrait of racism in all of its poisonous flavors, brutally overt and unsuccessfully covert. In musical prose, she also offers passionate and painful depictions of the love expressed in romance and friendship and the sacrifices such love can demand. A sad, lovely, and blood-soaked song of a book." —Kirkus Reviews, starred review

"Literary firecracker" —Publishers Weekly

"If you wanted a heavily character-driven narrative, laced with mysticism, this is for you...Demanding of attention and a reader with intention, this story carries a girth that will satisfy literary and historical fiction readers alike." —Goodreads

"Expect a multidimensional approach to the context of the early 1940s, complete with World War II, being non-white in America, and misogyny, and how its characters imperfectly wade through it as they hurt, heal, protect, and betray... A wonderfully deep read for the forlorn New Yorker's heart." —Black Nerd Problems
Tor Books, 9781250175342, 352pp.
Publication Date: July 21, 2020
About the Author
ALAYA DAWN JOHNSON has been recognized for her short fiction and YA novels, winning the 2015 Nebula Award for Best Novelette for "A Guide to the Fruits of Hawai'i," which also appears in The Best American Science Fiction and Fantasy (2015), guest edited by Joe Hill. Her debut young adult novel, The Summer Prince, was longlisted for the National Book Award for Young People's Literature. Her follow up, Love Is the Drug, won the Andre Norton Award in 2015. A native of Washington, D.C., Johnson is currently based in Oaxaca, having finished her masters degree in Mesoamerican studies at Universidad Nacional Autónoma de México.
1. What do you like best about each of the protagonists? How do you think their strengths are shaped, and weaknesses too, by the powers that they've inherited?
2. Numerous secondary characters are integral to each of the three storylines; is there someone you most identify with? Think about why that might be—and how characters like Gloria, Mae, and even Miriam, complicate perception of family and underline the important themes of this book.
3. What parallels do you see in this story set nearly seven decades ago and our own lives today? How has power manifested itself, in American history, in the years since—and how have underprivileged people pushed back against it? Can any kind of large-scale transfer of power, like that wielded by Mayor Bell and Victor, occur without violence? What about smaller-scale ways of rebalancing the scales? List examples.
4. Which character or which power did you feel most drawn to, and why? Did Dev's perspective on the story change your view of Phyllis? Did Tamara's perspective change your view of Phyllis or Dev? Did you switch allegiances or notice a shift in how you identified with characters as they were depicted and exchanged throughout the three parts of the novel?
5. How do magic and reality, and historic fact woven with fiction, change your perception of this story? Do you think the settings—New York City, the small, fictional sundown town upstate, and the memories of Tamara's youth in Virginia—make a difference to the experience of reading about racism? Does it change the sound and texture of the language to be set in such a specific time and place—and how?
6. The Pelican Club is full of secrets and performances and threats, but every character we meet has ultimately lied to themselves or the person they love most. Think of a time where you might have performed for yourself, or for someone you loved—and what the positive or negative consequences have been.
7. In the second section, what does the novel suggest about the differences between the childhoods of marginalized people and those of white people? How is Bobby Jr. juxtaposed with Alvin? What does it mean to be given a gift to fight injustice at such a young age? It's suggested by Tamara's visions that Pea and Dev's child might be a new start—what do you think Durga's life will be like?
8. What do you think about the lives of people of color who are adjacent to the "saint's hands" but don't have them? What about Sonny's relationship to the hands that run in his family? Do you think Tamara's own power is diminished or strengthened by not having "the hands" herself, despite the violence she was a witness to?
9. There are numerous references to art and artistry throughout the novel. Discuss the importance of creation in the lives of each of the protagonists and what value art has outside of the usual monetary sense.
10. Each section of the novel has its own particular style and theme; varying between Noir, Gothic, and Pastoral. In what ways does each narrative setting enhance our understanding of character and their particular arc in the overall story?
11. What do you think is the message of the last chapter and particularly Pea's last fight? Do you agree with Dev's worry, that the hands might be a cosmic joke, or do you believe in Pea's fervent desire for a chance to make things right?
12. What do you think of the role the ancestors play in the novel? What do you think of the relationship of the voices of the past to the actions of the present?
Guide written by Alaya Dawn Johnson and Miriam Weinberg
or
Not Currently Available for Direct Purchase