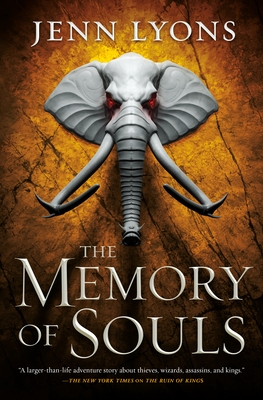 The Memory of Souls (A Chorus of Dragons #3) (Hardcover)
Tor Books, 9781250175571, 608pp.
Publication Date: August 25, 2020
Other Editions of This Title:
CD-Audio (8/25/2020)
* Individual store prices may vary.
Description
The Memory of Souls is the third epic fantasy in Jenn Lyons' Chorus of Dragons series.
WHAT IF YOU'RE THE ONE WHO HAS TO DIE?
Now that Relos Var's plan to free the dark god Vol Karoth has been revealed and with more demons rampaging across Quur every day—the end of the world is closer than ever.
To buy time for humanity, Kihrin, Janel, and Thurvishar must convince the king of the Manol vané to perform an ancient ritual that will strip the vané of their immortality—a ritual that certain vané will do anything to prevent. Including assassinating the ones bringing the news.
Worse, Kihrin must come to terms with the horrifying possibility that his connection to Vol Karoth is steadily growing in strength. How can Kihrin hope to save anyone when he might turn out to be the greatest threat of them all?
A Chorus of Dragons series
The Ruin of Kings
The Name of All Things
The Memory of Souls
About the Author
Jenn Lyons was a graphic artist and illustrator for twenty years and has worked in video games for over a decade. She previously worked on The Saboteur and Lord of the Rings: Conquest at EA Games. She is based out of Atlanta, Georgia.
The Ruin of Kings is the first installment of the epic fantasy series A Chorus of Dragons.