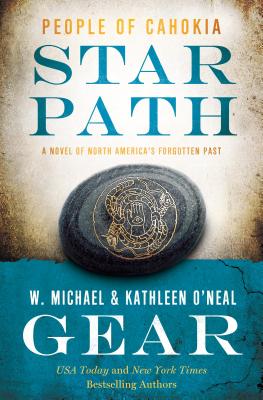 Star Path (Hardcover)
People of Cahokia (North America's Forgotten Past #25)
Forge Books, 9781250176158, 464pp.
Publication Date: June 25, 2019
* Individual store prices may vary.
Description
The fourth novel in the Cahokian story cycle, Star Path is an evocative tale about America's greatest pre-Columbian city by New York Times bestselling authors W. Michael and Kathleen O'Neal Gear
Can you say no to a living god?
The answer for Blue Heron, former matron of the Four Winds Clan, is not really.
She and the master thief Seven Skull Shield are sent to far off Cofitachequi, for an old threat has arisen on the other side of the great eastern mountains. Journeying down the Mississippi to the Tennessee, and then upstream to the Appalachians, Blue Heron's party must not only face the treacherous river, festering resentment in the newly formed colonies, and hostile barbarian tribes, but a more sinister threat travels among them.
A man with his own agenda, and he will do anything to destroy Blue Heron.
Star Path, the fourth book in the Gears' Morning Star series, takes the reader out of the great city of Cahokia and into a land of rivers, forests, tribes and exiled colonies, and shows us the founding of Mississippian civilization—a culture that would thrive and flourish until the arrival of Hernando de Soto in 1539
About the Author
W. Michael Gear, who holds a master's degree in archaeology, has worked as a professional archaeologist since 1978. He is currently principal investigator for Wind River Archaeological Consultants. With his wife, Kathleen O'Neal Gear, he has written the international and USA Today bestselling North America's Forgotten Past Series (including People of the Songtrail, People of the Morning Star, Sun Born, Moon Hunt, among others); and Anasazi Mystery Series.

Kathleen O'Neal Gear is a former state historian and archaeologist for Wyoming, Kansas, and Nebraska for the U.S. Department of the Interior. She has twice received the federal government's Special Achievement Award for "outstanding management" of our nation's cultural heritage. With her husband, W. Michael Gear, she is the co-author of many books, including the North America's Forgotten Past series (People of the Songtrail, People of the Morning Star, Sun Born, Moon Hunt, among others); and the Anasazi Mysteries series. She and her husband live in Thermopolis, WY.
Praise For Star Path: People of Cahokia (North America's Forgotten Past #25)…
Praise for the North America's Forgotten Past Series
"America's prehistory comes to life once again in the capable hands of the Gears, who never fail to strike the perfect balance between cultural fact and magnificent storytelling."—Booklist on Moon Hunt
"The Gears have written an epic novel that combines the cultural history of Cahokia with the fast-paced narrative of a thriller to explore the all-too-human and universal dangers of greed and overweening ambition."—New York Journal of Books on People of the Morning Star
"A magnificent, sweeping world—America, circa 7300 B.C.—that is so real you can almost breathe in the air of it. It tells a bighearted story of war and peace, love and violence, with a cast of richly drawn characters. This is a novel that will stay with you for years—I guarantee it."—Douglas Preston, New York Times bestselling author, on People of the Raven
"The Gears have brought readers fascinating and richly detailed stories of prehistoric North America with tales as rich in cultural meaning as they are in political context."—RT Book Reviews on People of the Owl