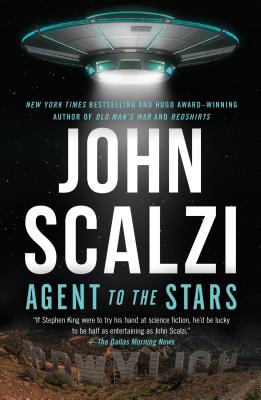 Agent to the Stars (Paperback)
Tor Books, 9781250176516, 368pp.
Publication Date: May 28, 2019
Other Editions of This Title:
Paperback (10/28/2008)
Mass Market (11/30/2010)
Compact Disc (5/14/2013)
MP3 CD (5/14/2013)
* Individual store prices may vary.
Description
From New York Times bestseller and Hugo Award-winner, John Scalzi, a trade paperback repackage of his gleeful mash-up of science fiction and Hollywood satire—now with a new cover!

The space-faring Yherajk have come to Earth to meet us and to begin humanity's first interstellar friendship. There's just one problem: they're hideously ugly and smell like rotting fish.

So getting humanity's trust is a challenge. The Yherajk need someone who can help them close the deal.

Enter Thomas Stein, who knows something about closing deals. He's one of Hollywood's hottest young agents. But although Stein may have just concluded the biggest deal of his career, it's quite another thing to negotiate for an entire alien race. To earn his percentage this time, he's going to need all the smarts, skills, and wits he can muster.

Other Tor Books
The Android's Dream
Agent to the Stars
Your Hate Mail Will Be Graded
Fuzzy Nation
Redshirts

1. Lock In
2. Head On

The Interdepency Sequence
1. The Collapsing Empire
2. The Consuming Fire

Old Man's War Series
1. Old Man's War
2. The Ghost Brigades
3. The Last Colony
4. Zoe's Tale
5. The Human Division
6. The End of All Things
About the Author
John Scalzi won the 2006 John W. Campbell Award for Best New Writer, the 2013 Hugo Award for Best Novel for Redshirts, and his debut novel Old Man's War was a finalist for Hugo Award as well. His other books include The Ghost Brigades, The Android's Dream, The Last Colony and The Human Division. He has won the Romantic Times Reviewers Choice Award for science-fiction, the Seiun, The Kurd Lasswitz and the Geffen awards. His weblog, The Whatever, is one of the most widely-read web sites in modern SF. Born and raised in California, Scalzi studied at the University of Chicago. He lives in southern Ohio with his wife and daughter.
Praise For Agent to the Stars…
Praise for Agent to the Stars

"A remarkably intelligent first-contact yarn, this book is absurd, funny, and satirically perceptive." —Booklist

"Thoughtful and down-to-Earth, Agent to the Stars is a thoroughly enjoyable work, reminiscent of Robert A. Heinlein or Spider Robinson, and a nice change of pace from the less optimistic SF out there." —SFSite.com

"A humorous read and, because of it's personable writing style, a book I'd recommend to someone usually intimidated by reading Science Fiction." —SF Signal

Praise for John Scalzi

"Provocative and unexpected." —The Wall Street Journal on The Collapsing Empire

"Scalzi continues to be almost insufferably good at his brand of fun but think-y sci-fi adventure." —Kirkus Reviews on The Collapsing Empire

"John Scalzi is the most entertaining, accessible writer working in SF today." –Joe Hill

"If anyone stands at the core of the American science fiction tradition at the moment, it is Scalzi."
—The Encyclopedia of Science Fiction, Third Edition

"Scalzi is a master at creating appealing commercial fiction."
—Kirkus Reviews, starred review, on Lock In