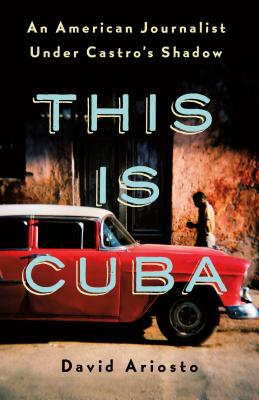 This Is Cuba
An American Journalist Under Castro's Shadow
Hardcover

* Individual store prices may vary.
Other Editions of This Title:
Digital Audiobook (12/10/2018)
MP3 CD (12/11/2018)
Compact Disc (12/11/2018)
Description
USA Today "New and Noteworthy" • One of The Washington Post's "10 Books to Read—and Gift—in December"

"Fascinating." —Forbes

Fidel Castro is dead. Donald Trump was elected president. And to most outsiders, the fate of Cuba has never seemed more uncertain. Yet those who look close enough may recognize that signs of the next revolution are etched in plain view.

This is Cuba is a true story that begins in the summer of 2009 when a young American photo-journalist is offered the chance of a lifetime—a two-year assignment in Havana.

For David Ariosto, the island is an intriguing new world, unmoored from the one he left behind. From neighboring military coups, suspected honey traps, salty spooks, and desperate migrants to dissidents, doctors, and Havana's empty shelves, Ariosto uncovers the island's subtle absurdities, its Cold War mystique, and the hopes of a people in the throes of transition. Beyond the classic cars, salsa, and cigars lies a country in which black markets are ubiquitous, free speech is restricted, privacy is curtailed, sanctions wreak havoc, and an almost Kafka-esque goo of Soviet-style bureaucracy still slows the gears of an economy desperate to move forward.

But life in Cuba is indeed changing, as satellite dishes and internet hotspots dot the landscape and more Americans want in. Still, it's not so simple. The old sentries on both sides of the Florida Straits remain at their posts, fists clenched and guarding against the specter of a Cold War that never quite ended, despite the death of Fidel and the hand-over of the presidency to a man whose last name isn't Castro.

And now, a crisis is brewing.

In This Is Cuba, Ariosto looks at Cuba from the inside-out over the course of nine years, endeavoring to expose clues for what's in store for the island as it undergoes its biggest change in more than half a century.
Praise For This Is Cuba: An American Journalist Under Castro's Shadow…
"Ariosto's work is at times chilling, but with a touch of nostalgia and humor..Cuba watchers should read this informative new work, as should all interested in a country that is geographically closer to the United States than some might realize." —Library Journal (starred review)

"Refreshingly aware....Vividly,...Ariosto brings modern Cuba to life, with all its complexities and eccentric charms." —Publishers Weekly

"Ariosto's insights are plentiful, and amid erratically evolving Cuba-U.S. relations, such personal perspectives, even from a yuma, provide the best portals to mutual understanding." —Booklist

"Ariosto offers a penetrating report of a nation struggling with serious challenges." —Kirkus Reviews

"A CNN reporter/cameraman offers a firsthand account of post-Castro Cuba." —USA Today

"In distinctively vivid prose, David Ariosto offers a compelling and compulsively readable portrait of Cuba as the island teeters between communism and capitalism, embarks on its long farewell to the Castro brothers, and contemplates reconciliation with the United States. Ariosto's personal experiences, keen powers of observation, and extensive conversations with ordinary and extraordinary Cubans showcase a little-understood nation that is in the throes of change. In This is Cuba, even the island's most seasoned observers will find that they have never seen Cuba quite like this." —Daniel P. Erikson, author of The Cuba Wars: Fidel Castro, The United States and the Next Revolution and former Obama Administration advisor on Latin America

"Cuba gets under your skin in a way that few countries do but it's hard to get under its skin. Many have visited but few have stayed and tried to understand where the country is at and where it is going. David Ariosto is a lively and engaging guide to this recent tumultuous period in Cuban history that is so important on both sides of the Florida Straits." —Lulu Garcia-Navarro, host of NPR's Weekend Edition

"The narrative that is Cuba is never about a moment, it's about a series of moments. David captures, in fine and reflective detail, his journey through Cuba, and in the process offers gripping new insights." —John S. Kavulich, President, U.S.-Cuba Trade and Economic Council, Inc.

"An honest, gritty tale that will change the way you think about Cuba, its past, and where it's headed." —Ali Velshi, host of "MSNBC Live with Ali Velshi"

"If you are planning a visit to Cuba take a copy of David Ariosto's This is Cuba on your travels." —Vicki Huddleston, former U.S. Ambassador and author of Our Woman in Havana

St. Martin's Press, 9781250176974, 304pp.
Publication Date: December 11, 2018
About the Author
DAVID ARIOSTO is Executive Producer of GZERO media at the Eurasia Group. Previously, he has worked for Brut, CNN, NPR, Al Jazeera America, Reuters and National Geographic. Between 2009 and 2010, Ariosto was based in Havana, Cuba, working as a photojournalist for CNN. He continues to make reporting trips to the island several times each year. Ariosto also holds a Master's of Public Policy degree from George Mason University and a Bachelor's of History degree from the University of Massachusetts-Amherst. He lives in New York.
or
Not Currently Available for Direct Purchase