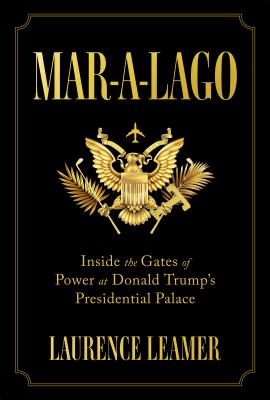 Mar-a-Lago
Inside the Gates of Power at Donald Trump's Presidential Palace
Hardcover

* Individual store prices may vary.
Other Editions of This Title:
Digital Audiobook (1/28/2019)
CD-Audio (1/29/2019)
Description
Where Trump Learned to Rule
To know Donald J. Trump it is best to start in his natural habitat: Palm Beach, Florida. It is here he learned the techniques that took him all the way to the White House. Painstakingly, over decades, he has created a world in this exclusive tropical enclave and favorite haunt of billionaires where he is not just president but a king. The vehicle for his triumph is Mar-A-Lago, one of the greatest mansions ever built in the United States. The inside story of how he became King of Palm Beach—and how Palm Beach continues to be his spiritual home even as president—is rollicking, troubling, and told with unrivaled access and understanding by Laurence Leamer.
In Mar-A-Lago, the reader will learn:
* How Donald Trump bought a property now valued by some at as much as $500,000,000 for less than three thousand dollars of his own money.
* Why Trump was blackballed by the WASP grandees of the island and how he got his revenge.
* How Trump joined forces with the National Enquirer, which was headquartered nearby, and engineered his own divorce.
* How by turning Mar-A-Lago into a private club, Trump was the unlikely man to integrate Palm Beach's restricted country club scene, and what his real motives were.
* What transpires behind the gates of today's Mar-A-Lago during "the season," when President Trump and assorted D.C. power players fly down each weekend.
In addition to copious interviews and reporting from inside Mar-A-Lago, Laurence Leamer brings an acute and unparalleled understanding of the society of Palm Beach, where he has lived for twenty-five years. He has written an essential book for understanding Donald Trump's inner character.
Praise For Mar-a-Lago: Inside the Gates of Power at Donald Trump's Presidential Palace…
"shines a light on the craven culture he [Trump] exploited, where the media, the business community and the local government all went giddy and stupid at the thought of fame…The message from Leamer's book is this: Sure, Trump may be selfish, rude and a liar. But this horrible human was not grown in a test tube." - Washington Post
"Mar-a-Lago: Inside the Gates of Power at Donald Trump's Presidential Palace is a Palm Beacher's sophisticated take on Trump in paradise…Leamer shows how Trump tarnishes everything and everyone he touches. Leamer is an independent sort who refuses to become part of Trump's world and needn't make excuses." - New York Daily News
"Back in the mid-90s, Trump was a nearly bankrupt grifter who fell in love – with a beachfront resort. In order to save Mar-a-Lago, he took on Palm Beach, went to war with the National Enquirer, and race-baited. It was the fight of his life, according to the author of Mar-a-Lago: Inside the Gates of Power at Donald Trump's Presidential Palace, and it may have informed everything that came after." - Vanity Fair
Flatiron Books, 9781250177513, 304pp.
Publication Date: January 29, 2019
About the Author
Laurence Leamer is the bestselling author of more than a dozen books, including The Kennedy Women and Madness Under the Royal Palms. Leamer is an award winning journalist whose work has appeared in the New York Times Magazine, Harper's, and Playboy, and Newsweek. He lives in Washington, DC, and Palm Beach, Florida.