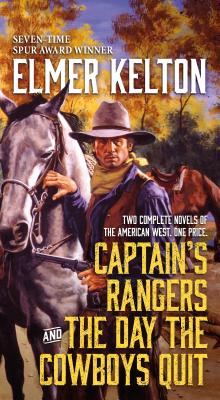 Captain's Rangers and The Day the Cowboys Quit (Mass Market)
Two Complete Novels of the American West
Forge Books, 9781250177940, 576pp.
Publication Date: October 29, 2019
* Individual store prices may vary.
Description
With Captain's Rangers and The Day the Cowboys Quit, this omnibus by legendary Western writer Elmer Kelton offers two novels of the American West at one low price
Captain's Rangers
In 1875, nearly forty years after the Mexican War, Mexicans and Texans are still spilling blood over ownership of the Nueces Strip—a hot, dry stretch of coastal prairie that bushwackers and horse thieves have turned into a lawless hell. Captain L.H. McNelly, a complex and determined Confederate veteran, is brought into the Nueces Strip for one purpose: to keep the peace. His measures are harsh and controversial, but McNelly wasn't sent to be popular. In this boiler pot of killing and racial hatred, however, even his methods may not be enough to bring lasting peace.
The Day the Cowboys Quit
1833. Canadian River cowboy country is changing as a different breed moves in—big outfits backed by Eastern syndicates and run by power-hungry "managers" who figure to make a profit, even if it means crowding a cowboy too far. Wagon boss Hugh Hitchcock tries to keep the peace between rancher and cowboy. But when the ranchers steal his cattle, lynch his friend, and hire a back shooter to put him in his grave, he joins the fight himself. They may take everything he has, but they cannot touch his pride—or his willingness to fight to the bloody end.
About the Author
Elmer Kelton (1926-2009) was the award-winning author of more than forty novels, including The Time It Never Rained, Other Men's Horses, Texas Standoff and Hard Trail to Follow. He grew up on a ranch near Crane, Texas, and earned a journalism degree from the University of Texas. His first novel, Hot Iron, was published in 1956. Among his awards were seven Spurs from Western Writers of America and four Western Heritage awards from the National Cowboy Hall of Fame. His novel The Good Old Boys was made into a television film starring Tommy Lee Jones. In addition to his novels, Kelton worked as an agricultural journalist for 42 years. He served in the infantry in World War II. He died in 2009.
Praise For Captain's Rangers and The Day the Cowboys Quit: Two Complete Novels of the American West…
"One of the greatest and most gifted of Western writers."
—Historical Novel Society
"Elmer Kelton is a Texas treasure."
—El Paso Herald-Post
"Voted 'the greatest Western writer of all time' by the Western Writers of America, Kelton creates characters more complex than L'Amour's."
—Kirkus Reviews
"Kelton writes of early Texas with unerring authority."
—Fort Worth Star-Telegram
"You can never go wrong if . . . you pick up a title by Elmer Kelton."
—American Cowboy
"One of the best."
—The New York Times
"A splendid writer."
—The Dallas Morning News
"A genuine craftsman with an ear for dialogue and, more importantly, an understanding of the human heart."
—Booklist