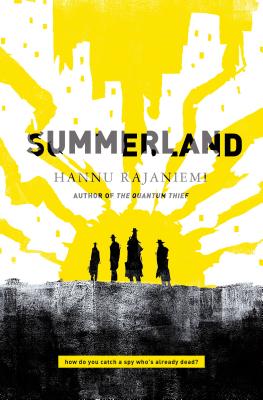 Summerland (Hardcover)
Tor Books, 9781250178923, 304pp.
Publication Date: June 26, 2018
Other Editions of This Title:
Digital Audiobook (6/25/2018)
Paperback (11/19/2019)
* Individual store prices may vary.
Description
"It reads like John Le Carré if Le Carré ate a ton of acid before writing Tinker Tailor Soldier Spy..." —NPR on Summerland

From Hannu Rajaniemi, one of the most exciting science fiction writers in the last decade, comes an awe-inspiring account of the afterlife and what happens when it spills over into the world of the living
Loss is a thing of the past. Murder is obsolete. Death is just the beginning.
In 1938, death is no longer feared but exploited. Since the discovery of the afterlife, the British Empire has extended its reach into Summerland, a metropolis for the recently deceased.
Yet Britain isn't the only contender for power in this life and the next. The Soviets have spies in Summerland, and the technology to build their own god.
When SIS agent Rachel White gets a lead on one of the Soviet moles, blowing the whistle puts her hard-earned career at risk. The spy has friends in high places, and she will have to go rogue to bring him in.
But how do you catch a man who's already dead?
Other Tor books by Hannu Rajaniemi:
Jean le Flambeur series
1. The Quantum Thief
2. The Fractal Prince
3. The Casual Angel
About the Author
Born and raised in Finland, HANNU RAJANIEMI lives in Edinburgh, Scotland, where he is a founding director of a financial consultancy, ThinkTank Maths. He is the holder of several advanced degrees in mathematics and physics. Multilingual from an early age, he writes his science fiction in English. He is the author of The Quantum Thief, The Fractal Prince and The Causal Angel.
Praise For Summerland…
Praise for Summerland

"While the conspiracies and plots unfold in classic spy-story fashion, the wildly inventive setting gives the novel a unique kind of freshness." —Chicago Tribune
"Wildly imaginative...the world building here is exquisite...it should appeal equally to readers of fantasy and to those who enjoy alternate-history fiction set during the WWII years." —Booklist

"A jaw-dropping, knowing, hyperintelligent yarn." —Kirkus
"[Rajaniemi] smoothly transitions to this magical dieselpunk tale (airships battle "ectoflyers" in soul-powered flight suits) with all his technical skill in evidence." —Publishers Weekly

Praise for Hannu Rajaniemi

"The best first SF novel I've read in years. Hard to admit, but I think he's better at this stuff than I am." —Charles Stross on The Quantum Thief
"Spectacularly and convincingly inventive, assured and wholly spellbinding: one of the most impressive debuts in years." —Kirkus Reviews, starred review, on The Quantum Thief
"A stellar debut." —Publishers Weekly, starred review, on The Quantum Thief
"Outstanding... A storytelling skill rarely found from even the most experienced authors." —Library Journal, starred review, on The Quantum Thief
"Rajaniemi has spectacularly delivered on the promise that this is likely to be the most important SF novel we'll see this year." —Locus on The Quantum Thief
"Absolutely incredible… Endlessly inventive and compulsively readable. It's one of the best books of the year." —RT Book Reviews, Top Pick, on The Quantum Thief
"Magnificent...pure magic." —NPR on Collected Fiction
"The best and most original debut anthology since Angela Carter's Fireworks 40 years ago." —The Wall Street Journal on Collected Fiction