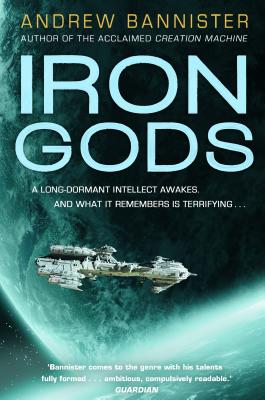 Iron Gods (Paperback)
A Novel of the Spin (Spin Trilogy #2)
Tor Books, 9781250179203, 320pp.
Publication Date: July 30, 2019
* Individual store prices may vary.
Description
From Andrew Bannister, author of Creation Machine, comes Iron Gods--another thrilling, heart-in-mouth new science fiction novel of the Spin.
In the depths of space, a beacon has awakened. And an ancient technology has begun to stir. As its memory returns, with it comes a terrifying knowledge—a grave warning about the future of the Spin that has been concealed for ten thousand years.
Ten thousand years after the events of Creation Machine, the Spin is in decline and the beleaguered slave economy of the Inside is surrounded by rebel civilizations. A group of escapees from the vast forced-labor unit known as the Hive have stolen the last of the Inside's ancient warships and woken it from an enforced trance that had lasted for millennia. And someone has destroyed a planet that didn't exist, and halfway across the Spin, something has gone wrong with the sky.
About the Author
Andrew Bannister grew up in Cornwall. After initial feints towards music and engineering, he eventually studied Geology at Imperial College, London, and went to work in the North Sea oilfields before becoming an Environmental Consultant.
Andrew is an active volunteer, focusing on children with special educational needs. He is currently the Vice Chair of Special Olympics Leicestershire and Rutland.
He has always written and been a voracious reader. He has now discovered that writing science fiction, like his Spin Trilogy (Creation Machine, Iron Gods, Stone Clock) is at least as enjoyable as reading it, but takes longer.
Praise For Iron Gods: A Novel of the Spin (Spin Trilogy #2)…
Praise for Iron Gods
"A worthy successor to the potential realized in Creation Machine."—SFF World

"With Bannister's debut novel, Creation Machine, we seemed to have struck a nugget of SF gold. With Iron Gods our luck continues and it seems that with this new author we may well have found a vein of the stuff."—Concatenation

Praise for Creation Machine
"Ambitious, compulsively readable."—Guardian
"A beautiful space opera."—SciFi Now
"Great action . . . enjoyable and accessible."—SF Book Reviews

"A colorful debut that conjures up the same kind of gnarly, lurid weirdness that made Iain M. Banks' SF epics so memorable."—SFX
"A thrilling debut . . . delivers in spades."—SFF World
"An impressive debut. This is space opera on steroids.""—Robert J. Sawyer, author of Quantum Night

"An excellent read that ticked the boxes for me."—Neal Asher
"Fast-paced, intelligent SF, action-packed, and immersive."—Adrian Tchaikovsky
"Ancient, brooding technologies . . . Renegade slaves in a stolen starships . . . In Bannister's hands space opera lives on, gaudy and brutal and glorious. The Spin Doctor is back." —Stephen Baxter, award-winning sf author of The Time Ships