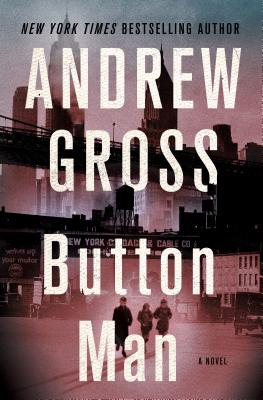 Button Man (Hardcover)
A Novel
Minotaur Books, 9781250179982, 384pp.
Publication Date: September 18, 2018
Other Editions of This Title:
Digital Audiobook (9/17/2018)
Mass Market (7/30/2019)
CD-Audio (9/18/2018)
Library Binding, Large Print (1/1/2019)
Pre-Recorded Audio Player (9/18/2018)
* Individual store prices may vary.
Description
"Mr. Gross's direct style is full of sentiment but never maudlin and well-suited to scenes of violent action. Button Man has plenty of zip–and lots of moxie, too." –Wall Street Journal
"This is a big, heartfelt handshake of a book, with all the street-scrambling energy that distinguishes the best fiction of Jeffrey Archer and Mario Puzo." –USA Today
Following up The One Man and The Saboteur, Gross's next historical thriller brings to life the drama of the birth of organized crime in 1930s New York City from the tale of one family.
After a string of New York Times bestselling suburban thrillers, Andrew Gross has reinvented himself as a writer of historical thrillers. In his latest novel, Button Man, he delivers a stirring story of a Jewish family brought together in the dawn of the women's garment business and torn apart by the birth of organized crime in New York City in the 1930s.
Morris, Sol, and Harry Rabishevsky grew up poor and rough in a tiny flat on the Lower East Side, until the death of their father thrust them into having to fend for themselves and support their large family. Morris, the youngest, dropped out of school at twelve years old and apprenticed himself to a garment cutter in a clothing factory; Sol headed to accounting school; but Harry, scarred by a family tragedy, fell in with a gang of thugs as a teenager. Morris steadily climbs through the ranks at the factory until at twenty-one he finally goes out on his own, convincing Sol to come work with him. But Harry can't be lured away from the glamour, the power, and the money that come from his association with Louis Buchalter, whom Morris has battled with since his youth and who has risen to become the most ruthless mobster in New York. And when Buchalter sets his sights on the unions that staff the garment makers' factories, a fatal showdown is inevitable, pitting brother against brother.
This new novel is equal parts historical thriller, rich with the detail of a vibrant New York City in the 1920s and 1930s, and family saga, based on Andrew Gross's own family story and on the history of the era, complete with appearances by real-life characters like mobsters Louis Lepke and Dutch Schultz and special prosecutor Thomas Dewey, and cements Gross's reputation as today's most atmospheric and original historical thriller writer.
About the Author
ANDREW GROSS is the New York Times and internationally bestselling author of several novels, including No Way Back, Everything to Lose, and One Mile Under. He is also coauthor of five #1 New York Times bestsellers with James Patterson, including Judge & Jury and Lifeguard. His books have been translated into over 25 languages. He lives in Westchester County, New York, with his wife, Lynn. They have three children.
Praise For Button Man: A Novel…
"Button Man is a compelling, fast paced historical thriller that paints a rich portrait of the rise of organized crime in 1930's America. Fans of Boardwalk Empire and Dennis Lehane will love it."—Kristin Hannah
"The author incorporates his real family history to enrich the story, and his love of that rich genealogical connection along with vast research into life in the Big Apple almost a century ago results in another outstanding and engrossing read." –Associated Press
"Andrew Gross' prowess for rich historical mysteries, usually with a Jewish theme, takes another leap forward with the engrossing "Button Man."" —South Florida Sun Sentinel
"A highly satisfying story of family loyalty, persistence, courage, and crime." – Kirkus Reviews
"It is a powerful book written at a fierce pace and packed with many a memorable scene." –Publisher's Weekly
"A gut-wrenching, noirish portrait of Jewish organized crime and labor unionism in 1930s New York…These are characters you won't forget… Alternately frightful and fascinating, the story viscerally describes the era, exposing the motives and fears that drive each character and play out on the streets."-Booklist (starred review)
"Button Man is a riveting piece of historical fiction, mixed with family saga, exposing the Jewish mob of the 1930's who preyed on the garment industry and the brave few who stood up against them. This book is a heart-stopper. I loved, LOVED it!" -- Linda Fairstein
"The strength of this suspenseful novel lies in its dark humor and characterizations of the brothers…The sometimes gritty, sometimes swanky settings of Button Man bring a tumultuous time and place to brimming life." – Historical Novel Society

"Andrew Gross is in top form with this beautifully haunting novel that mixes history seamlessly with fiction. Button Man is an epic journey of struggle, hope, death and life. Riveting to the very last page." – NY Journal of Books
"Historical fiction fans will be drawn in by the details of the author's own family history in the garment industry." – Library Journal
"Another powerful mix of suspense and vivid characterization rooted in an earlier, darker time."–Connecticut Post
"Not to be missed." –Providence Journal
"Button Man is a ferocious thriller of a read. Andrew Gross has penned a heartrending, fast-paced thriller drama.... A classy, endearing read." —The Seattle Book Review