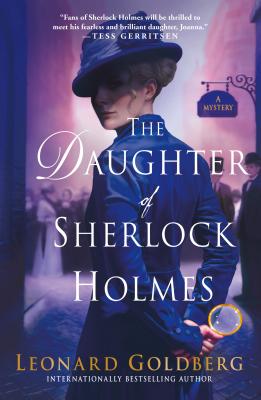 The Daughter of Sherlock Holmes
A Mystery (The Daughter of Sherlock Holmes Mysteries #1)
Paperback

* Individual store prices may vary.
Other Editions of This Title:
Digital Audiobook (6/5/2017)
Hardcover (6/6/2017)
CD-Audio (6/6/2017)
Library Binding, Large Print (8/1/2019)
Description
2017 RT Reviewers' Choice—Best Historical Mystery

From USA Today and internationally bestselling author Leonard Goldberg comes The Daughter of Sherlock Holmes, a new thrilling tale of the great detective's daughter and her companion Dr. John Watson, Jr. as they investigate a murder at the highest levels of British society.

1914. Joanna Blalock's keen mind and incredible insight lead her to become a highly-skilled nurse, one of the few professions that allow her to use her finely-tuned brain. But when she and her ten-year-old son witness a man fall to his death, apparently by suicide, they are visited by the elderly Dr. John Watson and his charming, handsome son, Dr. John Watson Jr. Impressed by her forensic skills, they invite her to become the third member of their investigative team.

Caught up in a Holmesian mystery that spans from hidden treasure to the Second Afghan War of 1878-1880, Joanna and her companions must devise an ingenious plan to catch a murderer in the act while dodging familiar culprits, Scotland Yard, and members of the British aristocracy. Unbeknownst to her, Joanna harbors a mystery of her own. The product of a one-time assignation between the now dead Sherlock Holmes and Irene Adler, the only woman to ever outwit the famous detective, Joanna has unwittingly inherited her parents' deductive genius.
Praise For The Daughter of Sherlock Holmes: A Mystery (The Daughter of Sherlock Holmes Mysteries #1)…
"Fans of Sherlock Holmes will be thrilled to meet his fearless and brilliant daughter, Joanna. Once again the game's afoot, and a new Holmes and Watson unite to solve the unsolvable in this delightful adventure by Leonard Goldberg." —Tess Gerritsen, New York Times bestselling author of I Know a Secret

"Cleverly crafted with fascinating characters and a plot that Conan Doyle would be proud of. Sherlock fans looking for a new series need look no further than Goldberg's well developed and fascinating tale!" —M.J. Rose, New York Times bestselling author

"Adventure, murder, family secrets and intrigue are abound in this novel, which has incredible characters who are charming, cunning and smart as a whip. Goldberg has successfully intertwined historical facts with fiction, and has created a must-read novel for fans of historical mystery and of Sherlock Holmes." —RT Book Reviews

"The Daughter of Sherlock Holmes is a nicely rendered tale that will appeal to Sherlockian readers of all shades. The language and settings are faithful to Arthur Conan Doyle's original stories. John Jr. acts as narrator rather than Dr. Watson, and Joanna is an alluring replacement for the great detective.... The rigorous, well-placed clues, an unexpected and satisfying climactic twist, and the likable Joanna make this a welcome addition to the Shelock Holmes world." —Mystery Scene

"This clever book will keep you on the edge of your seat with its many thrilling twists and turns. The plot is worthy of Conan Doyle's originals, and I hope to see many more adventures of Joanna Blalock and John Watson, Jr." —Historical Novel Society

"Goldberg's Sherlock Holmes pastiche is pitch-perfect as John Watson Jr. becomes the voice of a new generation and Joanna Blalock takes on her role as leader of the investigation. Fans of Laurie R. King's "Mary Russell" books will welcome a fellow female to the ranks of Holmes followers." —Library Journal

"Goldberg, well-known for his medical thrillers, fuels the unquenchable fascination with Sherlock Holmes by combining detailed medical knowledge with the skills reincarnated in the Great Detective's daughter." —Kirkus Reviews

"Engaging... Joanna is Holmes' daughter, even down to echoing the great man's occasional lapses into smugness: 'Allow me to draw your attention....'" —Booklist

"A compelling murder mystery that's genuinely difficult to solve without the help of Mrs. Blalock and Dr. Watson." —Reviewing the Evidence blog

"Here's a charming cozy with a new and delightful spin on the Holmes and Watson partnership.... The game is afoot once more! I look forward to following this engaging series." —BookLoons blog

"The game is definitely afoot. Readers can follow along as they uncover clues, play with theories, and do their best to uncover the truth that will solve the case. There's danger, misdirection, surprises, a bit of romance, and characters that are interesting and believable." —Gumshoe Review

"The author has done a superb job with Blalock. She certainly sounds a great deal like a character we all love. And it was a thrill to see Watson and his son, as well as Miss Hudson, the housekeeper, and the dim-witted Lestrade once again. The story is well thought out and the mystery keeps you reading." —Suspense Magazine

Praise for Leonard Goldberg's Previous Novels:

"Loaded with suspense and believable characters" —T. Jefferson Parker

"Strap on your seat belts for a thrilling ride. Leonard Goldberg pulls out all the stops in this action-packed tale that's sure to keep you flipping the pages." —Tess Gerritsen, New York Times bestselling author

"All the excitement, intrigue and danger you could ask for." —Kirkus Reviews on Patient One
Minotaur Books, 9781250181244, 320pp.
Publication Date: May 15, 2018
About the Author
Leonard Goldberg is the USA Today bestselling author of the Joanna Blalock medical thrillers. His novels have been translated into a dozen languages and were selections of the Book of the Month Club, French and Czech book clubs, and The Mystery Guild. They were featured as People's "Page-Turner of the Week" and at the International Book Fair. After a long career affiliated with the UCLA Medical Center as a Clinical Professor of Medicine, he now lives on an island off the coast of Charleston, SC.