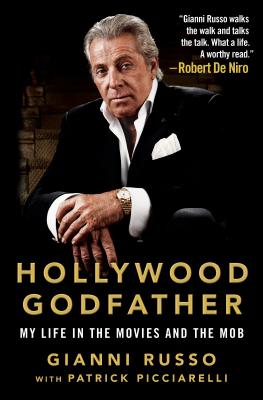 Hollywood Godfather (Hardcover)
My Life in the Movies and the Mob
St. Martin's Press, 9781250181398, 320pp.
Publication Date: March 12, 2019
* Individual store prices may vary.
Description
The over-the-top memoir of a real-life mobster-turned-actor who helped make The Godfather a reality, and his story of life on the edge between danger and glamour.
Gianni Russo was a handsome 25-year-old mobster with no acting experience when he walked onto the set of The Godfather and entered Hollywood history. He played Carlo Rizzi, the husband of Connie Corleone, who set her brother Sonny—played by James Caan—up for a hit. Russo didn't have to act—he knew the mob inside and out: from his childhood in Little Italy, where Mafia legend Frank Costello took him under his wing, to acting as a messenger for New Orleans mob boss Carlos Marcello during the Kennedy assassination, to having to go on the lam after shooting and killing a member of the Colombian drug cartel in his Vegas club.
Along the way, Russo befriended Frank Sinatra, who became his son's godfather, and Marlon Brando, who mentored his career as an actor after trying to get Francis Ford Coppola to fire him from The Godfather. Russo had passionate affairs with Marilyn Monroe, Liza Minelli, and scores of other celebrities. He went on to star in The Godfather: Parts I and II, Seabiscuit, Any Given Sunday and Rush Hour 2, among many other films, and also acted as producer on several. Hollywood Godfather is his no-holds-barred account of a life lived on the edge. It is a story filled with violence, glamour, sex—and fun.
About the Author
Gianni Russo has appeared in forty-five movies, has been involved in the production of nineteen others, and has appeared in numerous TV shows. His most well-known roles include parts in The Godfather: Parts I and II; Goodnight, My Love; Lepke; Laserblast; Chances Are; The Freshman; Side Out; Another You; Super Mario Bros.; Any Given Sunday; The Family Man; Seabiscuit; and Rush Hour 2. He also has a part in the upcoming Barry Jay Minkow biopic, Minkow (currently in post-production, set for release later in 2017). His life-long association with organized crime has seen him witness to Mob history. He is also a singer, whose shows are sold out across the country.
Praise For Hollywood Godfather: My Life in the Movies and the Mob…
"Gianni Russo walks the walk and talks the talk. What a life. Fascinating. A worthy read." —Robert De Niro, two-time Academy Award-winning actor
"Gianni Russo has seen a lot, done a lot, and tells it all. Amazing."—Nick Pileggi, Academy Award-nominated screenwriter of Goodfellas
"Gianni Russo is a true character who has led a most colorful life."—Gay Talese, journalist and New York Times bestselling author