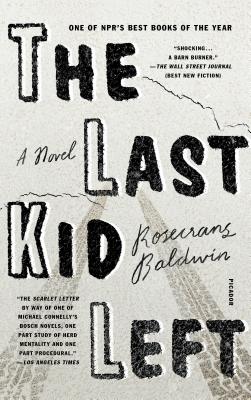 The Last Kid Left
A Novel
Paperback

* Individual store prices may vary.
Other Editions of This Title:
Digital Audiobook (6/5/2017)
Hardcover (6/6/2017)
Description
One of The Millions Most Anticipated Books of 2017

When a scandalous small-town crime goes viral, a teen girl takes center stage in Rosecrans Baldwin's story of a twenty-first century Puritan witch-hunt.

The Last Kid Left begins when a car smashes into a sculpture of a giant cowgirl. The police find two bodies in the trunk. 19-year-old Nick Toussaint Jr. is arrested for murder, and after details of the crime rip across the internet, his 16-year-old girlfriend, Emily Portis—a sheltered teen who's been off the grid until now, her first romance coinciding with her first cellphone—is nearly consumed by a public hungry for every lurid detail, accurate or not.

Emily and Nick are not the only ones whose lives come unmoored. A retired police officer latches onto the case. Nick's alcoholic mother is thrust into an unfamiliar role. A young journalist who left her hometown behind is pulled into the fray. And Emily's father, the town Sheriff, is finally forced to confront a monstrous secret.

The Last Kid Left is a bold, searching novel about how our relationships operate in a hyper-connected world, an expertly-portrayed account of tragedy turned mercilessly into entertainment. And it's the suspenseful unwinding of a crime that's more complex than it initially seems. But mostly it's the story of two teenagers, dismantled by circumstances and rotten luck, who are desperate to believe that love is enough to save them.
Praise For The Last Kid Left: A Novel…
A 2017 Best Book of the Season by Vanity Fair, Fast Company, The Boston Globe, The New York Post, The Chicago Review of Books, Mystery Tribune, and O. Henry Magazine

One of The Millions' Most Anticipated Books of 2017

"A coming-of-age tale so decisively of our time that it's almost surprising that it doesn't rely on a dystopian veneer to carry its themes. It is a wonder and a pleasure to see a work of fiction that so honestly, accurately, and effortlessly belongs to the here and now in ways that neither trivialize its horrors nor play them to their apocalyptic hilt." —The Los Angeles Review of Books

"If The Scarlet Letter were reported to TMZ, the result might have something of the flavor of Baldwin's complexly plotted literary mystery."—Library Journal

"[A] well-crafted mystery...readers who like plenty of character analysis in their crime fiction will be satisfied."—Publishers Weekly

"A dark and brooding narrative...Baldwin's novel steers clear of tidy endings, remaining faithful to delivering a story that ebbs and flows with the messiness of real life."—BookPage

"When teen Nick is arrested for murder and the case goes viral, both his family and his girlfriend are thrust into the spotlight." —Entertainment Weekly (Best Books of the Month)

"Bracing . . . The Last Kid Left is The Scarlet Letter by way of one of Michael Connelly's Bosch novels, one part study of herd mentality and one part procedural." —The Los Angeles Times

"Rosecrans Baldwin drives a modern murder mystery in The Last Kid Left."
—Vanity Fair ("What to Read Right Now")

"Virtuoso bursts of language and characterization and insight... Who killed the hell out of this nice small-town New England doctor and his wife? And why? That's more than enough to keep the plot of a thinner novel going all on its own—but Baldwin isn't done. He's barely getting started." —NPR

"The opening chapter dramatizing Nick's arrest is a barnburner." —The Wall Street Journal (Best New Fiction)

"Rosecrans Baldwin's new novel examines the way that true-crime narratives can obsess our culture—and, given the way that cultural commentators have begun to delve into the ethics of this, it seems to be coming at exactly the right time." —Vol. 1 Brooklyn

"It's a total page-turner, as it starts with the discovery of a double murder, but uses that as a way to explore relationships in the time of social media and hyper-connectivity." —Food52

"Baldwin mixes voices, points of view, historical accounts, lists, text messages and drafts of Leela's magazine story, complete with footnotes, in a dizzying rush straight to the end of the novel. He fleshes out his Roshomon-esque narrative with a huge cast of finely drawn secondary characters." —Chapter 16


Praise for You Lost Me There

"A stunning debut . . . You Lost Me There is, finally, a wise book, the kind that eludes many authors twice Baldwin's age . . . Profound, affecting, and true." —Michael Schaub, NPR (Best Books of the Year)

"Gorgeously atmospheric . . . Baldwin's storytelling grace is so delicate that the reader never doubts the deep emotional ache in this man of intellect, the joy that co-exists with his grief, or the underground river of love so deep it perversely paralyzes him. You Lost Me There is a smart, tender, and generous novel." —Lauren Groff

"Baldwin's prose is wise and nimble, clever without being self-conscious, true to the myriad voices of his characters." —Fiona Zublin, The Washington Post

"Beautiful, brainy, offbeat . . . Baldwin shows steadying compassion and literary flair in the dissection of miseries." —Lisa Schwarzbaum, Entertainment Weekly

"In fiction as in life, you can't save people from themselves. Although that never keeps anyone from trying, as Rosecrans Baldwin's amiable first novel demonstrates." —New York Times Book Review (Editors' Choice)


Praise for Paris, I Love You But You're Bringing Me Down

"It's this balance of the city's dirty deceptions . . . with the timeless elegance of every boulevard and back-alley bistro that makes the book feel so necessary and welcome." —Daniel Riley, GQ (Best Books of the Year)

"Deftly written, with a wry style and liberally deployed irony . . . Very funny." —Dominic Tierney, The Atlantic Monthly

"A charming, hilarious, keenly observed, and surprisingly poignant journey into the Parisian state of mind." —Anthony Doerr

"Funny, filmic, and shocking: A Judd Apatow film in the waiting." —John Freeman, The Boston Globe

"What makes Baldwin's book particularly enjoyable is that it engages with the clash of our American idea of Paris and Paris the modern reality." —Claire Lundberg, Slate
Picador, 9781250181664, 400pp.
Publication Date: June 5, 2018
About the Author
Rosecrans Baldwin is the author of You Lost Me There and Paris, I Love You but You're Bringing Me Down. He lives in Los Angeles.