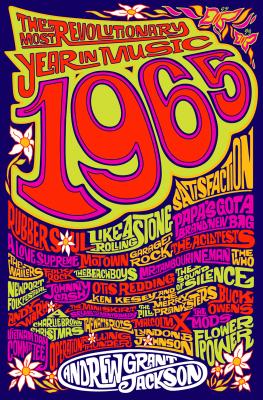 1965
The Most Revolutionary Year in Music
Paperback

* Individual store prices may vary.
Other Editions of This Title:
Hardcover (2/3/2015)
Description
A lively chronicle of the year that shaped popular music forever, with an all new Spotify appendix!

More than half a century ago, friendly rivalry between musicians turned 1965 into the year rock evolved into the premier art form of its time and accelerated the drive for personal freedom throughout the Western world.

The Beatles made their first artistic statement with Rubber Soul. Bob Dylan released "Like a Rolling Stone, arguably the greatest song of all time, and went electric at the Newport Folk Festival. The Rolling Stones's "Satisfaction" catapulted the band to world-wide success. New genres such as funk, psychedelia, folk rock, proto-punk, and baroque pop were born. Soul music became a prime force of desegregation as Motown crossed over from the R&B charts to the top of the Billboard Hot 100. Country music reached new heights with Nashville and the Bakersfield sound. Musicians raced to innovate sonically and lyrically against the backdrop of seismic cultural shifts wrought by the Civil Rights Movement, Vietnam, psychedelics, the Pill, long hair for men, and designer Mary Quant's introduction of the miniskirt.

In 1965, Andrew Grant Jackson combines fascinating and often surprising personal stories with a panoramic historical narrative.
Praise For 1965: The Most Revolutionary Year in Music…
"Jackson has a better ear than a lot of music writers, and one of the best parts of this book is his many casual citings of songs that echo others… a lot of the best insights come from writers who show us the familiar through fresh eyes, as Jackson does." —The Washington Post

"Written for music lovers who were there and for those who wish they were, the book is a well-researched cultural history that leaves no rolling stone unturned as it meanders through 1965, connecting dots to create a vivid picture of the cultural landscape as it looked a half-century ago ... [Jackson] goes beyond pop, rock, and the new "folk rock," showing how R&B, jazz, and country were also undergoing dramatic change in '65, and he foreshadows glam, funk, disco, and hip hop ... The most revolutionary year in music is under the radar no more." —The Huffington Post

"[Jackson] documents the dazzling, turbulent times in his thoroughly researched new book ... 1965 is an engrossing account of a meeting at the crossroads of American music history and culture. If you were there, it will take you back; if you weren't, it may make you wish you had been." —Book Reporter

"[Jackson] beautifully illustrates the overwhelming changes that music, counterculture and politics defined in 1965 ... It does well in explaining the end of a cultural innocence through the events surrounding a profound year in pop culture history." —Salt Lake City Underground

"1965: The Most Revolutionary Year in Music is a work of synthesis and interpretation... [Jackson] uses his sources well, weaving them into a clear and cohesive narrative, and his own assessments are thoughtful and convincing. He brings a fan's enthusiasm and a critic's considered judgment, which makes the book an enjoyable read and a useful reference work." —PopMatters

"An entertaining exploration of the cultural events and music that defined a decade." —Washington Independent Review Of Books

"Utilizing myriad sources, memoirs, and articles, Jackson weaves the story of a year... It will appeal to music fans and those interested in the Sixties." —Library Journal

"Jackson combines personal stories with a panoramic historical narrative of the music and epic social change of 1965, a defining year for Bob Dylan, the Beatles, the Rolling Stones, The Who, James Brown, and John Coltrane." —Publishers Weekly, "The Most Anticipated Books of Spring 2015"

"Andrew Grant Jackson makes a powerful case…This book is a welcome reminder of some truly great music. Recommended." —National Review Online

"Jackson's rapid-fire jaunt through the musical highlights of 1965--the rise of Motown and Stax Records, the early music of David Bowie, the arrival of the Bakersfield sound--is a helpful survey for readers unfamiliar with the history of popular music." —Publishers Weekly

"While Jackson wittily and eloquently presents his findings, he lets his readers decide for themselves whether 1965 was indeed the most revolutionary year in music. Either way, he makes a good case." —L.A. Weekly

"Jackson presents a thoroughly entertaining romp through one mighty year in pop-music history." —Booklist

"Lively… Jackson does a solid job covering the hit-makers." —Kirkus Reviews

"Overall, I liked the book, including the sections on the scandal Bob Dylan caused by going electric; the Beatles going from "She loves you, yea, yea, yea" to "In My Life"; and their direction-changing album Rubber Soul. The author covered a lot more than many of the other books on music history I have read." —The VVA Veteran

"From the Beatles to the Byrds, from Dylan to the Stones, from the Beach Boys to Motown, author Andrew G. Jackson brilliantly details how the year 1965 was essentially rock and roll's coming-out party. 1965: The Most Revolutionary Year in Music is filled with interesting insight and analysis into how a unique confluence of cultural events helped spur many of popular music's all-time greats to reach their artistic apex, all within one, short, action-packed twelve-month period. If you weren't there the first time around -- or even if you were -- sit back and prepare yourself for one heck of a 'ticket to ride.'" —Kent Hartman, author of the Los Angeles Times bestseller The Wrecking Crew: The Inside Story of Rock and Roll's Best-Kept Secret, winner of the Oregon Book Award and the Audie Award

"1965 is a year that pop fans... revere [for] the sheer volume of innovative music and cultural transformation. A half-century on, it all remains astonishing but Jackson takes us through these 365 earth-changing days with steady hands and an addictive style. I started making a playlist almost immediately." —Marc Spitz, author of We Got the Neutron Bomb and Twee

"The Beatles, Stones, Dylan, Coltrane, The Dead, Velvet Underground, Motown … what wasn't happening in 1965? Andrew Grant Jackson painstakingly chronicles this pivotal year in music with an eye for detail and the big picture – an exciting ride with a timeless soundtrack." —Joel Selvin, author of Summer of Love

"In 1965: The Most Revolutionary Year in Music, Jackson lays folk, rock, funk, Motown and country music alongside tumultuous social and political events to offer strong, and highly entertaining, support for his argument." —Arrive Magazine

"Jackson states a compelling case for 1965 as a key turning point in American music and society... [his] eye for eye-opening detail and telling anecdotes makes for entertaining and addictive history, especially for those who can hear the soundtrack of 1965 playing in their head as they read" —BigThink.com
Attachments area
A Thomas Dunne Book for St. Martin's Griffin, 9781250181718, 368pp.
Publication Date: July 10, 2018
About the Author
Andrew Grant Jackson is the author of 1965: The Most Revolutionary Year in Music, and Still the Greatest: The Essential Songs of the Beatles' Solo Careers. He directed and co-wrote the feature film The Discontents (2004) starring Amy Madigan. He has written for Slate's 'Blogging the Beatles,' Yahoo!, music magazines Burn Lounge, Mean Street, Dispatch and the Hollywood monthly magazine Ingenue. He lives in California.