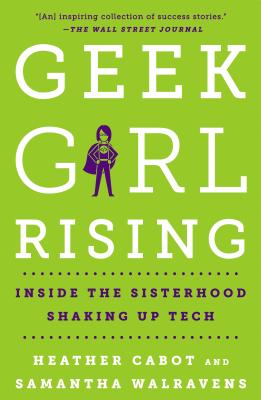 Geek Girl Rising
Inside the Sisterhood Shaking Up Tech
Paperback

* Individual store prices may vary.
Other Editions of This Title:
Digital Audiobook (5/22/2017)
Description
In Geek Girl Rising, Heather Cabot and Samantha Walravens invite women everywhere to join the digital revolution and create the future!

"I don't know much about tech, but I do know that these pioneer women are pretty dope. Geek Girl Rising gives a much needed voice to the fearless women paving an important path in the tech world, while forming a lasting sisterhood along the way." - Kelly Ripa

Meet the women who aren't asking permission from Silicon Valley to chase their dreams. They are going for it—building cutting-edge tech startups, investing in each other's ventures, crushing male hacker stereotypes and rallying the next generation of women in tech. With a nod to tech trailblazers like Sheryl Sandberg and Marissa Mayer, Geek Girl Rising introduces readers to the fearless female founders, technologists, and innovators fighting at a grassroots level for an ownership stake in the revolution that's changing the way we live, work and connect. Readers will meet Debbie Sterling, inventor of GoldieBlox, the first engineering toy for girls, which topples the notion that only boys can build; peek inside the glamorous world of YouTube pioneer Michelle Phan; and tour the headquarters of The Muse, the hottest career site for millennials, led by intrepid co-founder and CEO, Kathryn Minshew. Amid the rising chorus of women speaking out against sexism in technology, media, entertainment and politics, Geek Girl Rising's message of female solidarity and empowerment is more urgent than ever. Now in paperback, with a new afterword that takes readers inside 2017's national conversation on sexual harassment, the #MeToo movement, and what's ahead for women in tech.
Praise For Geek Girl Rising: Inside the Sisterhood Shaking Up Tech…
"[One of] three books every geek should read this spring... This inspiring collection of success stories gives all the dish on the rise of under-the-radar women in the tech world." - Wall Street Journal

"While the diversity statistics often show a grim image of women's experience in technology and entrepreneurship, Geek Girl Rising paints a brighter picture of the women who are rallying to start companies, investing in each other, and pulling up those coming behind them." — MIT Technology Review (Best Books of 2017)

"Journalists Cabot and Walravens tell the stories of dozens of women who are working in or leading tech companies… A well-organized survey of the successes and occasional failures of women working in what has traditionally been a male-dominated field." - Kirkus

"Geek Girl Rising is a collection of powerful stories about the current and next generation of women technologists and leaders. Heather Cabot and Samantha Walravens show how these women are changing the rules, building better products for men AND women, and lessons learned from the 'sister network'. This book is full of inspiring, real-life stories about women technologists and leaders who are determined to see the next generation succeed by building new communities and opportunities. It's an ideal book for all up-and-coming tech leaders, whether you are a student, in the ideation phase or a female entrepreneur trying to get a seat at the big table. Learn what's changed and what hasn't – and how to navigate successfully." - The Women's CLUB of Silicon Valley

"Change is finally coming to the tech world because Silicon Valley sisters are doing it for themselves. And Geek Girl Rising proves it. Essential and hopeful reading both for women—and men—who are working or want to work in the digital space. It's been an uphill battle for women in Palo Alto, but, as Heather Cabot and Samantha Walravens meticulously report, their voices are starting to be heard, and as the data shows, everybody benefits." —Joanna Coles, Chief Content Officer, Hearst Magazines, and Board Director, Snap Inc.

"An important book I will be sharing with everyone on my team. As a woman in Silicon Valley and an ardent believer in breaking stereotypes, I found Girl Geek Rising to be a new manifesto for bridging the gender gap. Cabot and Walravens have conducted intensive research and bring—for the first time ever—a comprehensive and large-scale picture of what it is to be a woman in tech. Riveting for men and women alike." —Zainab Ghadiyali, Co-Founder and CEO at Wogrammer, and former tech lead at Facebook

"Geek Girl Rising shines a spotlight on the growing number of women who are blazing a trail through the male-dominated world of tech. Uplifting, fast-paced, and carefully researched, this book is a clarion call for women to keep leaning in—and for men to recognize potential where it has too long been overlooked."—Adam Grant, New York Times bestselling author of Originals and Give and Take

"Since it's the tech world that's building our future, it's vital women play a part—and Geek Girl Rising is the roadmap for the next generation of women not just to get involved but to lead their own tech startups. The challenges are real, but Geek Girl Rising shows women how to rise to those challenges and overcome them. It's the rallying cry we need for a diverse, connected, and sustainable world."—Arianna Huffington, CEO, Thrive Global

"I don't know much about tech, but I do know that these pioneer women are pretty dope. Geek Girl Rising gives a much-needed voice to the fearless women paving an important path in the tech world while forming a lasting sisterhood along the way." —Kelly Ripa, television producer and talk show host

"Geek Girl Rising is an inspiring 'who's who' in tech that is a must-read for anyone wondering how women are using the power of business, sheer grit, and a lot of heart to start, build, and fund companies—companies that are driving innovation and changing the landscape of the tech industry." —Kristy Wallace, President, Ellevate Network

"There is nothing more powerful than role models, and Geek Girl Rising provides the stories and the inspiration from the women who are creating our future. Technology is changing our world, and the women in this book are front and center of today's technology revolution. Heather Cabot and Samantha Walravens take us into this world as seen from the eyes of many extraordinary women."—Telle Whitney, CEO and President, Anita Borg Institute, and Co-Founder of the Grace Hopper Celebration of Women in Computing
St. Martin's Griffin, 9781250182005, 288pp.
Publication Date: May 1, 2018
About the Author
HEATHER CABOT is an award-winning journalist, adjunct professor at Columbia University Graduate School of Journalism, angel investor and contributor to Women@Forbes. She is a former ABC News correspondent and anchor of World News Now/World News This Morning. Cabot jumped into the digital revolution when she was hired to serve as the Web Life Editor for Yahoo! in 2007. During her tenure, she reported on how the Internet was transforming everyday lives as a regular guest on Today, GMA, CNN, MSNBC, Fox, nationally syndicated talk shows and dozens of local TV and radio stations across the U.S. and Canada. She advises several women-led startups and is a managing director of Golden Seeds and member of Pipeline Angels and Plum Alley. Cabot first started investigating the gender gap in tech as a researcher on the 1995 PBS documentary "Minerva's Machine: Women and Computing," which profiled female tech pioneers, including U.S. Navy Rear Admiral Grace Hopper. Cabot resides in the New York City area with her husband, tween twins and their goldendoodle named Midnight.

SAMANTHA WALRAVENS is an award-winning journalist, work-life expert and author/editor of the best-selling anthology, TORN: True Stories of Kids, Career & the Conflict of Modern Motherhood, lauded by the New York Times as a book "filled with the voices of women trying to solve an impossible equation, all doing the best they can" and hailed by the Los Angeles Times as "a welcome addition to the body of work of books about the work/life balance." Samantha writes for Women@Forbes, the Huffington Post, Disney Interactive and Modern Mom, and is a sought-after speaker on the topic of women, career and work-life success. She has spoken nationwide at organizations including Google, Goldman Sachs, UBS, Deloitte, Princeton University and the Society of Women Engineers, has been interviewed on Today, Good Morning America and NPR. Samantha began her career as a technology reporter for PC World magazine and led marketing communications for Tumbleweed Software, a Silicon Valley software security company. She is a member of Pipeline Angels, an angel network that invests in early-stage, women-led startups, and serves on the Alumni Schools Committee for Princeton University. Samantha resides in Marin County, California with her husband and four children.