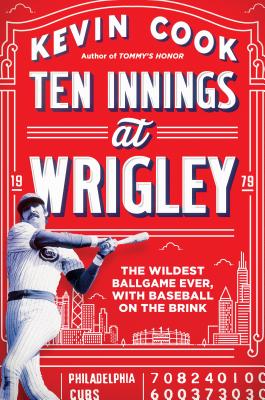 Ten Innings at Wrigley
The Wildest Ballgame Ever, with Baseball on the Brink
Hardcover

* Individual store prices may vary.
Other Editions of This Title:
MP3 CD (5/7/2019)
Compact Disc (5/7/2019)
Paperback (6/2/2020)
MP3 CD (5/7/2019)
Compact Disc (5/7/2019)
Description
The dramatic story of a legendary 1979 slugfest between the Chicago Cubs and the Philadelphia Phillies, full of runs, hits, and subplots, at the tipping point of a new era in baseball history

It was a Thursday at Chicago's Wrigley Field, mostly sunny with the wind blowing out. Nobody expected an afternoon game between the Philadelphia Phillies and Chicago Cubs on May 17, 1979, to be much more than a lazy early-season contest matching two teams heading in opposite directions—the first-place Phillies and the Cubs, those lovable losers—until they combined for thirteen runs in the first inning. "The craziest game ever," one player called it. "And then the second inning started."
Ten Innings at Wrigley is Kevin Cook's vivid account of a game that could only have happened at this ballpark, in this era, with this colorful cast of heroes and heels: Hall of Famers Mike Schmidt and Bruce Sutter, surly slugger Dave Kingman, hustler Pete Rose, unlucky Bill Buckner, scarred Vietnam vet Garry Maddox, troubled relief pitcher Donnie Moore, clubhouse jester Tug McGraw, and two managers pulling out what was left of their hair.
It was the highest-scoring ballgame in a century, and much more than that. Bringing to life the run-up and aftermath of a contest The New York Times called "the wildest in modern history," Cook reveals the human stories behind the game—and how money, muscles and modern statistics were about to change baseball forever.
Praise For Ten Innings at Wrigley: The Wildest Ballgame Ever, with Baseball on the Brink…
"Hugely enjoyable . . . A natural raconteur with a jaunty press-box style, Cook . . . winningly captures the atmosphere of a looser, shaggier Wrigley, with off-duty waitresses and college students smoking pot in the bleachers and jawing at Phillies outfielders . . . A raffish, freewheeling book." —The Washington Post
"Every year there is a new crop of baseball books of varying quality, with one or two of them rising above the pack. Ten Innings at Wrigley will be among the 2019 releases that will be read for years." —Booklist (starred review)
"Ten Innings at Wrigley does much more than give you a play by play of the game. . . . Most impressive about this book is how Cook delve[s] into the triumphs and tragedies of the protagonists." —Daily Herald
"Cook writes with a fan's heart and a journalist's eye about that memorable day but, more importantly, he plays up the inherent hope and optimism that baseball has." —Pop Matters, Best Books of 2019: Non-Fiction
"Fine, tasty fare for dedicated baseball fans." —Kirkus Reviews
"A slice of history fans of any team will relish." —Shelf Awareness (starred review)
"This book is a must-read for every baseball fan!" —Ryne Sandberg, longtime Chicago Cubs second baseman and member of the Baseball Hall of Fame
"A vivid tale of a dramatic contest." —The Washington Post
"Like the finest play-by-play announcers, [Kevin Cook] settles into a good rhythm, alternating between the action on the field and colorful asides. . . . Cook makes good use of TV and radio broadcasts, as well as his own interviews with players and fans. He turns some nice phrases, too." —Jonathan Eig, The Wall Street Journal
"Cook will treat readers to all manner of baseball nuggets, like the kind of color commentator you like to have in the broadcast booth. . . . The tempo, the color, the tension all combine to make manifest the excitement as each batter [comes] to the plate." —The Minneapolis Star Tribune
"There's an enthusiasm throughout that is infectious, drawing the reader up into the whirlwind combination of time, place and participants. . . . Ten Innings at Wrigley is an engaging account of one of MLB's greatest games." —The Maine Edge
"Kevin Cook has taken one of the greatest box scores in baseball history and written a wonderful book that perfectly explains that day and that game. It is funny, it is personal, it is expertly researched. I learned something on every page." —Tim Kurkjian, senior writer and analyst, ESPN, and author of I'm Fascinated by Sacrifice Flies
"This would be a great book even without my dad's five RBIs!" —Aaron Boone, manager of the New York Yankees
Henry Holt and Co., 9781250182036, 272pp.
Publication Date: May 7, 2019
About the Author
Kevin Cook has written more than five books on sports and the people who play them, including Electric October, Tommy's Honor and The Dad Report. He is a former senior editor at Sports Illustrated who has written for The New York Times, Men's Journal, GQ, Playboy, Smithsonian, and many other publications. He has appeared on CNN, ESPN, and Fox TV. An Indiana native, he now lives in Northampton, Massachusetts.