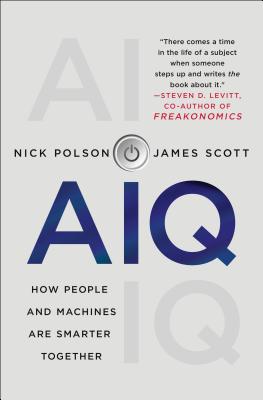 AIQ
How People and Machines Are Smarter Together
Hardcover

* Individual store prices may vary.
Other Editions of This Title:
Digital Audiobook (5/14/2018)
Paperback (8/13/2019)
CD-Audio (5/15/2018)
Description
"There comes a time in the life of a subject when someone steps up and writes the book about it. AIQ explores the fascinating history of the ideas that drive this technology of the future and demystifies the core concepts behind it; the result is a positive and entertaining look at the great potential unlocked by marrying human creativity with powerful machines." —Steven D. Levitt, bestselling co-author of Freakonomics
From leading data scientists Nick Polson and James Scott, what everyone needs to know to understand how artificial intelligence is changing the world and how we can use this knowledge to make better decisions in our own lives.
Dozens of times per day, we all interact with intelligent machines that are constantly learning from the wealth of data now available to them. These machines, from smart phones to talking robots to self-driving cars, are remaking the world in the 21st century in the same way that the Industrial Revolution remade the world in the 19th century.
AIQ is based on a simple premise: if you want to understand the modern world, then you have to know a little bit of the mathematical language spoken by intelligent machines. AIQ will teach you that language—but in an unconventional way, anchored in stories rather than equations.
You will meet a fascinating cast of historical characters who have a lot to teach you about data, probability, and better thinking. Along the way, you'll see how these same ideas are playing out in the modern age of big data and intelligent machines—and how these technologies will soon help you to overcome some of your built-in cognitive weaknesses, giving you a chance to lead a happier, healthier, more fulfilled life.
Praise For AIQ: How People and Machines Are Smarter Together…
"[A] rigorous yet surprisingly accessible explanation of how AI actually works, coupled with a keen interrogation of its strengths and weaknesses...As an explainer, AIQ is impeccable, brilliantly making a complicated subject understandable. And while it offers a glowing picture of how AI can get things right, it also clearly lays out how things can go wrong." —Strategy + Business
"Entertaining and persuasive. The book's goal is to explain how artificial intelligence delivers its incredible results, and Polson and Scott are like a pair of excitable mechanics lifting up the bonnet of a sports car. This is a passionate book, and it is a model of how to make data science accessible and exciting." —The Sunday Times (UK)
"Grounding AI in tried-and-true methods makes it seem less alien: Computers are simply faster ways to solve familiar problems. Hence the book's title, a portmanteau of AI and IQ--the point being that we need both." —Wall Street Journal

"Nick Polson and James Scott take us under the hood of AI and data science, showing that behind most algorithms is the story of a person trying to solve a problem and make the world better. The result is an engaging, optimistic vision of an age in which computers have become a pervasive, influential presence in every aspect of life." —Michael J. Casey, senior advisor at MIT Media Lab's Digital Currency Initiative, and co-author of The Truth Machine

"At last, a book on the ideas behind AI and data science by people who really understand data. Cutting through the usual journalistic puff and myths, they clearly explain the underlying ideas behind the way that loads of data are being harnessed to build the algorithms that can carry out such extraordinary feats. But they are also clear about the limitations and potential risks of these algorithms, and the need for society to scrutinise and even regulate their use. A real page-turner, with fine stories and just enough detail: I learned a lot." —David Spiegelhalter, Winton Professor of the Public Understanding of Risk, University of Cambridge

St. Martin's Press, 9781250182159, 272pp.
Publication Date: May 15, 2018
About the Author
NICK POLSON is Professor of Econometrics and Statistics at the Chicago Booth School of Business. He does research on machine intelligence and deep learning, and is a frequent speaker at events. Polson lives in Chicago.

JAMES SCOTT is Associate Professor of Statistics at the University of Texas at Austin. He is a statistician, data scientist, and has worked with clients across many industries to help them understand the power of data. Scott lives in Austin with his wife.
or
Not Currently Available for Direct Purchase