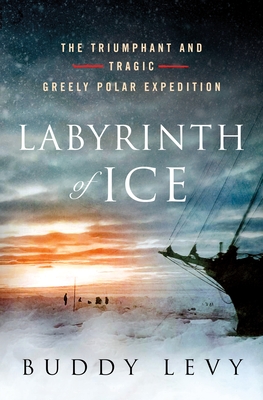 Labyrinth of Ice (Hardcover)
The Triumphant and Tragic Greely Polar Expedition
St. Martin's Press, 9781250182197, 400pp.
Publication Date: December 3, 2019
Other Editions of This Title:
Digital Audiobook (12/2/2019)
CD-Audio (12/3/2019)
* Individual store prices may vary.
Description
Based on the author's exhaustive research, the incredible true story of the Greely Expedition, one of the most harrowing adventures in the annals of polar exploration.
In July 1881, Lt. A.W. Greely and his crew of 24 scientists and explorers were bound for the last region unmarked on global maps. Their goal: Farthest North. What would follow was one of the most extraordinary and terrible voyages ever made.
Greely and his men confronted every possible challenge—vicious wolves, sub-zero temperatures, and months of total darkness—as they set about exploring one of the most remote, unrelenting environments on the planet. In May 1882, they broke the 300-year-old record, and returned to camp to eagerly await the resupply ship scheduled to return at the end of the year. Only nothing came.
250 miles south, a wall of ice prevented any rescue from reaching them. Provisions thinned and a second winter descended. Back home, Greely's wife worked tirelessly against government resistance to rally a rescue mission.
Months passed, and Greely made a drastic choice: he and his men loaded the remaining provisions and tools onto their five small boats, and pushed off into the treacherous waters. After just two weeks, dangerous floes surrounded them. Now new dangers awaited: insanity, threats of mutiny, and cannibalism. As food dwindled and the men weakened, Greely's expedition clung desperately to life.
Labyrinth of Ice tells the true story of the heroic lives and deaths of these voyagers hell-bent on fame and fortune—at any cost—and how their journey changed the world.
About the Author
BUDDY LEVY is a journalist, speaker, and the author of numerous books, including Conquistador: Hernan Cortes, King Montezuma, and the Last Stand of the Aztecs; River of Darkness: Francisco Orellana's Voyage of Death and Discovery Down the Amazon;Geronimo: Leadership Strategies of an American Warrior (with Mike Leach); and American Legend: The Real-Life Adventures of David Crockett. He was a cast member in all 24-episodes of HISTORY's Brad Meltzer's DECODED television series. He teaches writing at Washington State University. He lives in Idaho.
Praise For Labyrinth of Ice: The Triumphant and Tragic Greely Polar Expedition…
"An armchair explorer's dream—all the drama, all the fear, all the steadfastness that fans could want. Unexpectedly, Levy manages also to carve out important space in the narrative for Greely's wife, Henrietta, who was key to the rescue. An invaluable addition to polar history." —Booklist
"Levy's masterful use of primary sources from Greely and others create a highly detailed narrative that brings the men and their expedition to life. This gripping book is a testament to the bravery and sheer doggedness of men determined to survive despite harsh conditions." —Library Journal
"Evocative, deeply researched...the result is an intense historical adventure with modern-day relevance for the climate change debate." —Publishers Weekly
"A graphic tale of horrific deprivation that is sure to be the benchmark account." —Kirkus Reviews
"Polar exploration is utter madness. It is the insistence of life where life shouldn't exist. And so, Labyrinth of Ice shows you exactly what happens when the unstoppable meets the unmovable. Buddy Levy outdoes himself here. The details and story are magnificent." —Brad Meltzer, bestselling author of The First Conspiracy: The Secret Plot to Kill George Washington
"Buddy Levy's Labyrinth of Ice is the harrowing saga of A.W. Greely's doomed polar exploration of 1881. Every page shivers with high-stakes drama and survivalist instinct. There is never a dull moment in this thoroughly researched epic. Highly recommended!" —Douglas Brinkley, Author of American Moonshot: John F. Kennedy and the Great Space Race
"Labyrinth of Ice is a must-read for armchair adventurers everywhere. Buddy Levy's research is thorough and his writing fast-paced, making for an epic page-turner."
—Martin Dugard, #1 New York Times Bestselling Author
No one brings the narratives of history to life more brilliantly than Buddy Levy. With laser accuracy, keen intelligence, exhaustive research, exhilarating detail, and genuine compassion, he takes us on wondrous journeys so packed with stunning moments of heroism, hope, fear, and survival that we feel that we are witnessing the events not in the past, but in the present. In Levy's most recent book Labyrinth of Ice, moments of unimaginable human endeavor, folly, and sacrifice become something more than myth, more than legend, more than history itself: they become an unforgettable part of our own reality." —Kim Barnes, Author of In the Kingdom of Men and the Pulitzer Prize Finalist In the Wilderness: Coming of Age in Unknown Country

"Few tales of survival against great odds and even greater misfortune can top that of the Lady Franklin Bay Expedition. Levy has produced a page-turner that tells in fascinating detail the story of Lt. Adolphus Greely—who ranks as one of the 19th-century's most intrepid and ruthless explorers -- and the two dozen men of his command who battled the Arctic elements and each other to try to survive one of the most harrowing voyages of discovery ever recorded."—Tom Clavin, New York Times bestselling author of Dodge City and The Heart of Everything that Is
"Buddy Levy's Labyrinth of Ice is a thrilling and harrowing story. If it's a cliche to say I couldn't put this book down, well, too bad: I couldn't put this book down." —Jess Walter, bestselling author of Beautiful Ruins
"Labyrinth of Ice is another masterful narrative by America's premier historiographer of harrowing, character-baring expeditions into the unknown. A tour de force of vivid detail and voluminous research!" —Alex Shoumatoff, editor of DispatchesFromTheVanishingWorld.com
"Buddy Levy's Labyrinth of Ice is riveting. It's a true tale of unparalleled discovery, endurance, survival and patriotism, set in one of the world's most unforgiving places: the Polar North. Levy writes history with a novelist's timing and describes the stunning landscapes with precise, imagistic language. A gripping, unforgettable story."—Erik Weihenmayer: Global Adventurer, Speaker, and Author.