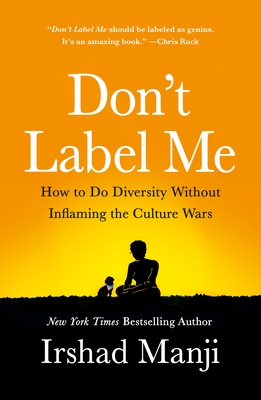 Don't Label Me
How to Do Diversity Without Inflaming the Culture Wars
Paperback

* Individual store prices may vary.
Other Editions of This Title:
Digital Audiobook (2/25/2019)
Hardcover (2/26/2019)
Description
"Don't Label Me should be labeled as genius. It's an amazing book." - Chris Rock

A unique conversation about diversity, bigotry, and our common humanity, by the New York Times bestselling author, Oprah "Chutzpah" award-winner, and founder of the Moral Courage Project

In these United States, discord has hit emergency levels. Civility isn't the reason to repair our caustic chasms. Diversity is.

Don't Label Me shows that America's founding genius is diversity of thought. Which is why social justice activists won't win by labeling those who disagree with them. At a time when minorities are fast becoming the majority, a truly new America requires a new way to tribe out.

Enter Irshad Manji and her dog, Lily. Raised to believe that dogs are evil, Manji overcame her fear of the "other" to adopt Lily. She got more than she bargained for. Defying her labels as an old, blind dog, Lily engages Manji in a taboo-busting conversation about identity, power, and politics. They're feisty. They're funny. And in working through their challenges to one another, they reveal how to open the hearts of opponents for the sake of enduring progress. Readers who crave concrete tips will be delighted.

Studded with insights from epigenetics and epistemology, layered with the lessons of Bruce Lee, Ben Franklin, and Audre Lorde, punctuated with stories about Manji's own experiences as a refugee from Africa, a Muslim immigrant to the U.S., and a professor of moral courage, Don't Label Me makes diversity great again.
Praise For Don't Label Me: How to Do Diversity Without Inflaming the Culture Wars…
"Don't Label Me should be labeled as genius. It's an amazing book. Right now, I'd like to say something biting and controversial but I'm way too scared of the backlash it could create. That's why we need this book. Because nobody should be afraid to speak their mind, not even stupid people like me." - Chris Rock

"Why do diversity initiatives so often fail or backfire? Because we've been doing diversity wrong. Irshad Manji shows us a different way to think about identity; one that is humble, loving, humane, and therefore likely to work for many more people. In a time of rising national polarization and distrust, Don't Label Me is among the most important books for Americans to read now." - Jonathan Haidt, New York University Stern School of Business, co-author of The Coddling of the American Mind

"Irshad Manji's moral courage is a powerful force for good." —Dr. Cornel West

"When I publicly challenged Donald Trump to read the U.S. Constitution, it was in part because of the moral courage that Irshad Manji inspired in me. With this book, she takes boldness to another level. After heeding Irshad's call to examine my own prejudices about Trump voters, I have a new understanding of bravery, and of humanity." - Gold Star father Khizr Khan

"Manji ponders deeply divisive subjects such as Black Lives Matter and homophobia...in the hope that society can evolve to bridge its divides and abandon its labels." - Booklist

"Profound and nuanced...[A] jubilantly intelligent and quintessentially human and optimistic book, one that is fundamentally important in a dangerously polarized and divided time." - The Toronto Star

St. Martin's Griffin, 9781250182852, 320pp.
Publication Date: March 24, 2020
About the Author
Recipient of Oprah Winfrey's first Chutzpah Award for boldness, Irshad Manji is the founder of Moral Courage College, which teaches people how to do the right thing in the face of fear. She is also the Director for Courage, Curiosity, and Character at Let Grow, a nonprofit promoting independence and resilience in kids. A prize-winning professor, Manji currently lectures with Oxford University's Initiative for Global Ethics and Human Rights.