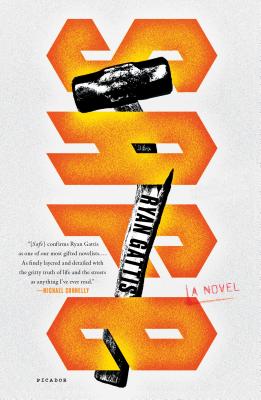 Safe (Paperback)
A Novel
Picador, 9781250183606, 288pp.
Publication Date: August 7, 2018
Other Editions of This Title:
Digital Audiobook (7/31/2017)
Hardcover (8/1/2017)
* Individual store prices may vary.
Description
Ryan Gattis' gritty, fast-paced thriller, Safe, hurtles readers toward a shocking conclusion that asks the toughest question of all: how far would you go to protect the ones you love?
Ricky 'Ghost' Mendoza, Jr. is trying to be good. In recovery and working as a freelance safecracker for the DEA, the FBI, and any other government agency willing to pay him, Ghost is determined to live clean for the rest of his days. And maybe he could, if the most important person in his life hadn't gotten into serious financial trouble. To fix it, all Ghost has to do is crack a safe and steal drug money from under the noses of the gangs and the Feds without getting caught. Or killed.
Rudy 'Glasses' Reyes runs drugs and cleans up messes for the baddest of bad men. When Ghost hits one of his safes, Glasses must hunt him down or be held accountable. But Glasses is worried about more than just money. The heist puts everything in his life at risk—his livelihood, his freedom, even his family.
About the Author
Ryan Gattis is the author of Kung Fu High School, All Involved, and Safe. His books have received the American Library Association's Alex Award, the Lire Award for Noir of the Year in France, and the First Annual McIntyre's Fine Books Mystery Prize. Gattis lives and writes in Los Angeles, where he is a member of the street art crew UGLARworks and a founding board member of 1888, a Southern California literary arts non-profit.
Praise For Safe: A Novel…
"A thrilling heist novel with a big beating heart." —Paula Hawkins, author of The Girl on the Train

"Whip-smart vernacular and a narrative that zips along . . . Gattis has created a gripping novel about opportunity, transformation and hope." —Hannah Beckerman, The Guardian
"Ryan Gattis has already established himself as one of the most penetrating and clear-eyed commentators on contemporary Los Angeles . . . Safe is an intense and gripping novel."
—Rob Lathan, Los Angeles Review of Books
"This macho, faster-than-a-speeding-bullet novel benefits from the extensive research Gattis has done on the L.A. gang scene . . . and that deep knowledge informs electrifying plot twists." —Sarah Begley, TIME

"A finely-crafted whiplash of a crime staccato." —Michael T. Fournier, Chicago Review of Books
"Who told Ryan Gattis he could be this good? . . . [Gattis] lathes a gritty, surprisingly sentimental noir plot into a smooth, sturdy, doom-shadowed classic . . . Like a great cracksman, he hears the tumblers of language turning, and he's an expert at making them give." —David Kipen, LA Magazine
"Reminiscent of Raymond Carver or Ernest Hemingway . . . Gattis is superb with the staccato sentence, honed to a few words." —Stuart Kelly, The Scotsman
"If you're looking for something intelligent, fast-paced, sometimes funny, and certainly noir but with a huge heart, snap this one up." —Kristin Centorcelli, Criminal Element

"Fast-paced and gritty, Safe is both a moving and human morality tale and an utterly immersive and heart-stoppingly suspenseful thriller." —Fantastic Fiction

"[Gattis] delivers a gritty L.A. crime novel about two men seeking redemption . . . The criminal life is carefully rendered, the stakes are clear, and the characters' humanity is rich and refreshing . . . This is an emotionally rich page-turner whose devastating ending still offers a glimmer of hope." —Booklist, starred review
"A moody yarn that cannily merges punk-rock world weariness and real-world criminality." —Kirkus
"Safe is a propulsive thriller that confirms Ryan Gattis as one of our most gifted novelists. The book has unstoppable momentum yet is as finely layered and detailed with the gritty truth of life and the streets as anything I've ever read. It shoots you down a path that is fraught with surprise and insight, and you can't ask for more than that." —Michael Connelly, author of The Wrong Side of Goodbye
"Safe starts with a deceptively simple premise: reformed bad guy tries to make good by doing dumb thing. But it's much richer than that. What begins as a study about the choices we make in life ends as a freight train of a thriller, racing toward a heartbreaking finish." —Harlan Coben, author of Home
"Ryan Gattis takes you to another gritty and beautiful part of SoCal, starring people usually cast in movies and TV shows as extras, as local color. Gattis brings these background characters to the foreground, giving them life, love, and loss—and writing some of the most powerful scenes I've ever read. Safe will haunt you—while you're reading it and days after you finish." —Rachel Howzell Hall, author of Trail of Echoes
"Safe is an immensely satisfying crime thriller, but it is also a deeply moving novel about one flawed man's attempt to create good in a corrupt world. Ryan Gattis has a great ear for the patois of the street, and he reminds us that in twenty-first-century America, the worst predators often wear suits and work in offices." —Ron Rash, author of The Risen
"One of those rare novels that draw you in and make you forget the outside world completely. With all the thrill of a crime novel and the emotional heft of a character study, Safe will turn your notions of 'villain' and 'hero' upside down." —Sara Novic, author of Girl at War