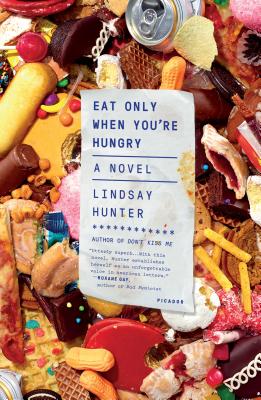 Eat Only When You're Hungry
A Novel
Paperback

* Individual store prices may vary.
Other Editions of This Title:
Digital Audiobook (8/7/2017)
Description
One of Nylon and Chicago Reader's "Books We Can't Wait To Read In 2017," and one of Buzzfeed and Vulture's Best Books to Read This Summer

A father searches for his addict son while grappling with his own choices as a parent (and as a user of sorts)

Achingly funny and full of feeling, Eat Only When You're Hungry follows fifty-eight-year-old Greg as he searches for his son, GJ, an addict who has been missing for three weeks. Greg is bored, demoralized, obese, and as dubious of GJ's desire to be found as he is of his own motivation to go looking. Almost on a whim, Greg embarks on a road trip to central Florida—a noble search for his son, or so he tells himself.

Greg takes us on a tour of highway and roadside, of Taco Bell, KFC, gas-station Slurpees, sticky strip-club floors, pooling sweat, candy wrappers and crumpled panes of cellophane and wrinkled plastic bags tumbling along the interstate. This is the America Greg knows, one he feels closer to than to his youthful idealism, closer even than to his younger second wife. As his journey continues, through drive-thru windows and into the living rooms of his alluring ex-wife and his distant, curmudgeonly father, Greg's urgent search for GJ slowly recedes into the background, replaced with a painstaking, illuminating, and unavoidable look at Greg's own mistakes—as a father, as a husband, and as a man.

Brimming with the same visceral regret and joy that leak from the fast food Greg inhales, Eat Only When You're Hungry is a wild and biting study of addiction, perseverance, and the insurmountable struggle to change. With America's desolate underbelly serving as her guide, Lindsay Hunter elicits a singular type of sympathy for her characters, using them to challenge our preconceived notions about addiction and to explore the innumerable ways we fail ourselves.
Praise For Eat Only When You're Hungry: A Novel…
Praise for Eat Only When You're Hungry

"A novel of staggering vision and tremendous heart. On full display here are Hunter's nonpareil technique, her skillful excavation of her characters' interior landscapes — a digging done both ruthlessly and yet with abundant mercy — and her inspired inventiveness at the level of language . . . All of which is to say that Eat Only When You're Hungry is in every way majestic: stunningly detailed, formidably written, and profoundly affecting." —Vincent Scarpa, Los Angeles Review of Books

"Hunter delves closely into Greg's world as he travels from West Virginia to Florida in a rented RV, and also delves into the troubled lives of his family members, with an honesty that is both harsh and tender. Eat Only When You're Hungry does many things—it's a painfully vivid family portrait, a road novel, and a novel about addiction in its many forms—and it does them all wonderfully, with a stunning emotional impact." —Isaac Fitzgerald, Buzzfeed

"There's a vibrant ruthlessness at the heart of Lindsay Hunter's second novel, Eat Only When You're Hungry, the kind that makes it hard, at times, to catch your breath . . . What are we to do with all this love and longing, imperfect and incomplete though it may be? Eat Only When You're Hungry eschews easy answers, or resolution in any fundamental way" —David Ulin, 4Columns

"Hunter specializes in spotlighting characters at their low point. . . . In a book about binge eating, Hunter is always feeding the reader more metaphors, sometimes handfuls per page. What might feel gratuitous from a lesser writer is a signature success for Hunter; she serves up images that are at once salty and sweet, satisfyingly tragicomic. . . . Ultimately, Eat Only When You're Hungry is an extraordinary trip of a novel not because of its scene-setting but the quality of its characters." —Ben Purkert, Fiction Advocate

"Hunter has a gift for dark fiction, rendered with a tender and generous touch . . . In Hunter's smart twist on the classic American road trip, the novel becomes an instant-gratification junk-food tour through the national underbelly." —National Book Review (Five Hot Books This Week)

"[A] commanding narrative . . . A savage tale of parenthood and squandered hope from an author whose unsparing eye never ceases to subvert the mundane." —Kirkus

"Hunter's absurd Floridian landscapes and darkly tender moments are keen and hilarious, exposing the complexities of addiction and an overweight man with a weak heart but unfailing love." —Booklist

"The frailties of the human body and the human heart are laid bare in Lindsay Hunter's utterly superb novel Eat Only When You're Hungry. There is real delicacy, tenderness, and intelligence with which Hunter tackles this portrait of a broken family of people who don't realize just how broken they are until they are forced to confront the fractures between them and within themselves. With this novel, Hunter establishes herself as an unforgettable voice in American letters. Her work here, as ever, is unparalleled." —Roxane Gay, author of Bad Feminist and Hunger

"This novel takes us on a road trip with an American Everyman into the heart of American hunger—for freedom, for connection, for junk food, for love. Hunter has a brilliant sense for the perfectly telling image, and her humor is so biting and smart it was almost a surprise, at the end of this engrossing book, to realize how thoroughly she had broken my heart." —Garth Greenwell, author of What Belongs to You

"Compassionate, claustrophobic, gut-wrenchingly observed, Eat Only When You're Hungry probes the fine lines between hunger and addiction, addiction and desire. In perfectly nuanced prose, Lindsay Hunter observes the human ability to go on in the face of the unexpected, the unknown, the regretted, and, perhaps most important, the mundane." —Lori Ostlund, author of After the Parade
Picador, 9781250183613, 224pp.
Publication Date: August 14, 2018
About the Author
Lindsay Hunter is the author of the story collections Don't Kiss Me and Daddy's and the novels Ugly Girls and Eat Only When You're Hungry, a finalist for the 2017 Chicago Review of Books Fiction Award. Originally from Florida, she now lives in Chicago with her husband, sons, and dogs.