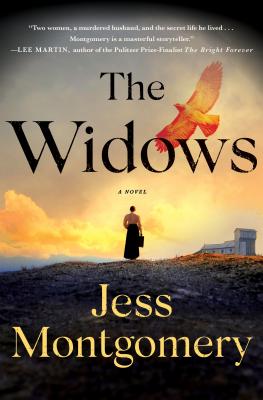 The Widows (Hardcover)
A Novel (The Kinship Series #1)
Minotaur Books, 9781250184528, 336pp.
Publication Date: January 8, 2019
Other Editions of This Title:
Digital Audiobook (1/7/2019)
Paperback (1/7/2020)
CD-Audio (1/8/2019)
Library Binding, Large Print (6/12/2019)
Pre-Recorded Audio Player (1/8/2019)
* Individual store prices may vary.
Description
"The Widows kept me on the edge of my seat. Montgomery is a masterful storyteller." —Lee Martin, author of Pulitzer Prize-Finalist The Bright Forever

Kinship, Ohio, 1924: When Lily Ross learns that her husband, Daniel Ross, the town's widely respected sheriff, is killed while transporting a prisoner, she is devastated and vows to avenge his death.
Hours after his funeral, a stranger appears at her door. Marvena Whitcomb, a coal miner's widow, is unaware that Daniel has died, and begs to speak with him about her missing daughter.
From miles away but worlds apart, Lily and Marvena's lives collide as they realize that Daniel was not the man that either of them believed him to be—and that his murder is far more complex than either of them could have imagined.
Inspired by the true story of Ohio's first female sheriff, this is a powerful debut about two women's search for justice as they take on the corruption at the heart of their community.
"The Widows is a gripping, beautifully written novel about two women avenging the murder of the man they both loved."—Hallie Ephron, New York Times bestselling author of You'll Never Know, Dear
"Jess Montgomery's gorgeous writing can be just as dark and terrifying as a subterranean cave when the candle is snuffed out, but her prose can just as easily lead you to the surface for a gasp of air and a glimpse of blinding, beautiful sunlight. This is a powerful novel: a tale of loss, greed, and violence, and the story of two powerful women who refuse to stand down."—Wiley Cash, New York Times bestselling author of The Last Ballad, A Land More Kind than Home, and This Dark Road to Mercy
"[A] flinty, heartfelt mystery that sings of hawks and history, of coal mines and the urgent fight for social justice."—Julia Keller, Pulitzer Prize-winning author of Bone on Bone
About the Author
JESS MONTGOMERY is the Literary Life columnist for the Dayton Daily News and former Executive Director of the renowned Antioch Writers' Workshop in Yellow Springs, Ohio. Based on early chapters of her novel The Widows, Jess was awarded an Ohio Arts Council individual artist's grant for literary arts and the John E. Nance Writer-in-Residence at Thurber House in Columbus. She lives in her native state of Ohio.
Praise For The Widows: A Novel (The Kinship Series #1)…
A Sun Sentinel Best Mystery Book of 2019!
One of Aunt Agatha's Best Books of 2019!

"Montgomery's debut features two tough-as-nails, strong-willed women whose empathy leaves a lasting impression. A simultaneous examination of women's rights, coal mining, prohibition, and Appalachian life, this is a fantastic choice for historical fiction fans."—Library Journal (starred)
"Beautifully plotted and filled with believable characters, The Widows explores an era and an area struggling to be a part of the modern 20th century, yet constantly pulled backward to its unsettled past...the launch of this series shows much potential."—Associated Press
"[An] engaging debut...Vivid historical details, an intriguing mystery, and strong female characters."—Kirkus Reviews
"Deeply felt...the feisty female protagonists do their real-life foremothers proud."—Publishers Weekly
"Remarkable...[Montgomery's] writing is brisk, yet it lingers long enough to indulge readers with beautiful prose along the way."—BookPage
"Set when coal was king and the Pinkertons its strikebreakers, The Widows is a gripping, beautifully written novel about two women avenging the murder of the man they both loved."—Hallie Ephron, New York Times bestselling author of You'll Never Know, Dear
"The Widows is the story of a community in crisis: the Pinkertons are waging war against miners and the law, and no one is safe from their recklessness. But two brave women take a stand, committing themselves to saving their community and families. Jess Montgomery's gorgeous writing can be just as dark and terrifying as a subterranean cave when the candle is snuffed out, but her prose can just as easily lead you to the surface for a gasp of air and a glimpse of blinding, beautiful sunlight. This is a powerful novel: a tale of loss, greed, and violence, and the story of two powerful women who refuse to stand down."—Wiley Cash, New York Times bestselling author of The Last Ballad, A Land More Kind than Home, and This Dark Road to Mercy
"In the hard-luck, homespun Appalachian town of Kinship, Ohio, in 1924, two strong women become unlikely comrades to solve a murder in this flinty, heartfelt mystery that sings of hawks and history, of coal mines and the urgent fight for social justice."—Julia Keller, Pulitzer Prize-winning author of Bone on Bone
"Two women, a murdered husband, and the secret life he lived. Set in Appalachian Ohio coal country in 1924, The Widows kept me on the edge of my seat. Jess Montgomery is a masterful storyteller. This is a novel about courage and the good hearts of women, and it builds, almost unbearably, to its stunning end."—Lee Martin, author of the Pulitzer Prize Finalist The Bright Forever
"The Widows is powerful reminder that there have always been strong women; they just haven't made it into the history books. This terrific novel corrects that omission by spinning a compelling tale of courageous women in a place and time rarely portrayed in fiction. Jess Montgomery is a top-notch storyteller."—Nancy Pickard, author of The Virgin of Small Plains
"Jess Montgomery wows with her awesome debut novel, The Widows. You'll be on the edge of your seat as Lily and Marvena fight for justice in a time and place where it hardly exists . . . they are heroes for every age, and represent all the women who have fought for justice in every age and who continue that fight today."—Victoria Thompson, bestselling author of Murder on Trinity Place
"With compassion and skill, Jess Montgomery deftly smashes stereotypes and puts a human face on the cost of coal mining in 1924 Appalachian Ohio. Rich with historical details, yet fast paced, The Widows revolves around a murder investigation. But it was the vivid voices of Lily Ross and Marvena Whitcomb that completely captivated my heart and kept me reading long into the night."—Ann Weisgarber, author of The Personal History of Rachel Dupree
"Pulling back the curtain on a time and place where women's roles were too often overlooked, The Widows is full of characters who surprise those who underestimate them. A rich, empowering, and satisfying read."—Jessica Strawser, author of Not That I Could Tell
"Women's and workers' rights, Prohibition, and a murder mystery come together beautifully...The book is impossible to put down or forget."—Mystery Scene
"This is a well-written novel with suspense and mystery deftly woven into the history and struggles of an Appalachian mining community. The result is a gripping narrative with a vivid historical setting."—Historical Novel Society
"A powerful debut. Montgomery creates a layers, rich mystery that makes the most of its historical setting. Her prose is captivating and sharp...Fantastic."—Criminal Element
"A strong book about standing up for justice, despite the danger. I found myself engrossed with the story. The Widows is a book that I recommend warmly."—Fresh Fiction
"One of the most original and heartbreaking reads of 2019. Beautifully written, intelligently crafted, and driven by two incredibly strong women characters, so real they could step right off the page—this is one of the reads of the year."—Aunt Agatha's