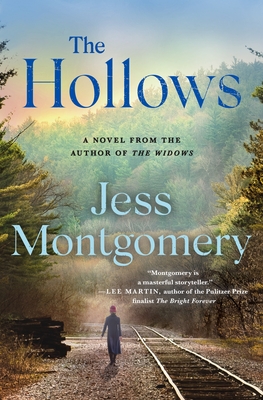 The Hollows
A Novel (The Kinship Series #2)
Hardcover

* Individual store prices may vary.
Other Editions of This Title:
Digital Audiobook (1/13/2020)
Paperback (1/12/2021)
CD-Audio (1/14/2020)
Description
Jess Montgomery showcases her skills as a storyteller in The Hollows: a powerful, big-hearted and exquisitely written follow-up to her highly acclaimed debut The Widows.

Ohio, 1926: For many years, the railroad track in Moonvale Tunnel has been used as a shortcut through the Appalachian hills. When an elderly woman is killed walking along the tracks, the brakeman tells tales of seeing a ghostly female figure dressed all in white.

Newly elected Sheriff Lily Ross is called on to the case to dispel the myths. With the help of her friends Marvena Whitcomb and Hildy Cooper, Lily follows the woman's trail to The Hollows—a notorious asylum—and they begin to expose dark secrets long-hidden by time and the mountains.
Praise For The Hollows: A Novel (The Kinship Series #2)…
One of the Chicago Sun-Times Books Not to Miss!
Pulpwood Queens Alternate Pick for May 2020
One of Aunt Agatha's "Top 10 Books of 2020"

"The Hollows is much more than a murder mystery. It weaves racial integration, labor organizing in the Appalachian coal mines, prohibition and women's rights throughout the narrative."—Associated Press

"Readers will find Montgomery's storytelling prowess in full bloom. Enjoy."—Dayton Daily News

"Colorful Appalachian dialect and details of geography and nature add to a well-crafted mystery . . . The Hollows [is] dynamic historical fiction as well as a riveting mystery."—Shelf Awareness

"The Hollows is a finely crafted, exciting page-turner and is highly recommended for readers of historical mysteries and anyone interested in novels of strong and empowered women."—Historical Novel Society

"Beautifully written, poetic, and full of fascinating historical detail, Montgomery masterfully portrays the strength of the brave women who became the pillars and support of their families in the face of their own grief after losing their husbands."—Crimereads

"Montgomery has written another suspenseful mystery full of atmosphere and surprising historical details. The characters' emotional struggles don't overshadow the action but actually help to deepen the historical elements of the story while adding a palpable urgency to the mystery."—Criminal Element

"Remarkable . . . memorable and vivid. My best advice: dive into these wonderful novels. It's an immersive and beautiful experience."—Aunt Agatha's

"This character-based mystery has a strong and intriguing plot, a well written narrative with vivid characters that are authentic to its time and place . . . perceptions of working women and treatment of mental illness are fittingly intertwined into this powerful story."—Fresh Fiction

"A skillfully told murder mystery that features a rich array of characters and a sophisticated portrayal of a small town grappling with its own racist past and ongoing conflicted present."—Kirkus Reviews

"Skilled storyteller Montgomery takes up the issue of racial prejudice as it existed in that place and time in this historical mystery that shines with its strong and appealing female characters."—Booklist

"Realistic characters complement a great sense of place. Montgomery does an admirable job of portraying brave women such as Lily who must become the support of their families in the face of their own grief after their husbands' deaths."—Publishers Weekly

"Readers will be pulled into the mystery of "The Hollows" and will also like the regional interest as well."—Charleston Gazette-Mail, "Kanawha Library's staff favorites of 2020"

"An extremely well researched and perfectly paced mystery. A feminist take on the struggles of Appalachian America . . . Jess Montgomery is one of the examples of a female writer with a unique voice and a story to tell."—Amy's Booket List

"Jess Montgomery's writing is strong, flowing, and just draws you right in."—Bewitched Bookworms

"An absorbing Mystery, captivating characters, enthralling history."—Audio Killed the Bookmark

"Montgomery's writing is vivid, that will take you back with her writing style that captures the rich details of the life and people of the Appalachians in the 1920's."—Nurse Bookie

"The writing just wraps you up and won't let you go. It's never over done and yet there are turns of phrase that just take your breath away."—Broken Teepee

"With a seemingly effortless touch, Montgomery manages to deftly weave together believable characters, dark historical truths, and an enthralling mystery in The Hollows. The result is genuinely mysterious and utterly satisfying."—Greer Macallister, author of Woman 99 and The Magician's Lie

"Each of the characters is haunted in this novel, and their narrative arcs trace the necessary pain needed to address and acknowledge the cancer at the heart of this Appalachian community, both in terms of its hidden specific history of violence and its legacy of white supremacy."—The North Meridian Review

"This brilliant novel makes me want to read Jess Montgomery's first book, "The Widows" that is also about Lily and Hildy's relationship in difficult times, and looking forward to her next novel set in backwoods Bronwyn County. I recommend this novel for an enjoyable read and to slow down under the long summer afternoons."—Bluffton Icon
Minotaur Books, 9781250184542, 352pp.
Publication Date: January 14, 2020
About the Author
JESS MONTGOMERY writes a Writer's Digest magazine column, "Level Up Your Writing (Life)" and was formerly the "Literary Life" columnist for the Dayton Daily News. Based on early chapters of the first book in the Kinship Series, The Widows, Jess was awarded an Ohio Arts Council individual artist's grant for literary arts and named the John E. Nance Writer-in-Residence at Thurber House in Columbus. Jess lives in her native state of Ohio.