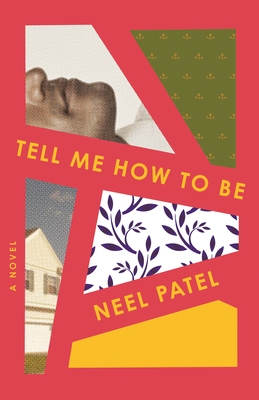 Tell Me How to Be
A Novel
Hardcover

* Individual store prices may vary.
Description
"Tell Me How to Be is daring, hilarious, poignant, and impossible to put down. Neel Patel is a fabulous storyteller!" —Deesha Philyaw, author of The Secret Lives of Church Ladies

From rising star Neel Patel ("refreshing…defiant…consistently surprising" --New York Times), a darkly funny and heartbreaking debut novel about an Indian-American family confronting the secrets between them

Renu Amin always seemed perfect: doting husband, beautiful house, healthy sons. But as the one-year anniversary of her husband's death approaches, Renu is binge-watching soap operas and simmering with old resentments. She can't stop wondering if, thirty-five years ago, she chose the wrong life. In Los Angeles, her son, Akash, has everything he ever wanted, but as he tries to kickstart his songwriting career and commit to his boyfriend, he is haunted by the painful memories he fled a decade ago. When his mother tells him she is selling the family home, Akash returns to Illinois, hoping to finally say goodbye and move on.

Together, Renu and Akash pack up the house, retreating further into the secrets that stand between them. Renu sends an innocent Facebook message to the man she almost married, sparking an emotional affair that calls into question everything she thought she knew about herself. Akash slips back into bad habits as he confronts his darkest secrets—including what really happened between him and the first boy who broke his heart. When their pasts catch up to them, Renu and Akash must decide between the lives they left behind and the ones they've since created, between making each other happy and setting themselves free.

By turns irreverent and tender, filled with the beats of '90s R&B, Tell Me How to Be is about our earliest betrayals and the cost of reconciliation. But most of all, it is the love story of a mother and son each trying to figure out how to be in the world.
Praise For Tell Me How to Be: A Novel…
Praise for Tell Me How To Be:

"[A] resplendent debut…Patel skillfully maneuvers through the treacherous territory of abandoned dreams, family squabbles, and cultural clashes before finding a resounding catharsis for mother and son. The result is noteworthy and memorable."
—Publishers Weekly (starred review)

"Once in a while there comes a book that reminds us of why we read: to feel, to question, to grow. This is that book. A love letter to R&B, youth, and the unforgettable agonies of one's first love. The emotional truth of this indelibly portrayed family and their messy lives will leave you weeping and shattered. I will read everything Neel Patel writes from here on."
—Susie Yang, New York Times bestselling author of White Ivy

"Tell Me How to Be is daring, hilarious, poignant, and impossible to put down. Neel Patel is a fabulous storyteller!"
—Deesha Philyaw, author of The Secret Lives of Church Ladies

"A soulful and seductive love song of a book, Tell Me How to Be is a keen and sharply hilarious celebration of the universal messiness of desire and the necessity of coming clean first with ourselves. I laughed out loud at the prickliness of Renu and ached for Akash through the book's careful unfurling of the past. In this examination of identity through yearning and loss and the enduring consequences of denial, Patel has crafted an unforgettable duet between mother and son."
—Nancy Jooyoun Kim, New York Times bestselling author of The Last Story of Mina Lee

"I loved Tell Me How to Be's story of family, first love, and figuring out your place in the world. Neel's writing is vulnerable, authentic and entertaining. This book gives a fresh perspective to complicated family relationships…something everyone can relate to."
—Lilly Singh, #1 New York Times bestselling author of How to Be a Bawse

"Neel Patel's compelling first novel tells a story that is sometimes funny, sometimes disturbing, and, by the end, deeply moving. Tell Me How to Be explores the high price of secrets, deceit, and regret and the redemptive power of speaking one's truth. Patel's short chapters, immensely readable prose, and talent for continually raising the stakes for his complicated characters kept me turning the pages late into the night. A memorable debut."
—Stephen McCauley, author of My Ex-Life

Praise for If You See Me, Don't Say Hi:

"Patel upends what we think the experience of Indians in America looks like. It's about time." —Rumaan Alam, author of Leave the World Behind

"Refreshing…Defiant…Consistently surprising." —The New York Times Book Review

"Patel writes with the wisdom and compassion of an old soul." —Celeste Ng, New York Times bestselling author of Little Fires Everywhere

"Surprising, funny…Brave…A reminder that messiness makes the human experience beautiful." —NPR

"A joy to read, reminiscent of Jhumpa Lahiri and David Ebershoff. What exquisite writing. What a tremendous talent." —Imbolo Mbue, New York Times bestselling author of Behold the Dreamers

"Patel turns his lens on Indian-Americans, addressing with depth and care subjects that are often overlooked or made into caricature." —Vanity Fair

"Neel Patel upends stereotypes, especially Indian-American masculinity. He's at his most remarkable when illuminating the experience of queer men making sense of their sexuality, and allowing themselves to hope for a happy ending." —BuzzFeed

"Patel will make you laugh, then cry, then feel uncomfortable, then feel free, all within a few pages." —Scaachi Koul, author of One Day We'll All Be Dead and None of This Will Matter
Flatiron Books, 9781250184979, 336pp.
Publication Date: December 7, 2021
About the Author
Neel Patel is a first-generation Indian American who grew up in Champaign, Illinois. His debut story collection, If You See Me, Don't Say Hi, was a New York Times Book Review Editor's Choice and was long-listed for the Story Prize and the Aspen Words Literary Prize. He currently lives in Los Angeles. Tell Me How to Be is his debut novel.