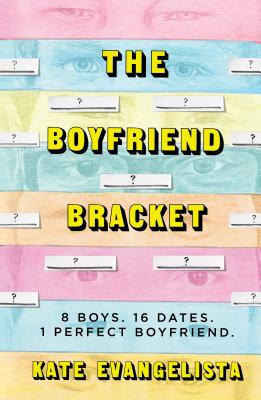 The Boyfriend Bracket (Hardcover)
Swoon Reads, 9781250185389, 240pp.
Publication Date: June 19, 2018
Other Editions of This Title:
Paperback (6/18/2019)
* Individual store prices may vary.
Description
The only way to get over a hopeless crush is to find someone new...Enter: The Boyfriend Bracket!
Putting a new spin on a classic trope, Kate Evangelista explores family bonds, changing relationships, and senior year as our heroine tries to get over her brother's best friend.
Stella has had a hopeless crush on Will, her older brother's best friend FOREVER, but now that Cam and Will have graduated and are going off to college, this year is her chance to really strike out on her own. Without her overprotective brother and his sidekick around to distract her, she can focus on having all the typical high school experiences that she's always dreamed of—starting with finding a boyfriend! With the help of her best friend, Franklin, she comes up with the perfect plan to have a boyfriend by Christmas: The Boyfriend Bracket.
Or it seems like the perfect plan . . . right up until Will starts showing up again. How is she supposed to find the perfect boyfriend when none of her dates measure up to the one boy she can never have?
The Boyfriend Bracket puts a new spin on a classic genre in a fun, unforgettable way.
Praise for Kate Evangelista:
"Kate Evangelista's romantic story skills leave you wanting more"—YA Books Central on No Holding Back
"It's a great mix of romance, drama, and friendships!"—Inah at The Bibliophile Confessions on No Second Chances
About the Author
When Kate Evangelista, author of the Dodge Cove trilogy (No Love Allowed, No Holding Back, and No Second Chances), was told she had a knack for writing stories, she did the next best thing: entered medical school. After realizing she wasn't going to be the next Doogie Howser, M.D., Kate wandered into the literature department and never looked back. Today, she is a graduate of De La Salle University—Manila with a bachelor of arts in Literature. She taught high school English for three years and was an essay consultant for two. She now writes full-time and is based in the Philippines.
Praise For The Boyfriend Bracket…
"I loved this book.... a fabulous first love drama between a young fashion designer and her comic-book-creating childhood crush." — Alethea Kontis, NPR
Praise for Kate Evangelista:
No Love Allowed:
"Check out Kate Evangelista's short and sweet stories if you're aching for a summer romance or an adorable contemporary read."—Page at thepaige-turner.com
No Holding Back:
"Kate Evangelista's romantic story skills leave you wanting more"—YA Books Central
"Are you a fan of Stephenie Perkins? Then check out this one and fall in love along with Nathan and Preston"—Ronreads.com
No Second Chances:
"It made me smile for a solid two hours of reading. I definitely recommend this book, and the rest of the trilogy in case you haven't got to them yet! It's a great mix of romance, drama, and friendships!"—Inah at The Bibliophile Confessions