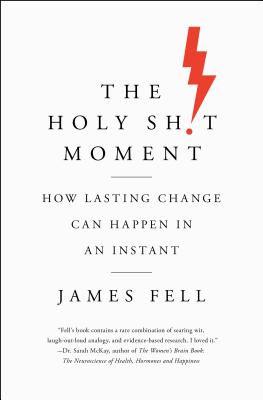 The Holy Sh!t Moment
How Lasting Change Can Happen in an Instant
Hardcover

* Individual store prices may vary.
Other Editions of This Title:
Digital Audiobook (1/21/2019)
CD-Audio (1/22/2019)
Description
Motivation expert James Fell teaches readers how to skip the hard part and go directly from intention to committed action.

After years of helping people change, James Fell had a sudden insight about sudden insight: significant life change doesn't often come from just putting one foot in front of the other, carefully observing and altering habits, slogging through baby steps toward new behavior. Rather, the research reveals that serious life turnaround usually happens in a moment, with a flash of inspiration. Epiphany arrives like a lightning strike, rapidly shifting the recipient of such enlightenment onto a new path that creates a better life.

Motivational psychology has traditionally focused on slow and steady—gradual improvement over time to reach a desired goal, whether it's weight loss, career change, battling addiction, or success in relationships. We've been told since toddlerhood that the tortoise beats the hare. But, through compelling science and powerful stories, James Fell shows us that the hare has the edge; overwhelming desire can be awakened fast and furiously. When you learn to become attuned to that sensation of sudden awakening, a new path can be followed almost effortlessly, because it feels like destiny.

Everyone has the ability to experience the lightning strike. The Holy Sh!t Moment will teach you how to create a life-changing epiphany and go directly from intention to action.
Praise For The Holy Sh!t Moment: How Lasting Change Can Happen in an Instant…
"Outstanding. The Holy Sh!t Moment is one of the most useful, engaging, helpful books I've read in years. Change—both personal and professional, can be hard. If you want to make a difference in people's lives, yours included, get this book. Filled with practical insights, stories, research, and humor, James Fell provides the roadmap to successful transformation helping YOU discover what's possible when you embrace the challenge." —Carey D. Lohrenz, U.S. Navy's First Female F-14 Tomcat Fighter Pilot, and WSJ bestselling author of Fearless Leadership: High-Performance Lessons From The Flight Deck

"Fell's book contains a rare combination of searing wit, laugh-out-loud analogy, and evidence-based research. I loved it." —Dr. Sarah McKay, Neuroscientist, Author of The Women's Brain Book: The Neuroscience of Health, Hormones and Happiness

"James Fell's book explores those powerful moments of epiphany, when people experience a dramatic shift in their identity or pivot toward a new purpose. In this book Fell hits on something important: there is no 'get results fast' recipe for achieving major goals: they take time and lots of effort. What can happen fast is epiphany: a 'holy shift moment' can ignite the energizing passion that makes hard work feel easy." —Dr. Anne Wilson, Professor of Motivational Psychology, Wilfred Laurier University

"I was a beta reader of the first draft of The Holy Sh!t Moment, and I'll be damned, but I had an epiphany from reading it! James's words suddenly opened a door in my mind to make me feel far more comfortable with my body and embrace what it can do. What a relief!" —Martha Mantikoski

"Until I read James's book, I thought life-changing epiphanies were like lightning strikes: an unpredictable force of nature. Imagine my joy when James showed me I can cultivate the optimal environment for epiphanies. Read this book and you'll learn how to bring down lightning and change your life." —Carrie King

"Tiny moments make big ripples in the stream of life. Through rigorous research, captivating storytelling, and practical tips, James Fell will take you on a wild ride to identify defining moments in your own life and how to harness their power. Your life will never be the same." —C. Nathan DeWall, Ph.D., Bestselling author of Psychology, Exploring Psychology, and Psychology in Everyday Life, and ultramarathon runner

"Psychologists have long studied the nature of insight and the sudden illumination. In this entertaining, informative book, James Fell ramps the science up to the next level, showing us not only how such life-changing events can have such an impact on our lives, but how to harness them for optimal development." —Scott Barry Kaufmann, Ph.D., Psychologist and author of Wired to Create

"The Holy Sh!t Moment will remind you that real dramatic change is always possible, always. Invigorating for the brain, heart and spirit, it will remind you of the magic and potential inside you. This is a book that can change your life regardless of your age, background, belief system, or ideology." —John Fugelsang, SiriusXM Radio
St. Martin's Press, 9781250186317, 288pp.
Publication Date: January 22, 2019
About the Author
James Fell, MA, MBA, is a motivation, health, and fitness writer for the Los Angeles Times and the Chicago Tribune. He has written extensively for Chatelaine and AskMen.com, and authored pieces in TIME Magazine, the Guardian, Men's Health, Women's Health, and many other publications. He has a massive and highly engaged following on Facebook and Twitter, and his blog, BodyForWife.com, has millions of visitors a year. He is also the author of Lose It Right. He lives in Calgary.
or
Not Currently Available for Direct Purchase