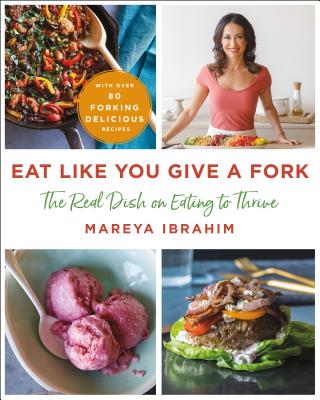 Eat Like You Give a Fork (Hardcover)
The Real Dish on Eating to Thrive
St. Martin's Griffin, 9781250189776, 256pp.
Publication Date: June 4, 2019
* Individual store prices may vary.
Description
"Ibrahim's thoughtful recipes and sense of humor ("Greens are your new friends with bennies") keep this book entertaining and accessible." —Publishers Weekly
"This is a book you can use in your healing journey without any boring meals." —Daniel Amen, MD, co-author of The Daniel Plan

"Mareya Ibrahim writes with a passion and commitment to health that you can feel on every single page! Eat Like You Give a Fork is filled with good, common-sense wisdom about food and our relationship to it. It's also packed with scrumptious whole-food recipes that should find a wide audience!" —Jonny Bowden, board-certified nutritionist and best-selling author of The 150 Healthiest Foods on Earth and The Most Effective Ways to Live Longer
Eighty recipes support eight essential nutritional strategies to help you look and feel amazing
Remake your kitchen, your taste buds, your body, and your energy level with honest, transparent and easy-to-understand recipes. Core meal planning and preparation techniques from Ibrahim's Facebook Live show save time, money and sanity. These forking delicious recipes make healthy eating simple and quick to table.
The 8 essential strategies are:
-Reset Your Taste Buds
-Stock Your Real Kitchen
-Get Up on Greens
-Take a Vegan Fast Break
-Go Gluten-Free Super Grains
-Fill in with Good Fat
-Become Real Dense
-Live the 90/10 Rule
Chef Mareya has a fresh voice and a great palate that shines in recipes such as:
-Zucchini Noodles with Romesco Sauce
-Umami Bone Broth
-You Glow Smoothie
-Overstuffed Sweet Potatoes with Chipotle Lime Yogurt
About the Author
MAREYA IBRAHIM is a chef, holistic nutritionist, award-winning entrepreneur, and solo mother of two children. She is the host of the popular Facebook Live show, The REAL Dish. She designed the meal plan and detox plan for the million copy New York Times bestseller The Daniel Plan, and also serves as one of the Signature Chefs for the program.
Praise For Eat Like You Give a Fork: The Real Dish on Eating to Thrive…
"Ibrahim's thoughtful recipes and sense of humor ("Greens are your new friends with bennies") keep this book entertaining and accessible." —Publishers Weekly
"This is a book you can use in your healing journey without any boring meals." —Daniel Amen, MD, co-author of The Daniel Plan
"Mareya inspires people to look great, feel great and achieve greatness with her strategies. Eat Like You Give a Fork makes it easy and fun." —Lewis Howes, NYT bestselling author, Top 50 Podcast Host of The School of Greatness
"With smart tips and relevant info, this is an excellent book to effortlessly guide you to a satisfied, smarter 'cleaner' you." —Candice Kumai, NYT bestselling author, food writer and contributing editor for Shape Magazine
"Mareya has played an integral role with the Daniel Plan, serving as one our Signature Chefs. She is an effective and passionate chef who has inspired our community both here in the US and abroad. She is also a contributor to our New York Times Bestseller, our DVD Education series and live webinars, and parlays her work both in written and spoken formats. Her 24 years of experience shine through as she shares her passion, knowledge, and transformational tools for life change." —Dee Eastman, Director, The Daniel Plan
"Mareya inspires a love for the fit and fun lifestyle through her fit food approach. Not only are her dishes easy to make, I can personally say they are nutritious and so incredibly delicious. The Real Dish gets my Caliente stamp of approval!" —Jason Rosell, Leading Lifestyle & Fitness Expert and Founder of Caliente Fitness
"Mareya Ibrahim, The Fit Foodie, a leader in promoting a balanced diet with fresh natural foods. Armed with a clean eating pantry list and delicious recipes like artichoke hummus and creamy butternut mac n' cheese, this book is informative, relatable, motivating - a MUST-HAVE for anyone craving a healthy lifestyle." —JoAnn Cianciulli, author of the acclaimed L.A.'s Original Farmer's Market Cookbook and producer of MasterChef, Top Chef Masters and Supermarket Superstar