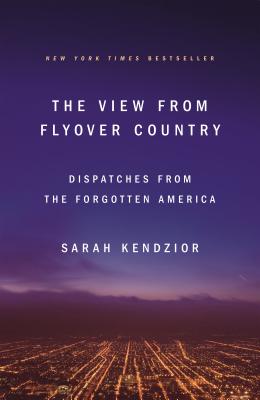 The View from Flyover Country
Dispatches from the Forgotten America
Paperback

* Individual store prices may vary.
Other Editions of This Title:
Digital Audiobook (4/23/2018)
Description
NEW YORK TIMES and MIBA BESTSELLER

From the St. Louis–based journalist often credited with first predicting Donald Trump's presidential victory.

"A collection of sharp-edged, humanistic pieces about the American heartland...Passionate pieces that repeatedly assail the inability of many to empathize and to humanize." — Kirkus

In 2015, Sarah Kendzior collected the essays she reported for Al Jazeera and published them as The View from Flyover Country, which became an ebook bestseller and garnered praise from readers around the world. Now, The View from Flyover Country is being released in print with an updated introduction and epilogue that reflect on the ways that the Trump presidency was the certain result of the realities first captured in Kendzior's essays.

A clear-eyed account of the realities of life in America's overlooked heartland, The View from Flyover Country is a piercing critique of the labor exploitation, race relations, gentrification, media bias, and other aspects of the post-employment economy that gave rise to a president who rules like an autocrat. The View from Flyover Country is necessary reading for anyone who believes that the only way for America to fix its problems is to first discuss them with honesty and compassion.

"Please put everything aside and try to get ahold of Sarah Kendzior's collected essays, The View from Flyover Country. I have rarely come across writing that is as urgent and beautifully expressed. What makes Kendzior's writing so truly important is [that] it . . . documents where the problem lies, by somebody who lives there."—The Wire

"Sarah Kendzior is as harsh and tenacious a critic of the Trump administration as you'll find. She isn't some new kid on the political block or a controversy machine. . . .Rather she is a widely published journalist and anthropologist who has spent much of her life studying authoritarianism." —Columbia Tribune
Praise For The View from Flyover Country: Dispatches from the Forgotten America…
An NPR Best Book of the Year 2018

"Both prescient and honest...seeing the roots of the arguments that now dominate cable news is both fascinating and a little bit haunting in retrospect." —NPR

"Kendzior's prose is sharp and consistent whether the essay is data dense or an opinion piece. She maneuvers through big issues with a pace and clarity that makes unpalatable topics fascinating, and unfortunately, relatable." — Hyperallergic

"The defining journalistic account of Trump's America does complain, but it isn't best-selling gossip fodder like Michael Wolff's Fire and Fury or James Comey's A Higher Loyalty. It's the book from the Midwestern journalist who barely mentions the president's name."
—Record-Eagle

"Sharply written pieces about life and inequality in middle America."
—Milwaukee Journal-Sentinel, 85 Books for Summer Reading

An academic, Midwesterner and firebrand, Kendzior crafts work that looks unflinchingly at what ails the country." —Shelf Awareness, starred review

"It's a call to arms, highlighting the struggles of disenfranchised, overworked, and underpaid Americans, and urging our elected officials to recognize and address the inequalities that have become even more pronounced since when she originally wrote the essays." —The Village Voice

"The View From Flyover Country is well worth reading....Here is a thoughtful critic who knows how to sound the alarm." —The Arts Fuse

"Kendzior's essays bring to light social injustice and economic inequality in Middle America from a voice that lives there." —Medium

"The talented Kendzior…writes intelligently and with great empathy about problems faced by the Midwest." —New York Post

"Kendzior's writing, while often concise and clever like this, is just as often backed by statistics, attributions or an illustrative profile…Though her message is alarming, it is softened with compassion." —St. Louis Post-Dispatch

"An astonishment and a challenge to convention for all sorts of reasons…[One of the] books devoted to where we really were not very long ago, where we are now and where we might well be going. They don't mess around. They play rough. But then the truth almost always does." —Buffalo News

"From Russia to flyover country, Sarah Kendzior might be the voice we need." — Columbia Journalism Review

"Hers is a crystalline voice of reason and appraisal in a world that shifts further into unrecognizable territory minute-by-minute." — Carol Haggas, Booklist

"A collection of sharp-edged, humanistic pieces about the American heartland...Passionate pieces that repeatedly assail the inability of many to empathize and to humanize." — Kirkus

"Authoritarianism does not happen in a vacuum. Kendzior gives us valuable information about conditions in the forgotten parts of our country, which provided fertile ground for the rise of Trump." —AMY SISKIND, AUTHOR OF THE LIST

"Urgent and beautifully expressed . . . What makes Kendzior's writing so truly important [is that] it documents where the problem lies, by somebody who lives there. Read her." —THE WIRE

"Kendzior is no psychic. She's just whip-smart and an expert on authoritarian governments. She's also that rare writer with an analyst's brain and an empath's heart… Though the essays are topical and political…one senses they'll stand the test of time, just for the beauty of the prose and the soundness of the philosophy." —STEFENE RUSSELL, ST. LOUIS MAGAZINE
Flatiron Books, 9781250189998, 256pp.
Publication Date: April 17, 2018
About the Author
Sarah Kendzior is best known for her reporting on St. Louis, her coverage of the 2016 election, and her academic research on authoritarian states. She is currently an op-ed columnist for the Globe and Mail and she was named by Foreign Policy as one of the "100 people you should be following on Twitter to make sense of global events." Her reporting has been featured in many publications, including Politico, Slate, The Atlantic, Fast Company, The Chicago Tribune, TeenVogue, and The New York Times.