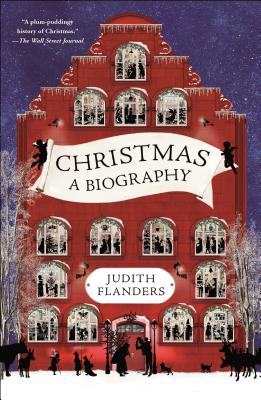 Christmas
A Biography
Paperback

* Individual store prices may vary.
Description
A critically acclaimed New York Times bestselling author explores the Christmas holiday, from the original festival through present day traditions.

Christmas has always been a magical time. Or has it? Thirty years after the first recorded Christmas, one archbishop was already complaining that his flock was spending the day, not in worship, but in dancing and feasting to excess. By 1616, the playwright Ben Jonson was nostalgically remembering the Christmases of the old days, certain that they had been better then.

Other elements of Christmas are much newer--who would have thought gift-wrap was a novelty of the twentieth century? That the first holiday parade was neither at Macy's, nor even in the USA?

Some things, however, never change. The first known gag holiday gift book, The Boghouse Miscellany, was advertised in the 1760s "for gay Gallants, and good companions", while in 1805, the leaders of the Lewis and Clark expedition exchanged--what else?--presents of underwear and socks.

Christmas is all things to all people: a religious festival, a family celebration, a period of eating and drinking. In Christmas, bestselling author and acclaimed social historian Judith Flanders casts a sharp eye on its myths, legends and history, deftly moving from the origins of the holiday in the Roman empire, through the first appearance of Christmas trees in Central Europe, to what might be the origins of Santa Claus--in Switzerland--to draw a picture of the season as it has never been seen before.
Praise For Christmas: A Biography…
Praise for Christmas

"You won't gain a better understanding of Christmas traditions anywhere than in this fascinating new book." —Entertainment Weekly

"[Flanders's] well-structured argument lays to rest the idea that the celebration of Christmas is solely religious." —Publishers Weekly

"Well-researched...a pleasurable read." —Booklist

"Flanders has unearthed all sorts of interesting facts… showing us that Christmas Future is whatever people will need it to be; Christmas Present is what people need now and usually includes a tree-type thing and Santa-type being. It's Christmas Past that's the mother lode. That's where every tradition comes from, whether it's very, very old (lots of food, heavy on the joints of meat, cakes and cookies and even heavier on the wassail) or faux vieux (like caroling in the mid-1800's, for instance, introduced by people who pretended that the songs had been handed down from "the imaginary pastoral of Merrie England" and that gambling, a traditional Christmas pastime in England, never happened)." —New York Times Book Review

"a charming, authoritative and brave nod to the secular side of the holiday...Ms. Flanders has snowballs and she's not afraid to throw them at a number of deeply held traditions." —The Pittsburgh Post-Gazette

"As you prepare to make the rounds at holiday cocktail parties and family gatherings this season, now seems like a good time to stock up on conversational Christmas tidbits. Recite these festive facts from Christmas: A Biography by Judith Flanders (Thomas Dunne Books), out now and you'll make it through even the most tedious seasonal function." —New York Post

"expansive, bold, and surprising...Christmas: A Biography makes a great stocking stuffer for the person who has dabbled in the subject, has a book or two on the shelf, and wants to go deeper. Flanders does not merely repeat the standard narrative with its tried and true landmarks. She presents intriguing new sources of historical material and insightful reappraisals of common assumptions. Her book reminds us that Christmas is always full of surprises." —Christianity Today

"a plum-puddingy history of Christmas... As with a plum pudding, you can pick out bits you already know you like—the book's margins are helpfully decorated with cute icons for key themes, including "greenery," "food and feasting" and "carnival and riot"—but to get the full flavor you should consume the whole slice." —Wall Street Journal

"Flanders knows how to tell its story well, and her reader comes away with a better understanding of, and even deeper appreciation for, this magical time of the year." —Minneapolis Star Tribune

Praise for The Making of Home

"Judith Flanders's new book isn't just smart and diverting but it is also brave… Flanders uses books well and pictures intelligently, searching images for hidden meaning… this book has charm and learning."—The New York Times Book Review

"The heart of Ms. Flanders's book traces the physical alteration of houses over the past five centuries… A useful synthesis for those interested in architectural history and material culture"—The Wall Street Journal

"When did houses evolve into homes? You'll find out in Flanders' lively trek through some 500 years of history."—Entertainment Weekly, "Fall Books Preview, Riveting Nonfiction"

"Flanders, a historian best known for her works on Victorian culture, has a knack for finding surprising, alternative perspectives on the familiar. In her new book, she takes an unconventional look at how our modern idea of home came to be." —The Washington Post
A Thomas Dunne Book for St. Martin's Griffin, 9781250190796, 256pp.
Publication Date: October 22, 2019
About the Author
JUDITH FLANDERS is an international bestselling author and one of the foremost social historians of the Victorian era. Her book Inside the Victorian Home was shortlisted for the British Book Awards History Book of the Year. Judith is a frequent contributor to the Daily Telegraph, Guardian, Spectator, and the Times Literary Supplement. She lives in London.