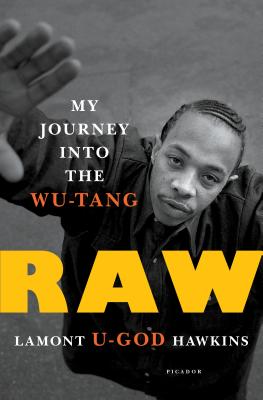 Raw
My Journey into the Wu-Tang
Hardcover

* Individual store prices may vary.
Other Editions of This Title:
Digital Audiobook (3/5/2018)
Paperback (3/5/2019)
Description
A PERFECT COMPANION READ TO THE SHOWTIME DOCUMENTARY, WU-TANG CLAN: OF MICS AND MEN

Selected as a Best Book of the Year by Esquire

"Couldn't put it down." – Charlamagne Tha God
"Mesmerizing." – Raekwon da Chef
"Insightful, moving, necessary." – Shea Serrano
"Cathartic." –The New Yorker
"A classic." –The Washington Post

The explosive, never-before-told story behind the historicrise of the Wu-Tang Clan, as told by one of its founding members, Lamont "U-God" Hawkins.
"It's time to write down not only my legacy, but the story of nine dirt-bomb street thugs who took our everyday life—scrappin' and hustlin'and tryin' to survive in the urban jungle of New York City—and turned that into something bigger than we could possibly imagine, something that took us out of the projects for good, which was the only thing we all wanted in the first place." —Lamont "U-God" Hawkins
The Wu-Tang Clan are considered hip-hop royalty. Remarkably, none of the founding members have told their story—until now. Here, for the first time, the quiet one speaks.
Lamont "U-God" Hawkins was born in Brownsville, New York, in 1970. Raised by a single mother and forced to reckon with the hostile conditions of project life, U-God learned from an early age how to survive. And surviving in New York City in the 1970s and 1980s was no easy task—especially as a young black boy living in some of the city's most ignored and destitute districts. But, along the way, he met and befriended those who would eventually form the Clan's core: RZA, GZA, Method Man, Raekwon, Ol' Dirty Bastard, Inspectah Deck, Ghostface Killah, and Masta Killa. Brought up by the streets, and bonding over their love of hip-hop, they sought to pursue the impossible: music as their ticket out of the ghetto.
U-God's unforgettable first-person account of his journey,from the streets of Brooklyn to some of the biggest stages around the world, is not only thoroughly affecting, unfiltered, and explosive but also captures, invivid detail, the making of one of the greatest acts in American music history.
Praise For Raw: My Journey into the Wu-Tang…
"This book is great couldn't put it down finished it in 48 hours U GOD ALLAH REALLY LIVED HISTRUTH." – Charlamagne Tha God
"Mesmerizing." – Raekwon da Chef
"U-God has been with Wu-Tang since the start, and this book chronicles the entire saga: rough beginnings in Brooklyn, a vivid project adolescence in Staten Island, and a glorious leap into the insanely talented collective that would become the center of the music universe. There's never been a book that deserved its title more." – Questlove
"Unexpectedly moving...Raw feels cathartic, as Hawkins finds the language and perspective to reckon with his past. His moment in the spotlight may be over, but he now has something that few of his Wu-Tang brothers, still so admired by a younger generation, have: the distance to tell his own story. He has often been forgotten, and has sometimes been ridiculed, but he was part of one of the great hip-hop groups of all-time—perhaps the only member who is more man than myth." --Hua Hsu, The New Yorker
"A classic rags-to-riches tale, from drug dealing on the streets of New York City during the crack epidemic in the 1980s to fame and fortune. It's a nostalgic look back on hip-hop music and the wild times in New York City before it became a playground for the rich." –The Washington Post

"You cannot tell the story of hip-hop without the Wu-Tang Clan, and you cannot tell the story of the Wu-Tang Clan without U-God. RAW is an insightful, moving, necessary book for anyone with even a passing interest rap." – #1 New York Times bestselling author Shea Serrano

"From its blunt opening line--'Time is a motherfucker'--Raw: My Journey Into the Wu Tang is brashly funny."
--Brag Magazine
"Eye-popping." –The Guardian

"Lamont "U-God" Hawkins reflects on his childhood and adolescence—raised by a single mother in the projects in Brownsville, New York—before his life took a major turn when he met his artistic collaborators and soul mates. Hawkins found compatriots in RZA, GZA, Method Man, Raekwon, Ol' Dirty Bastard, Inspectah Deck, Ghostface Killah, and Masta Killa—the eight artists with whom he would found the Wu-Tang Clan, earning a ticket out of the unpredictable and underserved neighborhoods of New York City and into the spotlight as some of hip-hop's greatest performers." --Esquire (Best Non-Fiction of the Year)
"An absolute thrill ride and will most definitely please long-time fans of the group as well as give unknowing readers an amazing journey through an incredible life. Raw is full of jaw-dropping anecdotes about what growing up was like in some of the area's roughest neighborhoods in the 80's and full of rich life lessons that were won out of pure perseverance." –MetroUS

"Propulsive...In this timely memoir, Hawkins' reflects on his childhood—a period when drugs exacerbated the violence in the streets—and the heady years of fame that followed, revealing a man grateful for the music that saved his life." –Esquire (Selected as a Best of the Year)

"A truly gripping book. Hawkins is a gifted observer and storyteller with a quick wit and an effortless freedom with the pen. This is a must-read for anyone with even a basic interest in the look and feel of New York during hip hop's golden age, and a desire to know how one of the greatest rap crews ever assembled came to be. Unvarnished, honest, detailed, and at times magical, Hawkins weaves an immersive tale from street level to penthouse level without ever compromising his clarity of vision. Wu-Tang Clan Is among the most innately literary projects in all of hip hop history and with Raw U-God holds absolutely true to this vision." – Carvell Wallace, former music critic, MTVnews, and host of the podcast "Closer Than They Appear"

"The title says it all. Raw is a vivid, sometimes eye-popping and occasionally funny account of street life, drug-dealing and incarceration before and during the early days of one of hip hop's greatest groups, the Wu-Tang Clan. U-God's book sits in a tradition that runs from Booker T. Washington's Up From Slavery to Charles Mingus's Beneath the Underdog - accounts of African-American striving and transcendence which remind us what it's like to live - and survive, and prosper - in a world set up to crush you. As such it's essential reading - and not just for hip hop fans." – Will Ashon, founder of Big Dada Records
"Lamont "U-God" Hawkins has written a memoir that's impossible to put down. The energy in this infectious book is something else--but that should be of no surprise to fans. Storytelling was always a Wu-Tang superpower, but RAW: My Journey Into the Wu-Tang Clan manages to also chronicle a New York of another era. We get everything from street stories to the annals of fame, friendship, family, and brotherhood. It's no wonder he was "the ambassador"--this book can reach so many people, from Wu-Tang diehards to anyone who wants to read about the tough ascension of dreams becoming reality with all the countless twist sand turns along the way." – Porochista Khakpour, author of the memoir Sick and the novels The Last Illusion and Sons & Other Flammable Objects
"Hawkins is a wonderful storyteller who spares no detail...and his willingness to share his wisdom in nonsaccharine terms yields an inspirational coming-of-age story." – Publisher's Weekly (Starred Review)
"Gritty...will entertain fans of the group and its era." – Kirkus
Picador, 9781250191168, 304pp.
Publication Date: March 6, 2018
About the Author
Born Lamont Jody Hawkins, U-God is an American rapper and hip-hop artist and one of the founding members of the legendary Wu-Tang Clan. A native New Yorker, Raw is his first book.
or
Not Currently Available for Direct Purchase