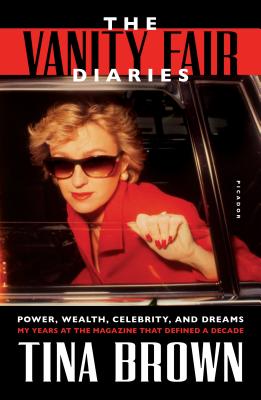 The Vanity Fair Diaries
Power, Wealth, Celebrity, and Dreams: My Years at the Magazine That Defined a Decade
Paperback

* Individual store prices may vary.
Other Editions of This Title:
Digital Audiobook (11/13/2017)
CD-Audio (11/14/2017)
Hardcover (11/14/2017)
Library Binding, Large Print (12/20/2017)
Description
Named one of the best books of 2017 by Time, People, The Guardian, Paste Magazine, & Vogue

Tina Brown kept delicious daily diaries throughout her eight spectacular years as editor-in-chief of Vanity Fair. Today they provide an incendiary portrait of the flash and dash and power brokering of the Excessive Eighties in New York and Hollywood.

The Vanity Fair Diaries is the story of an Englishwoman barely out of her twenties who arrives in New York City with a dream. Summoned from London in hopes that she can save Condé Nast's troubled new flagship Vanity Fair, Tina Brown is immediately plunged into the maelstrom of the competitive New York media world and the backstabbing rivalries at the court of the planet's slickest, most glamour-focused magazine company. She survives the politics, the intrigue, and the attempts to derail her by a simple stratagem: succeeding. In the face of rampant skepticism, she triumphantly reinvents a failing magazine.

Here are the inside stories of Vanity Fair scoops and covers that sold millions—the Reagan kiss, the meltdown of Princess Diana's marriage to Prince Charles, the sensational Annie Leibovitz cover of a gloriously pregnant, naked Demi Moore. In the diary's cinematic pages, the drama, the comedy, and the struggle of running an "it" magazine come to life. Brown's Vanity Fair Diaries is also a woman's journey, of making a home in a new country and of the deep bonds with her husband, their prematurely born son, and their daughter.

Astute, open-hearted, often riotously funny, Tina Brown's The Vanity Fair Diaries is a compulsively fascinating and intimate chronicle of a woman's life in a glittering era.
Praise For The Vanity Fair Diaries: Power, Wealth, Celebrity, and Dreams: My Years at the Magazine That Defined a Decade…
"A zingy account of the glittery, shallow 1980s . . . Brown is a waspish, reliably slick writer—her witty skewerings are first-class." —The Times (London)

"A revelation . . . Brown is a woman of wondrous drive and ambition, arcing through the world as if fired from a cannon . . . There's swing in Brown's voice and vinegar in her pen . . . For legacy-media freaks, The Vanity Fair Diaries is a bound volume of crack." —Jennifer Senior, The New York Times Book Review

"The Vanity Fair Diaries is the perfect stocking filler for any social x-ray who yearns to wallow in nostalgia. But even students of our own time will find the prescience of Brown's observations a source of amusement. The decade's greatest symbol, she observes, turned out to be not a person but a building: Trump Tower, 'the very definition of ersatz with its fool's gold façade, its flashy internal waterfall, its dodgy financing." —Fiammetta Rocco, The Economist

"One of the pleasures of The Vanity Fair Diaries—Tina Brown's wickedly sharp account of her years as editor of the magazine—is her writing, the way she captures people with a few slashes of the pen." —Tina Jordan, Entertainment Weekly

"Her narrative is juicy in the mold less of a chophouse steak than of a summer peach: a little tart, a little sweet, mostly refreshing. It's pretty irresistible . . . She has a novelist's sense of pacing and a perverse genius for description . . . Her gift is to feel the big story emerging in the small, human detail." —Nathan Heller, The New Yorker

"Brave, self-revealing real time-history . . . the kind of specific reporting that made Tina's Vanity Fair so juicy . . . Journalists will feast on it, but so too will anyone interested in media—especially magazines and how they came and went. If you liked Tina Brown's Vanity Fair in the '80s, her diary pages will sweep you back and even if you could get a little fed up with Tina back then, you will miss her now." —Terry McDonell, The New York Times Book Review

"Her eye gets its glinting acuity from her status as an outsider—'a cultural misfit,' an expat both repelled and entranced by hyperbolic America." —Peter Conrad, The Guardian

"The Vanity Fair Diaries is a bound volume of crack. Brown may have been a complicated feminist figure. But she was also a trailblazer, willing to take risks and get battered and bruised in the arena." —Jennifer Senior, The New York Times (The Daily)

"In the now published diaries that she kept while editing Vanity Fair, Brown serves up a banquet of insider dish even as she skewers the social scene with self-appraising grace." —The Daily Beast

"Media insiders will gobble up Brown's real-time descriptions of how she built the controversial but wildly successful 'high-low' mix at Vanity Fair . . . Her most intimate observations—about her marriage to fellow Brit editor Harry Evans; her concerns over their premature son, Georgie; the agony of watching talented young men die from AIDS—elevate these Diaries beyond a mere New Gilded Age chronicle. As a well-educated Englishwoman in New York, Brown shows a novelistic flair in her descriptions of people, especially those she encounters at endless dinner parties, among them Manhattan's richest Trophy Wives. —Jocelyn McClurg, USA Today

"Tina's singular voice immediately swept me up into the intoxicating, pulse-pounding energy of New York media culture in the '80s—the glittering social landscape, the thrill of creative rebirth and the relentless quest for success . . . Her diaries form a riveting, at-times-prophetic portrait of the opulent decade that shaped our modern media, told through the eyes of a woman who entered this world as an outsider but nevertheless smashed through professional barriers left and right." —Bruna Papandrea, Shelf Awareness

"A dishy tell-all . . . Give! Us! The! Tea!" —Jezebel

"A mile a minute memoir I read like a parrot with my nails embedded in Pirate Tina's shoulder- yelling 'what??!!' 'What!?!! WOWZA!' as she swashbuckles through the eighties, her sword slicing up the staid shibboleths of NY society. I remembered why I was afraid of her in those days. And why that energy & imagination, turned to making the world better, has galvanized so many of us now. A cultural catalyst- she makes things happen. Thank god she wrote it all down. Hang on. A wild ride." —Meryl Streep

"Full of creative glee, passion and excitement, The Vanity Fair Diaries features a cast of characters like Mad Men (and women) on speed; an epic of a legendary magazine's dazzling re-creation; moments of laugh-out-loud comic asides, juicy gossip and sketches of Austen-like sharpness, all put together by an editor of high octane genius who pauses only to reflect that however good she might be, it's never quite good enough. Oh yes, it is. Read the diaries and feel better about everything. The word lives!" —Simon Schama

"High, low, smart, sexy, Tina Brown's The Vanity Fair Diaries is like the magazine she re-invented, a must read for anyone interested in Hollywood, high-society, and the movers and shakers of pop culture." —Anderson Cooper

"It's a brilliant, concretely realized social history as much as a fabulous odyssey and I read it in a mad frenzy." —Stephen Fry
Picador, 9781250191250, 464pp.
Publication Date: October 30, 2018
About the Author
TINA BROWN is an award-winning writer and editor and founder of the Women in the World Summit. Between 1979 and 2001 she was the editor of Tatler, Vanity Fair, and The New Yorker. Her 2007 biography of the Princess of Wales, The Diana Chronicles, topped the New York Times bestseller list. In 2008 she founded The Daily Beast, which won the Webby Award for Best News Site in 2012 and 2013. Queen Elizabeth honored her in 2000 as a Commander of the Order of the British Empire (CBE) for her services to overseas journalism, and in 2007 she was inducted into the U.S. Magazine Editors' Hall of Fame. She founded the Women in the World Summit in 2010 and launched Tina Brown Live Media in 2014 to expand Women in the World internationally. She is married to the editor, publisher, and historian Sir Harold Evans and lives in New York City.