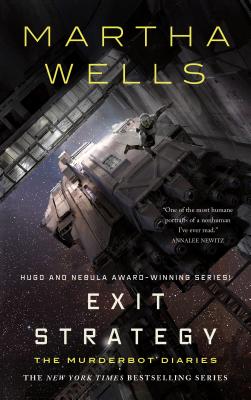 Exit Strategy (Hardcover)
The Murderbot Diaries
Tor.com, 9781250191854, 176pp.
Publication Date: October 2, 2018
* Individual store prices may vary.
Description
"I love Murderbot " --Ann Leckie
The fourth and final part of the Murderbot Diaries series that began with All Systems Red.
Murderbot wasn't programmed to care. So, its decision to help the only human who ever showed it respect must be a system glitch, right?
Having traveled the width of the galaxy to unearth details of its own murderous transgressions, as well as those of the GrayCris Corporation, Murderbot is heading home to help Dr. Mensah--its former owner (protector? friend?)--submit evidence that could prevent GrayCris from destroying more colonists in its never-ending quest for profit.
But who's going to believe a SecUnit gone rogue?
And what will become of it when it's caught?
About the Author
MARTHA WELLS has written many fantasy novels, including The Wizard Hunters, Wheel of the Infinite, the Books of the Raksura series (beginning with The Cloud Roads and ending with The Harbors of the Sun), and the Nebula-nominated The Death of the Necromancer, as well as YA fantasy novels, short stories, and nonfiction.