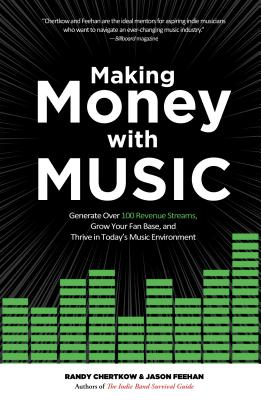 Making Money with Music (Paperback)
Generate Over 100 Revenue Streams, Grow Your Fan Base, and Thrive in Today's Music Environment
St. Martin's Griffin, 9781250192080, 432pp.
Publication Date: September 4, 2018
Other Editions of This Title:
MP3 CD (9/4/2018)
Compact Disc (9/4/2018)
* Individual store prices may vary.
Description
"[Chertkow and Feehan] are the ideal mentors for aspiring indie musicians who want to navigate an ever-changing music industry." —Billboard Magazine
You can make a living with music today. The secret is to tap multiple income streams.
Making Money With Music gives you over 100 revenue streams and the knowledge on how to tap them. Whether you're a solo artist, band, DJ, EDM producer, or other musician, this book gives you strategies to generate revenue, grow your fan base, and thrive in today's technology-driven music environment. Plus, it lists hundreds of services, tools, and critical resources you need to run your business and maximize income.
Making Money With Music will show you:
How to tap over 100 income streams
7 business strategies you can implement immediately
How to start your music business for $0.
How to register your music to collect all of the royalties you are owed worldwide.
13 ways to compete with free and build experiences to drive fan loyalty and engagement into everything you do to increase your revenue.
45 categories of places to get your music heard and videos seen so you can get discovered, grow your fanbase, generate royalties, and boost licensing opportunities.
10 methods for raising money so you can fund your music production and projects.
...and more.
Written by the authors of the critically-acclaimed modern classic The Indie Band Survival Guide (1st & 2nd Editions), Making Money With Music is the third installment in The Indie Band Survival Guide series, and will help you build a sustainable music business no matter what kind of music you make, where you live, and whether you're a novice or professional musician. Improve your income by implementing these ideas for your music business today.
About the Author
Professionally, Randy Chertkow is an Information Technology specialist with over twenty years of experience in Fortune 100 enterprise environments. He has a Bachelor's in Business Administration in Information Systems and an MS in Computer Science: Data Communications, with a secondary concentration in Artificial Intelligence.
Randy has played music all his life, including jazz, rock, and classical music. His instruments include baritone, tenor, alto, and soprano saxophones; flute; Bb and bass clarinet; guitar; bass; and, really, anything else he can get his hands on. He started at the intensive New Trier High School Jazz program and went on to study jazz at Berklee College of Music and then completed a Perfect Set course at the Bloom School of Jazz.
Jason Feehan
is a licensed attorney who also specializes in project and program management, product management, and business operations. Basically, he improves things and gets stuff done—whether it's for Fortune 500 businesses or his own band, Beatnik Turtle (which successfully released one song a day for all of 2007). He has a Bachelor of Science in Political Science and Psychology and a J.D. He plays guitar, keyboards, sings, records, engineers, and produces. He founded Beatnik Turtle in 1997, as a four-piece band and grew it into an eight-piece with a full horn section and a recording studio all its own.
Praise For Making Money with Music: Generate Over 100 Revenue Streams, Grow Your Fan Base, and Thrive in Today's Music Environment…
"Adding to quite a body of work, Randy Chertkow and Jason Feehan create another essential guide book for your DIY career - they lay out all of the steps, details, places and ways to actually make money in this increasingly difficult business. Meticulous, detailed and highly recommended." —Martin Atkins, drummer for Public Image Ltd, Ministry, Nine Inch Nails, Pigface, and Killing Joke and author of Tour: Smart and Band: Smart.