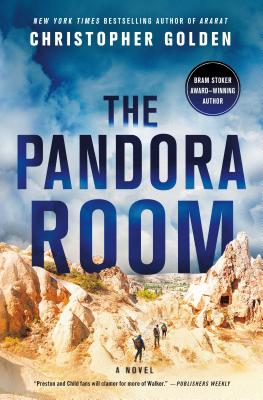 The Pandora Room
A Novel
Hardcover

* Individual store prices may vary.
Other Editions of This Title:
Digital Audiobook (4/22/2019)
Paperback (2/11/2020)
Description
"A wonderful, wild ride." —Michael Koryta, New York Times Bestselling author of How It Happened and If She Wakes

From the New York Times bestselling and Bram Stoker Award-winning author comes the sensational new novel that turns ancient lore into a modern-day horror. In one variation on the myth of Pandora's Box, there were two jars, one for Pandora and one for her sister. One contained blessings of the gods, the other all the world's curses…

Archaeologist Sophie Durand has spent her life studying ancient mythology and languages. Years of work have led her to the greatest discovery of her career, a subterranean city deep in the heart of Northern Iraq. When Sophie's team uncovers a secret chamber whose walls are covered in cuneiform, along with a warning from Alexander the Great, history and mythology begin to merge. The writings confirm the Pandora tale of two jars, but the chamber guards only one. It's a find that could make history, or start a war.

Weird-science expert Ben Walker is called in as the mystery grows ugly. Those who believe the myth want to know which jar was found, the one containing blessings or the one full of curses. Governments rush to lay claim, but jihadi forces aren't waiting for the dust to settle. Whatever the jars contain, they want it, no matter the cost. For Sophie, Walker, and the others, the Pandora Room may soon become their tomb.

In a novel that breathes new life into the supernatural thriller, Christopher Golden's pulse-pounding tale is not to be missed.
Praise For The Pandora Room: A Novel…
"The Pandora Room is a marvelous collision of adrenaline-fueled plotting and graceful writing. Christopher Golden knows how to tell a story, and he knows how to work the reader's emotions. This hybrid of high adventure, supernatural thrills, and all-too-plausible chills is a wonderful, wild ride." —Michael Koryta, New York Times Bestselling author of How It Happened and If She Wakes

"Award-winner Christopher Golden's latest razor-edged thriller The Pandora Room is sure to garner a slew of new trophies. The opening grabbed me by the throat and continued to strangle ever tighter as tensions climbed page by page to the explosive conclusion. Here is a master storyteller at his finest. Brilliantly told, arcanely crafted, with an ending that chills the marrow of your bones." —James Rollins, New York Times bestselling author of The Demon Crown

"Though the pacing is quick, and the action is cinematic, Golden does not sacrifice the detailed setting and excellent character development. Where this novel shines is in the horror. The tension and fear are eerily realistic, while the supernatural monsters are unique and utterly terrifying. The many points of view portrayed ratchet up the dread in this smart, satisfying series that will appeal to fans of supernatural thrillers like Jonathan Maberry's Joe Ledger series and historically framed horror like The Hunger by Alma Katsu." —Booklist

"One of the best novels of the year." —Cemetery Dance

"Christopher Golden knows how to thrill. The Pandora Room is such a spooky adventure. Political intrigue and mythic threats mingle to make a story that plays with your sense of reality. On top of that, it's also just a lot of fun!" —Victor LaValle, author of The Changeling

"A haunting look at what happens when a legendary myth crashes into our stark reality, Christopher Golden's THE PANDORA ROOM has it all — a chilling premise, taut pacing and a compelling protagonist in the complex and heroic Sophie Durand. A globe-trotting supernatural thriller that also feels deeply personal at the same time, Golden's sharp and powerful prose will keep readers glued to this book. You're in for a wild ride." —Alex Segura, acclaimed author of Blackout and Dangerous Ends

"I was completely swept away by this book. Christopher Golden takes us deep underground in an edge of your seat thriller steeped in mythology, international turmoil, and terror. Want to catch a glimpse of what true evil looks like? Brace yourself and enter The Pandora Room." —Jennifer McMahon, New York Times bestselling author of The Winter People and Promise Not to Tell

"Solid prose and well-developed characters...Preston and Child fans will clamor for more of Walker." —Publishers Weekly
St. Martin's Press, 9781250192103, 320pp.
Publication Date: April 23, 2019
About the Author
CHRISTOPHER GOLDEN (he/him) is the New York Times bestselling and Bram Stoker award-winning author of Ararat, Snowblind, Dead Ringers, and Of Saints and Shadows, among many other novels. With Mike Mignola, he is the co-creator of two cult favorite comic book series, Baltimore and Joe Golem: Occult Detective. Golden is also the editor of such anthologies as Seize the Night, The New Dead, and Dark Cities, and the co-host of the popular podcast "Three Guys with Beards." He lives in Massachusetts.
or
Not Currently Available for Direct Purchase