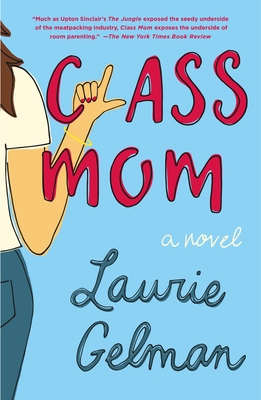 Class Mom
A Novel
Paperback

* Individual store prices may vary.
Other Editions of This Title:
Digital Audiobook (7/31/2017)
Library Binding, Large Print (11/15/2017)
Description
Laurie Gelman's clever debut novel about a year in the life of a kindergarten class mom—a brilliant send-up of the petty and surprisingly cutthroat terrain of parent politics.

Jen Dixon is not your typical Kansas City kindergarten class mom—or mom in general. Jen already has two college-age daughters by two different (probably) musicians, and it's her second time around the class mom block with five-year-old Max—this time with a husband and father by her side. Though her best friend and PTA President sees her as the "wisest" candidate for the job (or oldest), not all of the other parents agree.

From recording parents' response times to her emails about helping in the classroom, to requesting contributions of "special" brownies for curriculum night, not all of Jen's methods win approval from the other moms. Throw in an old flame from Jen's past, a hyper-sensitive "allergy mom," a surprisingly sexy kindergarten teacher, and an impossible-to-please Real Housewife-wannabe, causing problems at every turn, and the job really becomes much more than she signed up for.

Relatable, irreverent, and hilarious in the spirit of Maria Semple this is a fresh, welcome voice in fiction—the kind of novel that real moms clamor for, and a vicarious thrill-read for all mothers, who will be laughing as they are liberated by Gelman's acerbic truths.
Praise For Class Mom: A Novel…
Winner of the 2018 Vine Award for Canadian Jewish Literature and shortlisted for the Leacock Prize for Humor

"Much as Upton Sinclair's The Jungle exposed the seedy underside of the meatpacking industry, Class Mom exposes the underside of room parenting…But, unlike The Jungle, Gelman's novel gives readers a lot to laugh about, including some very, very funny emails…In the end, it's impossible not to root for Jen as a fellow footsoldier in the guerrilla war against so-called perfect mothers."—The New York Times Book Review

"Don't miss this hilarious send-up of parental politics."—People Magazine, Best New Books feature

"Laughter abounds in this spot-on mom-com, Gelman's debut… As the school year progresses and Jen wades deeper into the drama of being in the middle of a group of strong and often outspoken personalities, Gelman showcases her comedic talent; there are hilarious observations and clever quips on nearly every page. Readers may feel overloaded by sass, but they are rewarded with a perceptive parody of parenting gone haywire."—Publishers Weekly

"[A] funny, charming debut novel…With its appealing tone and a sweet mystery at its core, Class Mom offers up refreshingly likable characters in relatably goofy situations."—Good Housekeeping

"Gelman's debut is a literary stand-up routine, and you might as well just give in: this woman is going to get a laugh out of you."—Kirkus Reviews

"Irreverent and hilarious" —The New York Post

"Gelman's debut draws a delightfully snarky character in Jen Dixon, kindergarten-class mom and purveyor of jaw-dropping but spot-on class updates…Snappy dialogue and quick pacing make this a fast and fun read…fans of Jen Lancaster and Maria Semple will love meeting Jen Dixon." —Booklist

"Jen's first-person narration is sassy yet vulnerable as she faces motherhood with panache and her midlife crisis with uncertainty. Her e-mails to the other parents will elicit cackles of glee. Class Mom provides mom-raderie to those who still feel 20 but aren't."—Shelf Awareness

"Class Mom is wicked fun. I will forever have a secret smile at school drop off having read this book. Thank you, Laurie Gelman, for this well-written, deviously funny viewpoint on motherhood today."—Katie Brown, Lifestyle TV host and author

"In Class Mom, Laurie Gelman's titular character is the perfect class mom's alter ego, with wit and just enough snark to make it a really fun read."—Victoria Rose, Publisher of Us Weekly

"Laurie Gelman has put her stamp on the world of women's fiction with her debut novel, ClassMom." —Library Journal

"Warning: Do not read Class Mom in the quiet car on the train because you will LOL! (Sorry, not sorry, fellow commuters.) Laurie Gelman's HI-larious debut novel is a must-read for anyone with small people at home!" —Meaghan Murphy, Executive Editor, Good Housekeeping

"Jen Dixon, a mom with two college-age daughters (been there, done that) brings zest, impatience and irreverence to her role as kindergarten mom for her 5-year-old son."—The Columbus Dispatch

"As a Mom, I so identified with the insanity and hilarity of the world of Class Mom—which is why I never took the job!"—Alexandra Wentworth, actress and New York Times bestselling author of Happily Ali After

"What fun to root for our hilariously human heroine Jen as she navigates her role as class mom exactly the way we all dream of doing it—with humor and what appears to be a serious addiction to truth serum. Finally, a free-spirited character who says the things we are all thinking but are too scared to say out loud. A total joy to read."—Caroline Rhea, comedian

"I almost peed my pants reading the hilarious, inappropriate emails from Jen Dixon, the kindergarten class mom at the heart of this clever debut novel about the petty and surprisingly cutthroat terrain of parent politics."—OffTheShelf.com

"Class Mom shines a bright, hilarious light on what really goes on among the parents of school-aged kids. You don't have to be a mom to enjoy this romp, but you'll laugh even harder if you are one. Laurie Gelman deftly gives voice to what we're all thinking about the tricky terrain of school politics but don't have the nerve to say out loud. Her lead, Jennifer Dixon, is uncensored, sarcastic, flawed, and fabulous and you'll root for her on every page." —Linda Murray, Global Editor in Chief, BabyCenter.com
St. Martin's Griffin, 9781250192561, 320pp.
Publication Date: July 24, 2018
About the Author
Laurie Gelman was born and raised in the Great White North. She spent twenty-five years as a broadcaster in both Canada and the United States before trying her hand at writing novels. The author of Class Mom and You've Been Volunteered, Laurie has appeared on Live with Kelly and Ryan, Watch What Happens Live, and The Talk, among others. She lives in New York City with her husband, Michael Gelman, and their two teenage daughters.