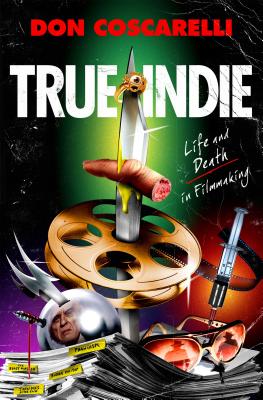 True Indie
Life and Death in Filmmaking
Hardcover

* Individual store prices may vary.
Other Editions of This Title:
Digital Audiobook (10/8/2018)
Description
From Don Coscarelli, the celebrated filmmaker behind many cherished cult classics comes a memoir that's both revealing autobiography and indie film crash course.

Best known for his horror/sci-fi/fantasy films including Phantasm, The Beastmaster, Bubba Ho-tep and John Dies at the End, now Don Coscarelli's taking you on a white-knuckle ride through the rough and tumble world of indie film.

Join Coscarelli as he sells his first feature film to Universal Pictures and gets his own office on the studio lot while still in his teens. Travel with him as he chaperones three out-of-control child actors as they barnstorm Japan, almost drowns actress Catherine Keener in her first film role, and transforms a short story about Elvis Presley battling a four thousand year-old Egyptian mummy into a beloved cult classic film.

Witness the incredible cast of characters he meets along the way from heavy metal god Ronnie James Dio to first-time filmmakers Quentin Tarantino and Roger Avary. Learn how breaking bread with genre icons Tobe Hooper, John Carpenter and Guillermo Del Toro leads to a major cable series and watch as he and zombie king George A. Romero together take over an unprepared national network television show with their tales of blood and horror.

This memoir fits an entire film school education into a single book. It's loaded with behind-the-scenes stories: like setting his face on fire during the making of Phantasm, hearing Bruce Campbell's most important question before agreeing to star in Bubba Ho-tep, and crafting a horror thriller into a franchise phenomenon spanning four decades. Find out how Coscarelli managed to retain creative and financial control of his artistic works in an industry ruled by power-hungry predators, and all without going insane or bankrupt.

True Indie will prove indispensable for fans of Coscarelli's movies, aspiring filmmakers, and anyone who loves a story of an underdog who prevails while not betraying what he believes.
Praise For True Indie: Life and Death in Filmmaking…
Praise for True Indie and Don Coscarelli:

"Coscarelli proves a natural storyteller on the page as well as the screen... His conversational prose style is straightforward and unadorned, but it readily communicates the director's signature trait—his enthusiasm, which is as charming as it is infectious." —Publishers Weekly

"Not just a fine life story, this is also one of the best books you'll ever read about indie filmmaking." —Booklist

"The director's ingenuity, DIY ethos, and enthusiasms will motivate aspiring filmmakers...Fans of the author's cult films will particularly appreciate the behind-the-scenes chapters, while general readers will enjoy this wunderkind's journey from Long Beach to Hollywood." —Library Journal

"A must-read for fans of horror, lovers of independent cinema and people who respect tenacity, determination and perseverance. True Indie is a charming, entertaining and insightful look at the life and work of a bold and brazen filmmaker. It hits the mark like a speeding, double-spiked chrome ball." —J.J. ABRAMS

"The two best books about the process of filmmaking are Hitchcock-A Definite Study by Francois Truffaut and How I Made A Hundred Movies in Hollywood And Never Lost A Dime by Roger Corman. Well, I now add to this list True Indie: Life And Death in Filmmaking by Don Coscarelli. A smart, insightful and entertaining look at the bizarre roller coaster life of an indie director. If you don't love this book… you're already dead." —Rob Zombie

"The term indie is overused and misapplied. To me, indie means 'independent of corporate financing or influence.' I had the good fortune to witness such creative freedom on my first movie, Evil Dead. Don Coscarelli has made indies, in the truest sense, for most of his career. I wanted to work on Bubba Ho-Tep not only because of Joe R. Landsdale's great concept, but because I knew that Don was beholden to no corporate decisions and could make Bubba as raw and outrageous as the movie needed to be. Don Coscarelli is as indie as they come." —Bruce Campbell, New York Times bestselling author of Hail to the Chin

"A career in any creative field is like a ride on a broken-down roller coaster that you have to power with your own feet. True Indie: Life And Death in Filmmaking is proof of that; it's a wild crash course in what a life spent in Hollywood is really like. Don has seen it all, and this memoir is required reading for anyone who loves movies and great anecdotes." —David Wong, New York Times bestselling author of the John Dies at the End series

"Mr. Coscarelli, a veteran cult auteur, knows what he's doing. His resume includes the Phantasm horror franchise and the incomparable Bubba Ho-Tep... These movies are, in every sense, unbelievable. Which means they just might restore your faith in absurdity." —The New York Times on John Dies at the End

"A can-do filmmaker, an artist who could transform household materials into crowd-pleasing, genre fare." —Consequence of Sound
St. Martin's Press, 9781250193247, 352pp.
Publication Date: October 2, 2018
About the Author
DON COSCARELLI became the youngest filmmaker ever to have a feature film distributed by a studio when Universal bought his first film at age 19. The independent, award-winning filmmaker is best known for Phantasm which spawned a rabid cult of fans worldwide. His other indie genre hits include The Beastmaster and Bubba Ho-tep. On TV he directed Showtime's Masters of Horror premiere episode. His most recent film was Sundance selection John Dies at the End. In 2004, he was inducted into Fangoria's Hall of Fame.
or
Not Currently Available for Direct Purchase