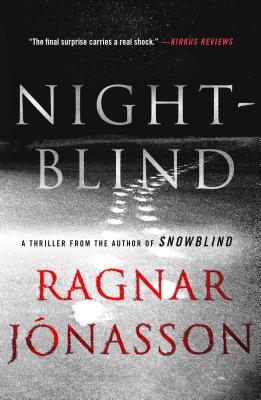 Nightblind (Paperback)
A Thriller (The Dark Iceland Series #2)
Minotaur Books, 9781250193339, 240pp.
Publication Date: July 24, 2018
Other Editions of This Title:
Hardcover (12/5/2017)
Compact Disc (12/5/2017)
MP3 CD (2/1/2018)
Compact Disc (12/5/2017)
Paperback (1/14/2016)
Library Binding, Large Print (3/1/2018)
* Individual store prices may vary.
Description
Chilling and complex, Nightblind is an extraordinary thriller from Ragnar Jonasson, an undeniable new talent.
Ari Thor Arason is a local policeman who has an uneasy relationship with the villagers in an idyllically quiet fishing village in Northern Iceland—where no one locks their doors.
The peace of this close-knit community is shattered by a murder. One of Ari's colleagues is gunned down at point-blank range in the dead of night in a deserted house. With a killer on the loose and the dark Arctic waters closing in, it falls to Ari Thor to piece together a puzzle that involves a new mayor and a psychiatric ward in Reykjavik. It becomes all too clear that tragic events from the past are weaving a sinister spell that may threaten them all.
About the Author
RAGNAR JONASSON was born in Iceland and works as an Attorney at Law and writer in Reykjavik. Before embarking on a writing career, Ragnar translated fourteen Agatha Christie novels into Icelandic. Ragnar is the co-founder of the Reykjavik international crime writing festival Iceland Noir. He has appeared on panels at various crime fiction festivals, including Bouchercon and Left Coast Crime in the US. Ragnar lives in Reykjavik with his wife and two daughters. Snowblind is his debut novel.
Praise For Nightblind: A Thriller (The Dark Iceland Series #2)…
Praise for Nightblind:
"Story's got me gripped but even more satisfying is how the characters are never just there as pawns in the plot."—Ian Rankin
"The ending is a satisfying surprise. But what really makes Nightblind stand out is its vivid cast of characters, whose fears, ambitions, rivalries, and longings are movingly universal."—Oprah.com
"Excellent...Jonasson plants clues fairly before a devastatingly unexpected reveal, without sublimating characterization to plot."—Publishers Weekly (starred)
"The final surprise carries a real shock; and of course the advent of the Icelandic winter is likely to chill hearts even below the Arctic Circle."—Kirkus Reviews
"A unique Nordic Noir of the first order."—BookPage

"Jonasson delights in playing with the expectations of his audience, pulling the carpet out from under us on more than one occasion. Pure entertainment."—Mystery Scene
"British aficionados of Nordic Noir are familiar with two excellent Icelandic writers, Arnaldur Indridason and Yrsa Sigurdardottir. Here's a third: Ragnar Jonasson…the darkness and cold are almost palpable."—The Times
"There will be no better way to start the year than by reading Nightblind by Ragnar Jonasson…Jonasson's books have breathed new life into Nordic noir."—Sunday Express
"Nightblind…certainly lives up to the promise of its predecessor…this is an atmospheric portrayal of a claustrophobic place where everyone is connected…economical and evocative prose, as well as some masterful prestidigitation…"—The Guardian
"A joyful reading experience. Nightblind firmly places Jonasson's writing on the map when it comes to solid Icelandic crime novels."—Mystery Tribune
"Ragnar Jonasson has written a spellbinding novel, with deep insights into the many conflicted characters in the book."—Marilyn's Mystery Reads
"This novel is an effective melding of classic village mystery with contemporary Nordic noir."—Reviewing the Evidence
New York Post's Must-Read Books for Week of December 16
Praise for Snowblind:
"A classic crime story . . .first-rate and highly recommended." —Lee Child
"A modern Icelandic take on an Agatha Christie-style mystery, as twisty as any slalom..." —Ian Rankin
"This classically crafted whodunit holds up nicely, but Jónasson's true gift is for describing the daunting beauty of the fierce setting, lashed by blinding snowstorms that smother the village in "a thick, white darkness" that is strangely comforting."—New York Times Book Review
"Jónasson skillfully alternates points of view and shifts of time...The action builds to a shattering climax."—Publishers Weekly (boxed and starred)
"A chiller of a thriller whose style and pace are influence by Jónasson's admiration for Agatha Christie. It's good enough to share shelf space with the works of Yrsa Sigurdardottir and Arnaldur Indridason, Iceland's crime novel royalty."—The Washington Post, "Best Mysteries and Thrillers to Read in January"
"Jónasson's whodunit puts a lively, sophisticated spin on the Agatha Christie model, taking it down intriguing dark alleys."—Kirkus Reviews
"In this debut novel, Jónasson has taken the locked-room mystery and transformed it into a dark tale of isolation and intrigue that will keep readers guessing until the final page."—Library Journal Xpress
"Jónasson spins an involving tale of small-town police work that vividly captures the snowy setting that so affects the rookie cop. Iceland noir at its moodiest"—Booklist
"Required reading."—New York Post
"What sets Snowblind apart is the deep melancholy pervading the characters. Most of them, including Ari, have suffered a tragic loss. That's bad for them, but along with the 24-hour darkness closing in, it makes for the best sort of gloomy storytelling." —Chicago Tribune
"Perfectly capturing the pressures of rural life and the freezing, deadly Icelandic winter, Snowblind will keep readers on the edge of their seats--preferably snuggled beneath a warm blanket."—Shelf Awareness
"A real find. I loved it. The turns of the plot are clever and unexpected, and Ari is a wonderful character to spend time with."—Mystery Scene
"Snowblind has the classic red herrings, plot twists and surprises that characterize the best of Christie's work. Jónasson's latest is nicely done and simply begs for a sequel."—BookPage
"If a Golden Age crime novel was to emerge from a literary deep freeze then you'd hope it would read like this." —Craig Robertson
"Seductive … an old-fashioned murder mystery with a strong central character and the fascinating background of a small Icelandic town cut off by snow. Ragnar does claustrophobia beautifully." —Ann Cleeves