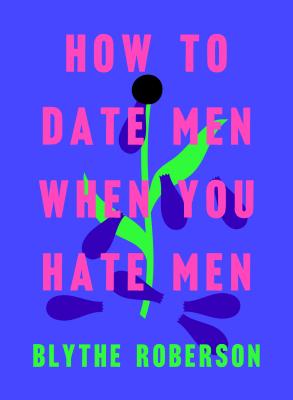 How to Date Men When You Hate Men
Hardcover

* Individual store prices may vary.
Other Editions of This Title:
Digital Audiobook (1/7/2019)
CD-Audio (1/8/2019)
Description
From New Yorker and Onion writer and comedian Blythe Roberson, How to Date Men When You Hate Men is a comedy philosophy book aimed at interrogating what it means to date men within the trappings of modern society.

Blythe Roberson's sharp observational humor is met by her open-hearted willingness to revel in the ugliest warts and shimmering highs of choosing to live our lives amongst other humans. She collects her crushes like ill cared-for pets, skewers her own suspect decisions, and assures readers that any date you can mess up, she can top tenfold. And really, was that date even a date in the first place?

With sections like Real Interviews With Men About Whether Or Not It Was A Date; Good Flirts That Work; Bad Flirts That Do Not Work; and Definitive Proof That Tom Hanks Is The Villain Of You've Got Mail, How to Date Men When You Hate Men is a one stop shop for dating advice when you love men but don't like them.

"With biting wit, Roberson explores the dynamics of heterosexual dating in the age of #MeToo"
— The New York Times
Praise For How to Date Men When You Hate Men…
"With biting wit, Roberson explores the dynamics of heterosexual dating in the age of #MeToo." — The New York Times

"This is a perfect book for women of all ages who have found that, despite their best efforts, dating men rarely works out in their favor." — Publishers Weekly

"Roberson's achievement in remaining funny while excavating her pain is just straightforwardly heroic." — The New Republic

"When too many men are monopolizing the headlines with their reprehensible behavior, Roberson takes a closer look at the system that breeds and normalizes this bad behavior, and guides us through the perils of dating — from crushes to break-ups — with a healthy dose of heart, humor, and feminism." — PAPER Magazine

"How To Date Men When You Hate Men is an incredibly funny read that was surely not written when Blythe was supposed to be working for me." - Stephen Colbert

"I'm going to be that person in their 30s who says something about someone in their 20s as if I am so removed from that time period: if you are in your 20s, most things make no sense, but thank sweet baby Jesus that Blythe Roberson's How to Date Men When You Hate Men exists, and it's something I wish I had during that time. Funny, sharp, and feminist fun in a way we're led to believe isn't possible. You'll have a blast reading this and then date...or not date anyone because you are living your best single life with new best friend Roberson by your side." - Phoebe Robinson, New York Times bestselling author of You Can't Touch My Hair

"Men oppress us; we also want to smooch them. Blythe manages to not only laugh at the pain of holding these two truths at once, but to find meaning, inspiration and empowerment in it. I've brought this book up in 1,000 conversations since I read it." - Hallie Bateman, illustrator of What to Do When I'm Gone

"This book is so funny and insightful, and it makes us both so glad we're married to each other and forever exempt from dating men!" - Maris Kreizman, author of Slaughterhouse 90210, and Josh Gondelman, author of Nice Try
Flatiron Books, 9781250193421, 288pp.
Publication Date: January 8, 2019
About the Author
Blythe Roberson is a writer and comedian whose work has been published by the New Yorker, The Onion, ClickHole, VICE Magazine, and others, and has been mentioned by The New York Times, The Washington Post, and New York Mag. She works as a researcher at The Late Show with Stephen Colbert.

Blythe is the author of How to Date Men When You Hate Men.