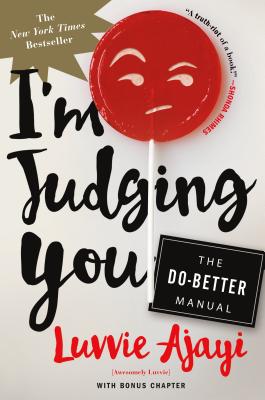 I'm Judging You
The Do-Better Manual
Hardcover

* Individual store prices may vary.
Other Editions of This Title:
Digital Audiobook (9/12/2016)
Paperback (9/13/2016)
CD-Audio (9/12/2017)
Description
New York Times Bestseller
#1 Washington Post Bestseller
USA Today Bestseller
Goodreads Choice Awards Nominee
Redbook "20 Books By Women You Must Read this Fall"
GoodHousekeeping.com "17 New Best New Books to Read This Fall"
BookRiot "100 Must-Read Hilarious Books"

Hilariously wry social commentary, delivered as a guide to modern manners; in hardcover for the first time, with festive packaging and tour de force bonus essay about the "walking Cheeto" as U.S. president.

In this hilarious book of essays, comedian, activist, and hugely popular culture blogger Luvvie Ajayi inspires us to good behavior, one sharp and funny side-eye at a time.

The go-to source for bracingly smart takes on pop culture at her enormously popular blog AwesomelyLuvvie.com, she has also become a bulwark of good humor and crucial common sense at what can seem a common sense-free time. I'm Judging You dissects our cultural obsessions and calls out bad behavior in our increasingly digital, connected lives. With a lighthearted, rapier wit and a unique perspective it's the handbook the world needs now, doling out the hard truths and a road map for bringing some "act right" to our popular culture, social media, and our lives.
Praise For I'm Judging You: The Do-Better Manual…
"The Internet's newest comic phenom . . . . She has been hailed by Bono and Shonda Rhimes for her singular voice and stinging political commentary...You may not have heard her name yet. But you probably will, because Luvvie Ajayi, a Nigerian-born "professional shade thrower," as she calls herself, is offering incisive, hilarious commentary on polarizing issues (race and gender in particular), and she has found her audience."
—Judith Newman, The New York Times

"This truth-riot of a book gives us everything from hilarious lectures on the bad behavior all around us to razor sharp essays on media and culture. With I'm Judging You, Luvvie brilliantly puts the world on notice that she is not here for your foolishness — or mine."
—Shonda Rhimes, New York Times bestselling author of Year of Yes and executive producer of Scandal and Grey's Anatomy

"I don't know how Luvvie Ajayi got so smart so young about so many things, from feminism to social media, from the pervasiveness of rape culture to the excellence of Red Lobster's Cheddar Bay Biscuits. I'm just grateful she has chosen to share her wisdom with the rest of us in this warm and witty book. The world is going to love it!"
—Jennifer Weiner, #1 New York Times bestselling author of Best Friends Forever

"You will love Luvvie Ajayi's I'm Judging You, and you will argue with it, laugh hysterically at it, shout "AW HELL YES" at it, and carry parts of it in your heart to dissect or inspire...Perfect for starting important and meaty discussions about all of the topics your mama told you never to bring up at polite dinner parties...religion, race, relationships, reality tv. Read the book. Have the discussions. You'll be better for it."
—Jenny Lawson, New York Times bestselling author of Furiously Happy

"I'm Judging You is whip-smart, take-no-prisoners hilarious."
—ChicagoTribune

"Humor writing at its best. . . . A truth serum tempered with the bite of laugh."
—NBCBLK(NBC News)

"Luvvie Ajayi calls out everybody on their bad behavior . . . but she does it with such a light and funny touch that you can't help but laugh even as you learn."
—Goodhousekeeping.com

"Hilarious and perceptive."
—PopSugar

"The ultimate handbook on the dos and don'ts of socially navigating the digital era. Brilliantly witty and heartful."
—Redbook Magazine

"Reflects Ajayi's spunky personality and hilarious commentary."
—The Huffington Post

"A smart, vividly humorous handbook...Overall, [Ajayi's] "do-better" calls for us to reclaim common sense, compassion, and critical thinking, in both personal and online interactions. Astute and timely advice, wittily presented."
—Booklist, starred review

"By exposing the uncool, unwashed underbelly of American society, Ajayi's essays force readers to reconsider their stances on a variety of issues, including social media and the public airing of everything, celebrities, sex tapes, the various types of friendships one might have, feminism, religion. Be prepared for some laughs, but also be prepared to think and confront tougher issues."
—Kirkus

"Ajayi writes with humor and intelligence about a range of topics . . . . Her honesty makes the book worth reading."
—Publishers Weekly

"I could NOT stop laughing. Luvvie has a way of tapping into the universal things that make us all suck at being people. EVERY person needs to keep I'm Judging You on them at all times just to avoid being terrible. I know I will."
—Issa Rae, author of The Misadventures of Awkward Black Girl

"When I heard Luvvie was writing a book, I knew the following things would happen as surely as day follows night: I would read it, and I would love it...Luvvie is correct about more things more often than any single human woman has the right to be, and has the most stylish and deft command of language this side of P.G. Wodehouse. I like her immensely for it, and I wish I could read I'm Judging You for the first time again. I have been chided by the best, and I love it.
—Mallory Ortberg, bestselling author of Texts from Jane Eyre

"I'm Judging You is a brilliant, laugh-out-loud manual for the generation that can configure a wireless router but still hasn't realized social media is not the place for child support issues. It's the tough and tender love letter everyone should be forced to read before they take their first selfie."
—Angela Nissel, author of The Broke Diaries and Mixed
Henry Holt and Co., 9781250195173, 272pp.
Publication Date: November 21, 2017
About the Author
Luvvie Ajayi is an award-winning writer, pop-culture critic, and professional troublemaker who thrives at the intersection of comedy, technology, and activism. She is the person who often says what you're thinking but dared not say because you have a filter and a job to protect. She is also a digital strategist, noted speaker, core team member on Glennon Doyle's "Together" tour, and executive director of The Red Pump Project, a national HIV/AIDS organization.
or
Not Currently Available for Direct Purchase