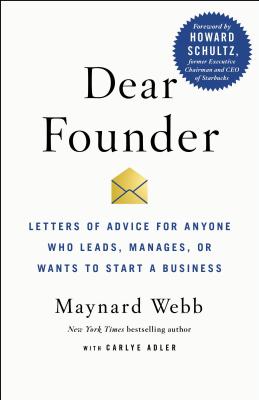 Dear Founder
Letters of Advice for Anyone Who Leads, Manages, or Wants to Start a Business
Hardcover

* Individual store prices may vary.
Other Editions of This Title:
Digital Audiobook (9/10/2018)
CD-Audio (9/11/2018)
Description
The Los Angeles Times and USA Today bestseller!

Wise, practical, and profitable letters to entrepreneurs, leaders, managers, and business owners in every field—from a leading executive, investor, and business founder

More than 600,000 new businesses are launched each year. How can a start-up find the funding it needs to survive? When, if at all, should a company go public? How does an entrepreneur build and manage a workplace—and create a lasting legacy?

Maynard Webb has helped found, fund, and grow dozens of successful companies, and has driven strategic change at Salesforce, eBay, Everwise, and Visa, among other worldwide corporations. Known for offering savvy insight, encouragement, and a dose of reality in the form of engaging personal letters to a select group of business leaders, Webb now shares his lessons with the rest of America's aspiring entrepreneurs—at any age and stage in their careers—in Dear Founder.

Featuring more than eighty inspiring, informative, and instructive letters, Dear Founder is rich with sound advice on an array of business topics, from turning your idea into a reality to building a culture, to reaching key financial goals. This book is an indispensable guide to navigating the realities, risks, and rewards of being your own boss—and founding the company of your dreams.
Praise For Dear Founder: Letters of Advice for Anyone Who Leads, Manages, or Wants to Start a Business…
"Dear Founder is a 'must have,' not only for anyone thinking of or contemplating a startup, but it also serves as an extraordinary resource for leaders and managers in every sector of industry."
–Howard Schultz, former executive chairman and CEO, Starbucks Corporation

"With Dear Founder, everyone has access to Maynard's wisdom and advice. This book should be bedside reading for anyone running a company today."
-Meg Whitman, CEO, NewTV, Former CEO, Hewlett Packard Enterprise, eBay

"Dear Founder is an indispensable handbook for entrepreneurs at every stage of their journey."
-Marc Benioff, Chairman & CEO, Salesforce

"The insightful, empathetic and practical wisdom in this book mirrors the breakthrough ideas one would receive when sitting face-to-face with a trusted mentor. It is a must-read for any business leader."
– Brad D. Smith, Chairman & CEO, Intuit

"In Dear Founder, Maynard Webb shares the gift of his incredible experience...Dear Founder is a playbook to help you plan and it is a resource that you can refer back to as you run into new situations along the journey of leading your company."
-Alfred F. Kelly Jr., CEO, Visa

"Maynard Webb always gets the big picture of what it takes to be successful—he goes where there is disruption, sees opportunity, and sparks tremendous growth and success."
-Jerry Yang, cofounder, former CEO, Yahoo!

"I wish I had this book when I got started at Sun Microsystems. Now working on some very important startups, my four sons. This will be on the top of their reading list—as it should be for every budding economic superstar contributing to the private sector."
-Scott McNealy, cofounder, Chairman, Wayin, cofounder Sun Microsystem

"In Dear Founder, Maynard Webb reminds us we're not born an entrepreneur; we learn to be one. Being an entrepreneur is not only about starting a company; it's a state of mind."
-Beth Axelrod, Head of Global Employee Experience, Airbnb

"I'm lucky enough to be one of the founders who can call Maynard Webb a mentor and advisor. Dear Founder perfectly captures Maynard's wisdom as he guides you every step of the way along the entrepreneur's journey."
-Tien Tzuo, CEO, Zuora and bestselling author of Subscribed

"I've had a great career in technology, and nothing was as impactful on my leadership style as the three years I sat next to Maynard. Our discussions about creating companies with cultures of meritocracy, the future of work, leadership styles, acquihires, and the benefits of enterprises and startups continue to influence many of the decisions I make every day. With this book, everyone has access to Maynard's unparalleled wisdom and strong mentorship, and I'm certain they too will see the benefit."
-Jeremy King, CTO, Walmart (WIN Affiliate)

"Every entrepreneur can identify with facing difficult challenges. Maynard Webb has seen them all. His hard-earned advice is relevant for business leaders in any industry who want to take their business to the next level."
- J. Frederic Kerrest, Okta Co-Founder, COO & Director (WIN Founder)

"Starting a business is an incredibly challenging experience. You don't always have the answers. Maynard Webb shares the wisdom and guidance in those moments that matter the most. He understands your challenges and pushes you to execute with courage, honesty and humility. Maynard has done this for me and now he can do this for you."
-Andre Haddad, CEO, Turo (WIN CEO and Affiliate)

"Maynard is every entrepreneur's dream investor—supportive, experienced, and always full of valuable insights. His work with everyone from founders to leaders of Fortune 500 companies makes him uniquely positioned to capture the story of the startup from inception to success across a multitude of verticals. His letters are fundamental for anyone who has aspirations to start, and build, a business."
-Adam Foroughi, CEO, AppLovin Corporation (WIN Founder)

"I had the tremendous good fortune to meet Maynard while working on a startup called AdMob. Maynard was on the board, and I was learning how to build and lead an engineering team under the demands of hyper-growth. No matter how crazy, Maynard seemed to have seen and successfully navigated just about every problem that arose for me and my team during those wild days. Without Maynard's wisdom and wealth of experience which he so generously shared and has continued to share with me over the past many years, my job would have been so much harder. I always wondered how we could scale Maynard so that more entrepreneurs and leaders could benefit from his mentorship. Dear Founder is a huge step in that direction."
-Kevin Scott, CTO, Microsoft

"Webb's well-aimed advice will undoubtedly prove a valuable asset for many a future founder during the building and growth of a new organization." - Publishers Weekly

"Webb's candor and personal history offer solid illustrations on how to lead. This recommended book provides honest guidance about the work that goes into a new company, delivered in digestible chunks for the entrepreneur on the go." - Library Journal

"Dear Founder is rich with sound advice. Business-critical subjects are addressed with a blend of empathy, humor, candor, tough-love, and hard-won wisdom." - 800-CEO-READ

"Webb's approach is simple and refreshing. Tapping into his reservoir of knowledge, he fashions letters and answers that hew to real-life experiences." - Barron's

St. Martin's Press, 9781250195647, 352pp.
Publication Date: September 11, 2018
About the Author
Maynard Webb is a cofounder and board member of Everwise, a mentorship startup, and a board member of Visa and Salesforce. A current investor in startups through the Webb Investment Network, previously he served as Chairman of the Board of Yahoo!, CEO of LiveOps, and COO of eBay. He resides in the Bay Area with his wife, Irene.

Maynard is the coauthor of Dear Founder.
Carlye Adler
is an award-winning journalist and
New York Times
bestselling coauthor/collaborator of several books, including
Dear Founder
. She lives in Connecticut with her husband and two daughters.
or
Not Currently Available for Direct Purchase