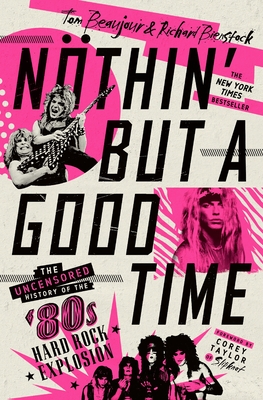 Nöthin' But a Good Time
The Uncensored History of the '80s Hard Rock Explosion
Hardcover

* Individual store prices may vary.
Other Editions of This Title:
Digital Audiobook (3/15/2021)
Paperback (3/15/2022)
Description
The New York Times Bestseller

The Explosive National Bestseller

"A backstage pass to the wildest and loudest party in rock history—you'll feel like you were right there with us!" —Bret Michaels of Poison

Nothin' But a Good Time is the definitive, no-holds-barred oral history of 1980s hard rock and hair metal, told by the musicians and industry insiders who lived it.

Hard rock in the 1980s was a hedonistic and often intensely creative wellspring of escapism that perfectly encapsulated—and maybe even helped to define—a spectacularly over-the-top decade. Indeed, fist-pumping hits like Twisted Sister's "We're Not Gonna Take It," Mötley Crüe's "Girls, Girls, Girls," and Guns N' Roses' "Welcome to the Jungle" are as inextricably linked to the era as Reaganomics, PAC-MAN, and E.T.

From the do-or-die early days of self-financed recordings and D.I.Y. concert productions that were as flashy as they were foolhardy, to the multi-Platinum, MTV-powered glory years of stadium-shaking anthems and chart-topping power ballads, to the ultimate crash when grunge bands like Nirvana forever altered the entire climate of the business, Tom Beaujour and Richard Bienstock's Nothin' But a Good Time captures the energy and excess of the hair metal years in the words of the musicians, managers, producers, engineers, label executives, publicists, stylists, costume designers, photographers, journalists, magazine publishers, video directors, club bookers, roadies, groupies, and hangers-on who lived it.

Featuring an impassioned foreword by Slipknot and Stone Sour vocalist and avowed glam metal fanatic Corey Taylor, and drawn from over two hundred author interviews with members of Van Halen, Mötley Crüe, Poison, Guns N' Roses, Skid Row, Bon Jovi, Ratt, Twisted Sister, Winger, Warrant, Cinderella, Quiet Riot and others, as well as Ozzy Osbourne, Lita Ford, and many more, this is the ultimate, uncensored, and often unhinged, chronicle of a time where excess and success walked hand in hand, told by the men and women who created a sound and style that came to define a musical era—one in which the bands and their fans went looking for nothin' but a good time…and found it.
Praise For Nöthin' But a Good Time: The Uncensored History of the '80s Hard Rock Explosion…
"the definitive account of the era" —PopMatters

"an intensive swim through what it felt like to be alive and flyering the Sunset Strip in the '80s" —Cryptic Rock

"Tom Beaujour and Richard Bienstock have a remarkable knack for placing readers in the moment with every page turn, resulting in a perfectly crafted masterpiece that encapsulates one of the most iconic eras in music history." —Vinyl Writer

"a quick-moving and engrossing read... a compelling conversation among a couple hundred people who defined the metal era." —Culture Sonar

"This is one heck of a book." —Metal Sludge

"Rock music fans will be banging their heads to this book." —Library Journal

"Beginning with the early days of Quiet Riot and Van Halen, the book takes the reader through glam's ascent from L.A. clubs to arenas everywhere, spending equal time on Crüe-style debauchery and the behind-the-scenes business that made these bands superstars, through the arrival of Nirvana, which turned the hair metal craze into poison overnight." —Booklist

"Lively, comprehensive... An engrossing deep dive into a lurid, free-wheeling monument in pop music." —Kirkus

"Revolver cofounder Beaujour and former Guitar World editor Bienstock give heavy metal a flamboyant retrospective in this raucous oral history...Metalheads and those with a fondness for the over-the-top antics that marked the genre and era are in for a treat." —Publishers Weekly

"From the streets to the Strip, the studio to the stage, this is an epic tale told by the people that lived it. It's a backstage pass to the wildest and loudest party in rock history—you'll feel like you were right there with us!" —Bret Michaels of Poison

"If you want to relive the explosive decade, this is as close as you're gonna get. All right here, right now." —Stephen Pearcy of Ratt

"Tom and Rich — the two music journalists most likely to be called as expert witnesses in a court case about hair metal — have compiled a fun, funny, and frightening chronicle of the so-called 'Decade of Decadence' with interviews from every major player in the scene." —Kory Grow, Rolling Stone

"Sure, there's plenty of sex, drugs and rock & roll but, like the best rock books, Nöthin' But a Good Time is really about people and their stories. Those stories attest to the power of hard work, ambition, friendship and community. And that's what makes this hilarious, sordid and deeply researched book so inspiring." —Michael Azerrad, author of Our Band Could Be Your Life: Scenes from the American Indie Underground 1981-1991 and Come As You Are: The Story of Nirvana

"No stone is left unturned in this deep dive into the bands you love, and the bands you love to hate. This book goes to 11." —Katherine Turman, co-author, Louder Than Hell: The Definitive Oral History of Metal


"An extremely well-written, thoughtful, and indeed inspiring exposé on one of the most misunderstood musical genres in history. Come for Yngwie Malmsteen, stay for Gunnar Nelson." —Dave Hill, comedian, author, Parking the Moose

"Tom Beaujour and Richard Bienstock recreate the reckless and carefree era of hair metal—a fantastical, debauched world of car wrecks and casual sex, codpieces and Capezios, boys dressed like girls and girls dressed in almost nothing, cocaine and even more cocaine and no, seriously, So. Much. Cocaine. Nöthin' But a Good Time is the literary equivalent of a pyro explosion." —Rob Tannenbaum, author of I Want My MTV: The Uncensored Story of the Music Video Revolution


"I came for the debauched Guns 'N Roses, Mötley Crüe and Poison stories and was not disappointed. I did not expect equally delightful stories about Stryper, Warrant, Faster Pussycat, Nelson and Trixter. Brilliant book of familiar and forgotten rock history." —Steve Knopper, editor-at-large, Billboard, author, Appetite for Self-Destruction: The Spectacular Crash of the Record Industry in the Digital Age
St. Martin's Press, 9781250195753, 560pp.
Publication Date: March 16, 2021
About the Author
TOM BEAUJOUR is a journalist as well as a co-founder and former editor-in-chief of Revolver, America's premier hard rock and heavy metal monthly. Beaujour has produced and mixed albums by Nada Surf, Guided by Voices, the Juliana Hatfield Three, and many others.

RICHARD BIENSTOCK is a journalist whose writing has appeared in the New York Times, Rolling Stone, Billboard, Spin, and other publications. He is a former senior editor of Guitar World magazine and executive editor of Guitar Aficionado magazine. He has authored and co-authored several books, among them Kurt Cobain: Montage of Heck.