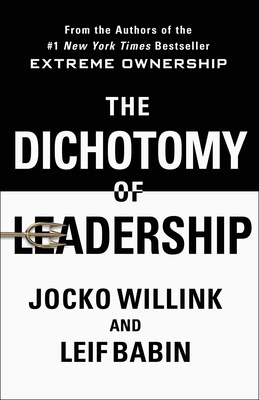 The Dichotomy of Leadership
Balancing the Challenges of Extreme Ownership to Lead and Win
Hardcover

* Individual store prices may vary.
Other Editions of This Title:
Digital Audiobook (9/24/2018)
CD-Audio (9/25/2018)
Description
THE INSTANT #1 NATIONAL BESTSELLER

From the #1 New York Times bestselling authors of Extreme Ownership comes a new and revolutionary approach to help leaders recognize and attain the leadership balance crucial to victory.

With their first book, Extreme Ownership (published in October 2015), Jocko Willink and Leif Babin set a new standard for leadership, challenging readers to become better leaders, better followers, and better people, in both their professional and personal lives. Now, in THE DICHOTOMY OF LEADERSHIP, Jocko and Leif dive even deeper into the unchartered and complex waters of a concept first introduced in Extreme Ownership: finding balance between the opposing forces that pull every leader in different directions. Here, Willink and Babin get granular into the nuances that every successful leader must navigate.

Mastering the Dichotomy of Leadership requires understanding when to lead and when to follow; when to aggressively maneuver and when to pause and let things develop; when to detach and let the team run and when to dive into the details and micromanage. In addition, every leader must:
· Take Extreme Ownership of everything that impacts their mission, yet utilize Decentralize Command by giving ownership to their team.
· Care deeply about their people and their individual success and livelihoods, yet look out for the good of the overall team and above all accomplish the strategic mission.
· Exhibit the most important quality in a leader—humility, but also be willing to speak up and push back against questionable decisions that could hurt the team and the mission.

With examples from the authors' combat and training experiences in the SEAL teams, and then a demonstration of how each lesson applies to the business world, Willink and Babin clearly explain THE DICHOTOMY OF LEADERSHIP—skills that are mission-critical for any leader and any team to achieve their ultimate goal: VICTORY.
Praise For The Dichotomy of Leadership: Balancing the Challenges of Extreme Ownership to Lead and Win…
WHAT READERS ARE SAYING ABOUT THE DICHOTOMY OF LEADERSHIP:

"Until this point in my life, I've never read a book that reveals the truths of leadership in such detail and rawness. The true value of this book cannot be quantified in words." —Pete Roberts, Co-Founder & CEO, Origin Maine USA

"The Dichotomy of Leadership needs to come with a warning label: BRUTALLY HONEST. Finally, a book that tells the truth on how hard and complex it can be to tackle leadership challenges." —Lindi Horton, Director of Cloud Services, Cyber Security Company

"Inspiring, practical, and honest lessons that transcend the battlefield. Buy this book, read it, and apply the lessons to any challenge." —Sarah Armstrong, CFO, Mesa Technical Associates

"The Dichotomy of Leadership provides even more depth and dimension to the principles of Extreme Ownership." —Sonja Winkler, Senior Director of Operations, Nashville Symphony

"Jocko and Leif have done the impossible. The Dichotomy of Leadership is better than Extreme Ownership. In this book they refine the principles that made two of the leading voices in management and leadership today. All of the questions your team asked after reading Extreme Ownership are answered. The nuance provided in The Dichotomy of Leadership is exactly what our team needed to fully implement Extreme Ownership. " —Bryce Maddock, CEO, TaskUs

"Even better than Extreme Ownership. It's FREAKING AWESOME." —Joe Masciantonio, Vice President of Sales, The Nature's Bounty Company
St. Martin's Press, 9781250195777, 320pp.
Publication Date: September 25, 2018
About the Author
JOCKO WILLINK was a Navy SEAL for 20 years, rising through the ranks to become commander of Task Unit Bruiser—the most decorated Special Operations unit of the Iraq War. After retiring, Willink continued on the disciplined path of success, co-founding Echelon Front, a premier leadership and management consulting company, writing the #1 New York Times bestsellers Extreme Ownership, Leadership Strategy and Tactics, Discipline Equals Freedom, and The Way of the Warrior Kid children's series. He also created and hosts the top-rated podcast, JOCKO PODCAST.

LEIF BABIN served 9 years as a Navy SEAL. He was in combat in Iraq during the Battle of Ramadi, a conflict that resulted in numerous medals for his efforts. After his tours, Babin served as a Navy SEAL instructor before forming Echelon Front with Jocko Willink, a leadership training group that uses the lessons and expertise the pair learned as SEALs to train leaders beyond the military. He is the co-author of the #1 New York Times bestseller Extreme Ownership. Babin lives in New York.