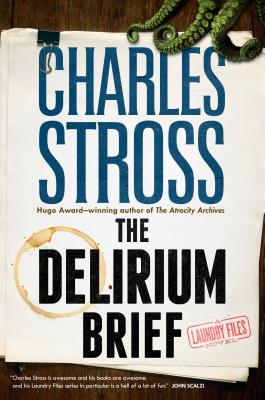 The Delirium Brief (Paperback)
A Laundry Files Novel
Tor.com, 9781250196095, 384pp.
Publication Date: June 5, 2018
Other Editions of This Title:
Hardcover (7/11/2017)
* Individual store prices may vary.
Description
*2018 LOCUS AWARD FINALIST FOR BEST FANTASY NOVEL CATEGORY*

"Smart, literate, funny." —Lev Grossman, author of The Magicians
Someone is dead set to air the spy agency's dirty laundry in The Delirium Brief, the next installment to Charles Stross' Hugo Award-winning comedic dark fantasy Laundry Files series!
Bob Howard's career in the Laundry, the secret British government agency dedicated to protecting the world from unspeakable horrors from beyond spacetime, has entailed high combat, brilliant hacking, ancient magic, and combat with indescribably repellent creatures of pure evil. It has also involved a wearying amount of paperwork and office politics, and his expense reports are still a mess.
Now, following the invasion of Yorkshire by the Host of Air and Darkness, the Laundry's existence has become public, and Bob is being trotted out on TV to answer pointed questions about elven asylum seekers. What neither Bob nor his managers have foreseen is that their organization has earned the attention of a horror far more terrifying than any demon: a British government looking for public services to privatize.
Inch by inch, Bob Howard and his managers are forced to consider the truly unthinkable: a coup against the British government itself.
Laundry Files
1. The Atrocity Archives
2. The Jennifer Morgue
3. The Fuller Memorandum
4. The Apocalypse Codex
5. The Rhesus Chart
6. The Annihilation Score
7. The Nightmare Stacks
About the Author
Charles Stross is the author of the bestselling Merchant Princes series, the Laundry series, and several stand-alone novels including Glasshouse, Accelerando, and Saturn's Children. Born in Leeds, England, in 1964, Stross studied in London and Bradford, earning degrees in pharmacy and computer science. Over the next decade and a half he worked as a pharmacist, a technical writer, a software engineer, and eventually as a prolific journalist covering the IT industry. His short fiction began attracting wide attention in the late 1990s; his first novel, Singularity Sky, appeared in 2003.  He has subsequently won the Hugo Award twice. He lives with his wife in Edinburgh, Scotland, in a flat that is slightly older than the state of Texas.
Praise For The Delirium Brief: A Laundry Files Novel…
"Stross still spins a heck of a yarn." —Kirkus Reviews on The Delirium Brief
"Gaudy and gory....This is Stross in one of his darker moods....The political side of the book...signals some of the real-world anxieties that stand behind the entire series." —Locus on The Delirium Brief
"A fast-paced blend of espionage thrills, mundane office comedy and Lovecraftian horror." —SFX on The Rhesus Chart

"Alternately chilling and hilarious." —Publishers Weekly on The Jennifer Morgue
"Combines a le Carré-style espionage thriller with Lovecraftian horror to great effect." —The Guardian on The Fuller Memorandum
"Smart, literate, funny."—Lev Grossman, author of The Magicians
"A bizarre yet effective yoking of the spy and horror genres."—The Washington Post Book World
"Imagine a world where gnarly Lovecraftian demons are all too real yet are routinely neutralized with high-tech wizardry by a supersecret British spy agency, and you'll get an inkling of the genre-bending territory Stross explores in his Laundry Files novels." —Booklist on The Fuller Memorandum