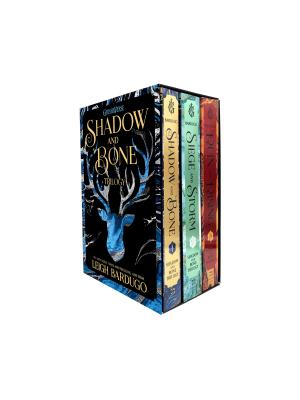 The Shadow and Bone Trilogy Boxed Set (Multiple copy pack)
Shadow and Bone, Siege and Storm, Ruin and Rising
Square Fish, 9781250196231
Publication Date: November 14, 2017
* Individual store prices may vary.
Description
All three books in the New York Times-bestselling Shadow and Bone Trilogy are now available together in a beautiful paperback boxed set.

Soldier. Summoner. Saint. Follow Alina Starkov through Shadow and Bone, Siege and Storm, and Ruin and Rising as she discovers her dormant powers and is swept up in a world of luxury and illusion. As Alina struggles to fit into her new life, a threat to the kingdom of Ravka grows—one that will test old alliances and challenge the very limits of magic, one that will forge a leader from a frightened girl.
Praise for The Shadow and Bone Trilogy:

"This is what fantasy is for." —Laini Taylor for The New York Times on Shadow and Bone
"Set in a fascinating, unique world rich with detail, Shadow and Bone was unlike anything I've ever read. Alina is a clever, sympathetic character I will gladly follow into the next installment—which can't come soon enough!" —Veronica Roth, New York Times–bestselling author of Divergent, on Shadow and Bone
"Filled with lush descriptions, intriguing magic, and plenty of twists, this memorable adventure offers action and intrigue mixed with an undercurrent of romance and danger." —Publishers Weekly on Shadow and Bone
"A heady blend of fantasy, romance, and adventure." —Rick Riordan, #1 New York Times-bestselling author of the Percy Jackson series, on Siege and Storm
"A well-drawn world, full of deceit and mythology, populated by entirely believable characters. Full of truly surprising twists and turns, beautiful imagery and a protagonist it's impossible not to root for, this is a great choice for teenage fans of George R.R. Martin and J.R.R. Tolkien." —RT Book Reviews on Shadow and Bone
"If opener Shadow and Bone was a magical coming-of-age story and middle-volume Siege and Storm was a political thriller, then this third book is an epic quest . . . Every time readers may think she's written herself into a corner, Bardugo pulls off a twist that, while surprising, will keep them turning pages furiously." —Kirkus Reviews, starred review, on Ruin and Rising
About the Author
Leigh Bardugo is a #1 New York Times bestselling author of fantasy novels and the creator of the Grishaverse. With over 3 million copies sold worldwide, her Grishaverse spans the Shadow and Bone Trilogy, the Six of Crows Duology, The Language of Thorns, King of Scars—with more to come. Her other works include Wonder Woman: Warbringer and short stories that have appeared in The Best of Tor.com and the Best American Science Fiction & Fantasy. She lives in Los Angeles.
Praise For The Shadow and Bone Trilogy Boxed Set: Shadow and Bone, Siege and Storm, Ruin and Rising…
Praise for The Shadow and Bone Trilogy:

"This is what fantasy is for." —Laini Taylor for The New York Times on Shadow and Bone
"Set in a fascinating, unique world rich with detail, Shadow and Bone was unlike anything I've ever read. Alina is a clever, sympathetic character I will gladly follow into the next installment—which can't come soon enough!" —Veronica Roth, New York Times–bestselling author of Divergent, on Shadow and Bone
"Filled with lush descriptions, intriguing magic, and plenty of twists, this memorable adventure offers action and intrigue mixed with an undercurrent of romance and danger." —Publishers Weekly on Shadow and Bone
"A heady blend of fantasy, romance, and adventure." —Rick Riordan, #1 New York Times-bestselling author of the Percy Jackson series, on Siege and Storm
"A well-drawn world, full of deceit and mythology, populated by entirely believable characters. Full of truly surprising twists and turns, beautiful imagery and a protagonist it's impossible not to root for, this is a great choice for teenage fans of George R.R. Martin and J.R.R. Tolkien." —RT Book Reviews on Shadow and Bone
"If opener Shadow and Bone was a magical coming-of-age story and middle-volume Siege and Storm was a political thriller, then this third book is an epic quest. . . Every time readers may think she's written herself into a corner, Bardugo pulls off a twist that, while surprising, will keep them turning pages furiously." —Kirkus Reviews, starred review, on Ruin and Rising